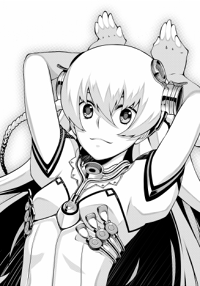 Edgeknight
Original poster
LURKER MEMBER
FOLKLORE MEMBER
Invitation Status
Posting Speed

One post per day
1-3 posts per week
One post per week
Writing Levels

Beginner
Elementary
Intermediate
Adept
Adaptable
Preferred Character Gender

Female
Futanari
Primarily Prefer Female
Genres

Scifi, anime, mecha, magical girl, superhero, cyberpunk, yuri
Malevolence from Beyond
Intro Chapter: Crumbling Days

---
---
Kojiki City, Evening.
The ritual had begun more than two days ago. In a carefully-prepared and well hidden ritual space, neither the sorcerers nor the other participants knew much of the time involved. It was now an sheer effort of will to continue on, with no rest, food, or water. Arcane energies had gathered and pierced the veil, calling out to beyond the stars.
The sounds of violence hardly reached the ears of the ritual's participants, before a number of creatures burst into the room. The surprise attack was brutal and efficient, and soon everyone in the room lay dead or dying. The last of the Society sorcerers' power flowed out with their lifeblood, the rite they were enacting broken. And yet, the otherworldly creatures they had called forth did not simply fade away. Already drawn down to the Earth, but now without living candidates to even consider, they had little recourse but to scatter in search of worthy vessels for their power.
A man wearing a sardonic grin stepped into the room, and paused to swear under his breath. He pulled a cell phone out of his pocked and started a call. "Hey, yeah. Tell the doc his new toy didn't work..."
---
Koizumi residence
Saya had finished her chores and taken a bath, and was now cloistered in her room, working on homework. A first she passed off the occasional strange thing at the edges of her vision as just fatigue, or maybe daydreaming. She kept working on her math until the inhuman eyes popping in and out of view made it look too much like her assignment was staring at her. Saya yawned and rubbed her eyes. "I'm just tired, that's all," she said to herself and turned around. "Eh?"
Her room didn't really look like her room. Just for an instant, she saw something else. A strange, alien world she could barely comprehend superimposed itself over the room, twisting the familiar shapes into strange and frightening things. And even after that wave of vertigo had passed, there was a palpable presence remaining in the room. Something unseen was there, watching her. Rather than react in pure horror, Saya was more confused and curious than anything. Whatever was invisibly there in the room was clearly examining the girl, and she could feel the gaze of many eyes upon her, as if they could see right through her. This thing was carefully checking...something about her, but she didn't have a clue what it was looking
for
or even what it was.
Saya stood up from her desk and took a few hesitant steps before that
something
reached out and seized her. The unseen visitor held her transfixed, and the moment stretched into an eternity as Saya's world was filled with excruciating pain. While she knew, somehow, that she was still in her room, an alien world filled her sight. She stood in the midst of what could be a city; strange spires of basalt and shimmering crystal loomed all around her. A creature, which she knew was somehow the thing that had been watching her, appeared, its shape warping and expanding until it had practically surrounded her in walls of shifting flesh and eyes.
"Such a fragile body, and yet, it will have to do,"
a deep voice rang in Saya's mind.
"Hey!" Saya shouted back, and paused, momentarily surprised that she could speak or cross her arms while in this bizarre waking dream. "I'm not an it! I have a name, you know."
Something that probably passed for laughter rumbled through the girl's mind.
"Even in such terror, you'd talk back? Seems I was right about you after all."
"I-I still have no clue what you're talking about. What even is all this...are you? What the hell is going on!?"
"There is little time to explain."
Something that was probably a sigh caused Saya to wince.
"I was called to your world, but was cut off and sent adrift at the last moments. I still intend to fulfill my purpose here, but need a vessel to interact with your world. That would be you. Though you know nothing of it, the pact is offered. You should survive."
"So you what? Need my help or something? I really still don't even get it, but I don't think you're going to take no for an answer either."
Moments later, back in her room, Saya's mouth opened in a silent scream. Her conversation concluded, otherworldly power began to pour into her, suffusing every cell of her being. And with it cam a pain more terrible than any she had ever experienced. No mortal body was meant to contain such a thing, and it hurt to even try. Saya's very being was threatened, as the wash of energy, terrible pain, and something...Other threatened to tear her body and mind apart. And yet, she didn't break. This moment that was already an eternity suddenly snapped, and time began to move again. Paler than usual, the albino girl slumped to the floor. She still didn't really know what she had accepted, but she knew that she was forever changed.
Elsewhere in the city, other higher beings sought their new, unintended hosts.