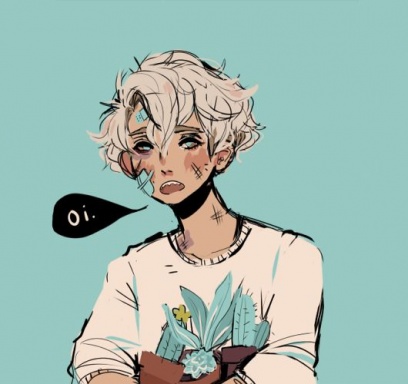 To A Great Mind, Nothing Is Little
Original poster
LURKER MEMBER
FOLKLORE MEMBER
Invitation Status
Posting Speed

Multiple posts per day
1-3 posts per day
One post per day
1-3 posts per week
One post per week
Online Availability

3pm-10:00pm, though sometimes I disappear for a day or two
Writing Levels

Elementary
Intermediate
Adept
Advanced
Adaptable
Preferred Character Gender

Male
Female
Transgender
No Preferences
Genres

Drama, angst, dark roleplays, yaoi, modern, set in the future, romance, horror, family, coming of age. I like a lot of shit.

When Benjamin bought the book,
Princely
Behaviours
, the cashier warned him. 'Once you get into that nook, it will be hard to get out of'. Benjamin took it as saying the book was highly interesting, and hard to put down. Oh how wrong was that boy.
It was a mid summer night, Friday night to be exact. Most twenty year olds would have been out, drinking, partying, enjoyinh their youth while they had it. Be that as it may, Benjamin was curled up in his bed, reading Princely Behaviours. He couldn't even put it down. He hasn't since he bought it earlier that day. Just as the cashier stated. Slowly, Benjamin turned the page, and his small apartment began to shake. Everything slowly began spinning, and within a minute? The young man was literally into the book.

"Whoa Zev that gig was awe-Zev? Where ya going man? The after party is-"
"I gotta go, see ya dude!" Zev called back to his slightly buzzed friend, who was holding the door that led to outside to keep him balanced. Throwing up his black hood, Zev ventured out into the pouring ran, knowing he needed to get home. Zev wasn't your average man. He was a prince, who was destined to rule this small country, however in order to do so he needed to be married. And to who? If you're guessing princess, then you're correct. Three months from now, he will be married to s young and gorgeous princess, and rule his country with her by his side. Tomorrow he would be going on a date with her, reluctantly. The Prince wasn't exactly jping for joy that he would be marrying a beautiful princess. He could admit she was beautiful. However, she wasn't his type. For one, she was the wrong gender.
Yup, Zev was gay. His family didn't know this, and there wasn't exaxtly a way the young rebel could tell them. So Zev was forced to live out his life in misery, married to a woman he didn't want. Gray eyes peered out into the rain, as he took backstreets and alleyways to get home. Stuffing his hands deeply in his pockets to warm them, he sunk his teeth into his full bottom lip, thinking about how screwed his life is