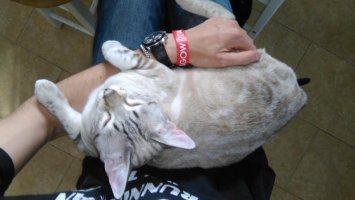 Set your mind Aflame with Imagination.
Original poster
Welcome, young Riders. To Avalon, you have been called here because of your ability to Communicate with, Ride, and eventually Command Dragons and their magic. You will spend the next few years of your life here, upon the Isles Of Avalon, learning how to live with, and fight with, your dragons. In this time friendships will be made, romances will be had and you will have fun, but make no mistake, this will be the toughest time of your life. You will have to learn how to live with a dragon capable of tearing you limb from limb. Best of Luck my dear Students!
The school Lacks formal lessons, rather has numerous far more experienced dragon riders wondering round to aid the newer riders. as well as plenty of training grounds for them.
A 'Fantasy High-school' roleplay focused on dragons and their riders. Not like How to Train. or Inheritance. Far more like D&D Dragons, with magic being a unique construct made by myself. The character creation will be VERY different from normal, Players will not chose their own dragons or magic but will chose things that represent them and will end up being told what they get.
IC
Please avoid bringing Drama from IC in to OOC and vice versa.
Normal Roleplay rules apply, no godmod, no power game, no meta game.
This is not a combat based roleplay, yes fighting is allowed, yes there will be instances where fighting WILL happen. but it is not the focus.
Romance is fine, PG16 is the limit though, take it to PM's or fade to black.
Standard Iwaku rules, remember.
Cursing is fine, but please try and avoid using it every other word.
Read the CS sheet CAREFULLY.
Favourite number is? put at the bottom of your CS sheet.
Elza von Razgriz
RedArmyShogun
Kara Seraphine
Grothnor
Zachary DraigLion
SashaBliss
James Gladstone
EddiEddi
Kona Omari
Conman2163
Midas Hayden
Zeroisdead
CS skeleton
The skeleton will be done in 2 parts, the first part is your character, Or atleast what you know of them. The second part is filled out once you know what you've been given.
Part 1

Name:
Nickname:
Age: [16-20]
Appearance: [Picture, or description, or combination]

Personality:
[Or]
Positive Traits: [Min 3]
Negative Traits: [Min 3]

Goals:
History/Bio: [Paragraph minimum, no you are not some prince or some god's kid or the son of a legendary warrior and had training with him or grew up in a ninja clan. 99% of the time Riders are normal kids who just are lucky]

Hobbies:
Likes:
Dislikes:
Pet Hate:

Favorite Song:

Extras:

Part 2:

Dragon Egg:
Dragon Appearance:
Dragon Species:
Dragon Breath Type:
Dragon Size:
Dragon Weight:

Dragon Personality/Temperament:


Rider Magic:


List of Eggs to Chose!
TAKEN




TAKEN




TAKEN




TAKEN




TAKEN




TAKEN





TAKEN



Please let me know which image of egg you will be using, And remember each egg can only be chosen once. Yes there are 20 eggs, just to give lots of choice, I am only looking for 4 or 5 players.
Magic choices are below:
Magics can be taken multipul times.

Last edited by a moderator: