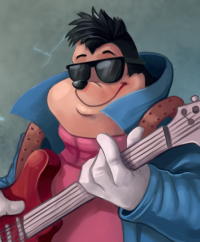 The Janitor Bear of Iwaku
Original poster
Invitation Status
Writing Levels

Give-No-Fucks
Adept
Adaptable
Preferred Character Gender

No Preferences
Genres

Horror, Modern, Modern Fantasy, Multiverse/Panfandom, Mystery, Paranormal, Scifi, Survival
PROLOGUE
"High School Dreams"
Welcome to high school, what is supposedly the greatest time of your lives.
You're all members of the Midwich High School Community. Located on Midwich Street a few blocks down from Midwich Elementary, your high school is known for its thriving community, bright students, and impeccable track record. While the school has attracted a few eccentric individuals, Midwich is
the
secular school of choice in your small American town.
It's early May and the school is abuzz with end of the year jitters. Both the school play,
"At The Tops of Towers"
, and the school's prom are set to occur this month. The drama club and school play have never been wildly popular within Midwich, but this year's play has fallen dangerously low in popularity due to the new drama teacher brought in just this year. Wanting to shake things up, Hayden Peril opted to do an original play, but the idea has proved to be disliked by most of the community.
Staying on top of what they felt was the latest trend, Midwich had a network of televisions set up throughout the school, where both your principal and student council would broadcast school announcements. When not in use, it would display static images of upcoming school events and guidelines. It's during this time that your vice-principal appears on screen, doing relatively well for himself at only 29 years old. With short jet-black hair, piercing green eyes, and the body of a professional athlete, Mr. Delta is a rather popular spokesman for the school. Some questioned why the school's principal never made an appearance, but it was a mystery no one ever sought to answer.
"A new morning is upon us, students!" he announces. It was an announcement the man made every morning, not a single one ever pre-recorded. "Get those feet moving and put a spring in your step! Don't forget to speak to your teachers about donating to our school fundraiser, which is being put together by our dedicated student council to fund our school prom! Those of you a part of this year's play, you are
urged
to stay after school for further practice! Have a great day, everyone."
A new day was beginning, a relatively regular day for the students of Midwich High.
***
Somewhere in Midwich High, a trio of students scurried through the halls, speaking casually. They were Adam Lonz, Lena Watson, and Veronica Lewis; all fairly unpopular students who could be classified as nerds. They found themselves stopped by a student who looked decidedly unimpressed at the moment. Of apparent Mexican-American descent, the boy with short black hair and a chubby frame crossed his arms and stared down the three students before him. The orange sash with the name Horatio printed on it indicated that he was a hall monitor. "This hallway is
restricted
at this time. Move along, now."
That other students were moving by outside of Horatio's concern didn't appear to matter tp the hall monitor. Adam gave a look to the hall monitor, a look that was dirty and annoyed. He then signaled for his friends to move along and continue their convocation.
Having been ignored once again, Horatio huffed, his eyes scanning the hallways for someone else to stop. There had been a binder stolen in this hallway, and no one seemed to care! The lone hall monitor was fighting a constant war it seemed. A war that no one but he could see. He would bring evildoers to their knees, no matter how many students ignored him.
***
Vivien stood face to face with the local Queen Bee, her face beating red and her blood pleasure running high. She was truly ready to let this wanna-be bitch know who truly ran Midwich. The jocks, however, walk passed with pleasant smiles and flirty words, all except Thomas who kept his eyes forward, scanning the hallway for any sign of an openly gay man as he tossed a football between his hands.
A sly smile lit up on Deanna's face as her fellow cheerleader screamed and ranted like a bleating goat. Always one to take joy out of getting a rise of out of someone's emotions, Deanna laughed in Vivien's face. It was said that the girl had magic in her voice, and it often entranced almost all the boys of the school.
One jock by the name of Kristoff, probably one of the biggest guy's on the team who unfortunately looked a bit older than he was, made a big show of being interested in the warring cheerleaders. "Girls, girls," he cooed. "There's enough of me to go around, you know."
"There sure is," quipped Damien, another of the Midwich Cuckoos. He playfully patted Kristoff's stomach before moving over to wrap his arms around Deanna. "Hey, babe," he whispered into her auburn hair. He then lifted his gaze to eye Vivien warily. "What seems to be the problem here?"
"This bitch stole my uniform! and I don't have the money to buy another!" snapped Vivien toward Damien before she took a step closer toward Deanna. "But that's okay, because while you pretend to be sick, I discovered not only does the Cheerleading team hate you, but they're going to make me Cheer Captain."
"
Hate
me? Please." Acting like royalty, Deanna practically looked down her nose at Vivien, even though she really wasn't much taller than the other girl. "You have talent, Viv, but you're
new
. We value loyalty, not who's the biggest whiner."
Damien chuckled as he ran a hand through his dark brown hair. "Listen, no one really hates Deanna. Babe's just a firecracker. It's intimidating."
As Damien buried his head into the crook of Deanna's neck, Kristoff coughed awkwardly. "As much as I'd love to watch a cat fight, shouldn't we get going?"
Deanna scoffed. "You hear that, Viv? You're wasting Kristoff's time. Shame on you." The girl used this her time to leave, practically dragging both Damien and Kristoff along with her.
The whole ordeal made Vivien angry, and finally, when Kristoff mentioned how they should get going, she scoffed, storming away toward class before her fellow cheerleader and her two boy toys could walk off.
***
Sarah moved with a quickened pace, articles of recent news events tightly gripped in her hand on the top of her binder, while her mind darted between what topic to put on the school's daily newspaper.
A gentle smile on his face, Kyle moved to walk next to Sarah, keeping stride with her. His naturally pale skin tone and striking blond hair seemed to light up the hallway. Lifting a camera from his gaudy salmon-esque colored leather jacket to his face, he said, "You're distracted." He continued to look at her through the camera as they walked.
Sarah almost jumped when she Kyle's voice. She had been so out of focus with the world! She let a smile creep across her lips before she looked to Kyle, who was in fact, hiding behind his camera. "Oh yeah, I am. I totally wanna do this article on that large car crash that happened today, but I don't think Ms. Parks wants anything that mopping on the school newspaper."
"You should write what interests you," Kyle said, eventually looking away to point his camera down the hall. It almost seemed affixed to his face.
"I would!" started Sarah as she slowed her pace so it would match Kyle's. "But most of the stuff I want to write about is about the real world, and Ms. Parks doesn't always agree that it lines up with a school newspaper."
"I can talk to Ms. Parks for you. Argue that it will totally motivate students to act safely while driving or something." Kyle finally lowered his camera, still smiling.
"...You'll talk to her?!" almost shouted Sarah, she looked to Kyle as his camera was lowering, a smile on his face.
"Yeah, she tends to listen to me."
"I know! I think you're one of the few, if not the only one of her favorite students, so thank you!" said Sarah as she threw one arm around Kyle as they walked as if it was a half-attempted hug. The two students laughed as they continued toward the library.
***
Clementine sat quietly in the Library, a book on the wooden table in front of her and a bottle of water next to it. Papers and other school materials were scattered around, proving that the girl has been trying hard to pass her upcoming test.
Ms. Parks, the librarian and head of the school newspaper, quietly closed her book. Smiling softly, she stood up and looked over the group in the library, smiling pleasantly. "All right... Shall we take attendance, class?" she asked rhetorically, grabbing her clipboard quietly and peering at the students in the room as the bell rang. This was where Newspaper and free period took place.
***
Travois acted with such passion that it even surprised him. He was truly in tone with the character he was portrayed as, and he wanted nothing less than to give the viewers a good show. By the time that he was done practicing, all in attendance believed he had truly connected with the character.
Mr. Peril applauded Travois's performance, grinning charmingly. "Well done, Travois! I knew I picked you for this role for a reason... Now, everybody, why don't you put this much passion into your performances? Let's get a move on!" the handsome dark-haired Drama teacher, called to his class, clasping his hands together enthusiastically. He was new to the school and was working on an original play of his own creation.
At The Tops of Towers
was likely a risk, but for Hayden Peril, it had been a play made with love.
OOC NOTE: Welcome to just a regular day of high school! Feel free to interact with each other or with the large number of NPCs available to you. Feel free to RP as if it's any time of the day, not just the morning. For this prologue, it can be the start of classes, during class, in-between classes, during lunch, or even at the end of the school day. It's entirely up to you.
CHAPTER ONE
CHAPTER TWO
CHAPTER THREE
CHAPTER FOUR
CHAPTER FIVE
FINAL CHAPTER
EPILOGUE
~CAST LIST~
@The Tactician
as
Kisho Taniyama
[Computer Applications and Programming Teacher]
@TheColourlessRainbow
as
Bryan Stark
[Student]
@BarrenThin
as
Logan Wilson
[Physical Education Teacher]
@TheBombMan
as
Umeko Moe
[Student]
@Mirage
as
Kumiko Kurumi
[Student]
@Hospes
as
Viviette Anya Stark
[Student]
@york
as
Avia Taniyama
[Physical Education Teacher]
@Klutzy Ninja Kitty
as
Minori Chihara
[Student]
@Emperor of Gallifrey
as
Jason "Jay" Cortez Wilson
[Student]
@Gummi Bunnies
as
James Lancaster
[Student]
@Mighty Roman
as
Simon Black
[Student]
@DapperDogman
as
Kei Eba
[Student]
@Jeremi
as
LuAnn Lewis
[Home Economics Teacher]
@FireDrake150
as
Scott Miller
[Communications Technology Teacher]
@Josh M
as
Annette De La Rose
[Guidance Councillor]
@Wedge Antilles
as
Tom Swanson
[Student]
@Mari
as
Anna Collins
[Student]
@Dinoteen
as
Thaneo Tesseract
[Head Cafeteria Boss]
@The Silver Paladin
as
Aaron White
[Student]
@Nassi
as
Anouk Cross
[Student]
@Revya
as
Meira Franz
[Student]
@theryanjake11
as
Takuro Kennedy
[Student]
@Xx420BLAZEITxX
as
Adrian Jacobs
[Student]
@Brother Gabriel
as
Jacky Robertson
[Student]
@Thuro Pendragon
as
Michelle Kile
[Student]​
Last edited: