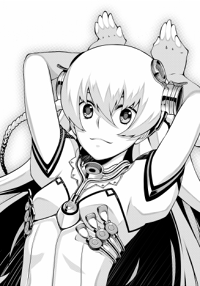 Edgeknight
Original poster
LURKER MEMBER
FOLKLORE MEMBER
Invitation Status
Posting Speed

One post per day
1-3 posts per week
One post per week
Writing Levels

Beginner
Elementary
Intermediate
Adept
Adaptable
Preferred Character Gender

Female
Futanari
Primarily Prefer Female
Genres

Scifi, anime, mecha, magical girl, superhero, cyberpunk, yuri
The Great War with the Bydo is largely behind mankind. The ISDF is adapting to a new peacetime role, policing the space lanes and putting down continued border skirmishes, which the Bydo appear content to lurk on the fringes of civilization, like monsters which rightly fear the light. Humanity's little corner of the galaxy is still hardly a peaceful one, and Valkyries continue to be produced, and trained.
The ISS
Astrea
is a bit of an aging vessel, as far as military ships go. If it were still cutting-edge, it probably wouldn't be something of a training vessel. Not for new crews, but for new Guardian teams. The current Guardian squad had just taken on some new members, and was on its way outsystem to start on a nice shakedown cruise for the cyborg Amazons. While the girls both new and old got to relish the though of living, working and sleeping together, they were at least free to do as they saw fit for the time being.
The ship's captain had introduced himself when they were brought aboard, and explained that he tended to prefer an informal approach, as he gave the new arrivals a bit of a tour. They could sort out their rooming arrangements among themselves, although they'd be crammed together at least 2-3 to a room, the way the space worked out. If they had any suggestions or ideas for side-trips, he'd be willing to hear them out, but the new girls would have to listen to their instructors.
The ship's current destination was an abandoned O'Niell can city, in one of the systems reclaimed from Bydo space. The system was generally secure, but there were signs of a definite Bydo presence and it had been a while since any patrol had checked it out. It would probably be a nice, easy introduction to the enemy. But in the intervening days, everyone would have to entertain themselves.
Last edited: