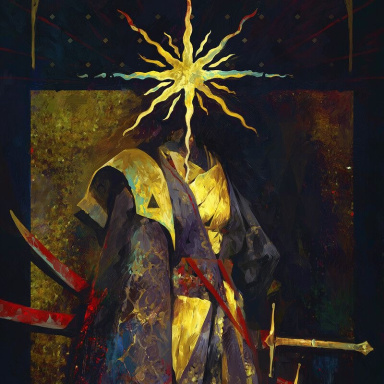 Lord of the Mice
Original poster
Invitation Status

,
Posting Speed

1-3 posts per week
Online Availability

3PM CST - 9 PM CST
Writing Levels

Intermediate, Adept, Advanced, Adaptable
Preferred Character Gender

Male, Female, , No Preferences
Genres

Fantasy, Scifi, Urban Fantasy, Horror
IT BEGINS ON THE WATER
The stars are bright. She stares up at them, and they are such a multitude. Ever had she heard them referred to as a sea, but she found this description lacking.
No. It more resembled a still and quiet pond - placid and gentle. One star, luminescent, begins to descend before her eyes, and it hovers ahead of her, a beacon illuminating a languid mirror of water up to her ankles. It leads her forward, beckoning her.
"Angelica."
She wades ahead at a breakneck pace. Her heart thuds as the familiar voice murmured to her from behind the Will-o'-the-Wisp.
"Angelica."
"Nong-Angelica."
The young woman's eyes opened in a single, fluid motion as she was shaken to her senses. Quickly memory returned to her, and she looked to the familiar voice which had disturbed her slumber. Lung El sat on the edge of the narrow bed, his dark eyes searching her face. She rubbed her face as she sat up, looking about the tiny cabin. Aboard the vessel Avertine the rooms were mean, of shallow character and brutalist with only a single porthole. Outside, the day was bright, a beam of light shining into the somewhat dim surroundings.
"Lung-Greene ao loog yu ni foredeck," Lung-El stated gently. Your uncle Greene wants you on the foredeck.
"Khap khun nah kha. I shall be right out. My apologies, I know I overslept. I must have been trying to make heads or tails of these, and I drifted off," Angelica muttered as she sifted through the notes strewn upon the bed. Some of these phrases were difficult to unravel without a lexicography to work off of. Lung-El nodded along, keeping a respectful distance.
"Please not wait too long. He is not the man who waits much," Lung-El chided gently in his soft manner, smiling, and Angelica nodded. No, her "uncle" was not at all the sort of man who waits...
Angelica quickly made herself more presentable to company. This would be the first real congregation of their little expedition. Uncle Greene had thought it best to work things out aboard the ship on the two week journey out of London towards Siam rather than have everyone meet up as the year before. Outside, the harsh light of the sun washed out the outdoor furniture on the second-rate liner. Already, a few were seated in chairs around a few tables - some of the auxiliary riflemen like Helmut and Orville, the junior doctor Danford, and of course Lung-El. She took a seat with all her notes beside her long-time family friend and retainer.
Alright! This is the chance to make your introductory posts! This is a second-rate liner called the
Avertine
, a steamer with a few amenities such as a bar, a restaurant, and a very tiny gym. Feel free to start in your room, sitting in the outdoor area on the foredeck, or at the bar near the foredeck. This is the first day of the journey, and this is a great time to start asking questions and getting some character interactions in! Don't worry - there'll be time for the spooky later...

Red Thunder

DayDreamer

Kuno

Applo

Nemopedia

Ritual Lobotomy
Last edited: