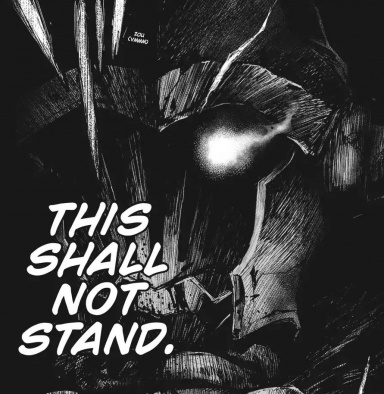 Little Buster
Original poster
Cold... Your feet and hands. Stiff... Your joints and shoulders. It aches... Your whole body. Attacking your recovering consciousness, these sensations signal a headache as your eyelids struggle open. What they find is almost utter darkness. Blinking wearily, you drag your heavy head from side to side. The sensation of rough cloth greets your cheeks and temples. Alerting you to the fact you have a bag on your head. ... Why?

Before you can further explore that question, you freeze. Your gaze is locked on an object... a silhouette in the darkness. Is that? ... You're afraid to consider it. The possibility... it hadn't occurred in the time you had to grasp your surroundings. But... you're not alone. At this revelation your thoughts halt, your senses heighten, a pulse surges from your heart as it seem to skip a beat. Your hairs all stand on end... the coldness in the still air raises goosebumps across your entire body. Your breath... it becomes so loud that you pause mid inhale.

Did... did they hear you? ... Why are they just standing there? ... Who... or W-what are they? ... ... ...

A trembling exhale escapes your clenched throat... You almost gasp for air, but keep dead silent... dead still.

Moments pass... Then bleed into one another as the silhouette remains unmoving. Terror only partially fades to the calmness of rational. As your body slowly relaxes and loses its tension. Your breath returns to normal, but you still suppress its volume. Gazing around from inside the bag you try to make out the rest of the room, but to no avail. Your eyes inevitably return to the figure... it continues to looms before you.

Minutes turn to hours before you are able to summon the courage to act. Assessing your situation with momentary calm. You learn that your legs and arms are bound by rope. Beneath you is cold concrete, and from your limited senses, you gauge around you is an assortment of furniture. Your mouth has not been gagged, and your lips are free to move. Swallowing saliva to wet your dry vocal cords. You dare to speak up, risking a word.

"Hello?"

A voice returns immediately.

"Hello."

You stiffen. ... until you realize it is your own voice. An echo... But oddly somehow different. The ensuing silence does little to comfort you. So, after a moment you speak once more. Eyes still locked on the silhouette.

"Is someone there?"

"Is someone there."

...

...

...

You become slightly aggravated. This is stupid. You are talking to yourself and only making noise. You must get free, and get out of here. Wherever that might be.

You remove your gaze from the silhouette. Scanning the room while you wiggle and pry at your restraints. Ignoring the sting of the rope against your skin. You soon feel the knot loosen a bit on your arms after a few moments. Excitement mixes with haste as you return your sight to where the silhouette is... but... it is gone.

Panicked, the rope chews on your skin as you force a hand free. Grabbing at the sack on your head, you are about to wrench it off... when...
---
Hello. Fellow basement dwellers and fans of Edgar Allen Poe. Welcome to the interest check for Deliverance.(For those of you who didn't read the title.) A Roleplay I've had in mind for several years, but never really got around to making. Featured above is a sample of what you can expect if you find yourself interested after having wandered into this dark corner of Iwaku. And while I know it no doubt has you on the edge of your seat already. (I know I am.) Some of you may need a more specific and detailed explanation.
Summary:
To those individuals, I will begin by stating that Deliverance in essence is a survival horror RP. Based on the concept of an older RP I participated in and various gaming titles. Such as Silent Hill, 999(Zero Escape Franchise), and D&D. (More so the map and stat/skill systems.) It is a mixture of different aspects from each, without sharing a common foundation. So while you may can attribute certain details to each franchise, it remains an original concept.(There will be no copying & pasting of scenarios here.)
What this means for the RP is that it will be set in an isolated space. Disconnected or removed from the rest of the world by physical and supernatural means. The setting specifics can be left up to group decision, but the objective will be to find a means to escape, and or uncovering how you all arrived at such a location. If that last sentence wasn't clear enough, opening amnesia is a requisite. The mystery tag also ensures that not everything will be explained, leaving you to piece things together or fill in the blanks with theory.
The horror will make itself known in varying aspects, from supernatural beings to deadly puzzles/traps. Happening upon the remains of past captives or watching as someone is mangled and mutilated while you stand by helpless are givens. And to be clear,
character death
will be
final
. However, there will be options available to those removed from the survival pool to still contribute. In a manner, it is a
Choose your own Destiny
game. Where upon making stupid decisions will get you killed. (The Bad End)
Writing Expectations:
In concept, this RP will require massive writing expectations of all participants. Unlike the standard system of the GM detailing the world and all the actions/outcomes. In Deliverance, the PCs will have far more influence on the course of the story. You will be required to exercise creativity and detail rooms such as your starting point. And the mental state of characters and how they react will direct the course of events in the future. Which may prove bothersome to others with
different
objectives.
The above IC writing is to be taken as example, so be prepared to write highly detailed and dynamic posts.(Preferably something better than my 7th-8th grade writing.) And that your decisions in writing or lack there of will affect the overall story. (Your Posts/Decisions matter. Really, I'm not trying to sell you a vidya game.)
To set a standard, I would require
four paragraphs
minimum per post. Posting frequency will be largely sporadic, considering not everyone will be grouped together or acting in sync. However, I expect
one post
a week bare minimum. Along with being active in the OOC Discord. (Dank Memes don't post themselves.)
---
With that all said, who here is interested? I encourage you to ask questions as I feel I have not considered everything worth putting forward with this Interest Check. Due to this, do not be surprised if there are edits made in the future.
If you are interested, please
do not
simply tell me. Show me. Write something comparable to what I have given you. It can be anything as long as it is in tune with the theme of the RP. I want to see what you intend to bring to this and what about it will keep you committed. I am not looking for lukewarm interest or those with fading interest. I only seek those who can keep a commitment once made and intend to see this RP to the end. As that is my chief aim, to host this RP and see it to a close.
Thank you for your time.
Last edited: