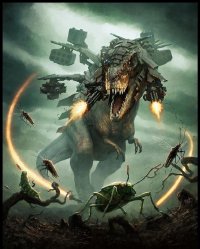 Undisputed king of the Dinosaurs
Original poster
Invitation Status
Posting Speed

Multiple posts per day
This is a world, where the only law is survival. Where the strong will thrive and grow stronger, and the weak will wither and die. Where humanity are not just the predators, but also the prey. Where monsters are not just fairy tales in the books of children, or legends from stories all but forgotten. Where Man and beast, are forever at odds. This is the world, of
Zanathine
. It its a world that is forever at odds with itself, as both man and beast are in a constant state of unrest with not just each other, but their own kind as well. Humans often look at the lesser class of other sectors with great displeasure and and hatred, seeing them as nothing more as commoners or even slaves to do their bidding. But at the same time, are fearful of them as there's a chance they could become a monster at any given time. Those who are not as fortunate to have been born unto wealth see the upper classes as royals, but are also fear them for their unrest cruelty and vicious mockery of them. The monsters, are not much better off. Those who still hold a bit of their humanity left resent human kind for turning their backs on them, rather than help them cure or at the very least cope with their newly given forms, they hate the upper class and will do anything to see them in shambles. On the other hand, those monsters who no longer have any sense of them selves are all but feared by all, with the exception of A few monsters who either hunt them for their won survival or to put them out of their misery for the sake of mercy.
The first monster appeared about 400 years ago, in a desolate backwater town within the uncommon sector. Grotesque and misshapen, they were bullied out of their own home and forced to live their lives in the forsaken sector. As time went on, more and more monsters sprung up. Though the reasons behind it all have been varied and unknown, it seems that the means to become a monster are seemingly random yet also circumstantial. Some humans have even banished other people out of paranoid suspicion that they too might be monsters or even on the verge of becoming one. Monsters them selves come in a variety of forms, from gelatinous masses to flying demons , there's little to no logic behind their coming into being. Though that didn't stop humans from their prejudice and harsh criticism. Centuries went by, and the appearances of monsters has not shown any signs of slowing down. Subjects of exterminating the monster threat became common place among human conversation, usually falling into debates of morality. Eventually it was decided by the Emperor that these "creatures" were a threat to the survival of mankind, and must be eliminated by any means necessary. And thus, he legalized the murder of any monster that dares set foot into the uncommon, common, or royal sectors. This is the time known as T
he Great War of the Monsters
.
Needless to say, this caused a divide between not just humans and monsters, but between both of them themselves as well. Armies split into factions, groups defected to rebellions against higher/lower powers, and terrorist organizations took form during all the chaos. This is the would we live in now, a world where humans fight monsters, and both are in a constant struggle to survive. With only one question looming over all, who will be the victor in this war of monsters?
|Summary|​
Hey all, I'm back again from a long internet sleep, time for a new RP I guess. The run down is your typical monster vs humans RP. It's a hybrid between scifi-and fantasy taking place some where in a modern/future. You have the option of playing as either a human or a monster, and you also get to have a say in where you stand in this war, or even if you are fighting in it at all. On the side, there's also the notion of the upper upper class oppressing the lower class due to differences in wealth, power, and of course the threat of monsters. Monsters (or at least a number of them) live in their own society, a class that is just below the lower humans due to being seen as outcasts and freaks. weather or not a winner is seen in this war or if peace is brought to fruition, is all up to you.
|The World of Zanathine|
​
Here's a run down of the world you are going to be playing in. Zanathine. Zanathine is split into five areas, known as sectors. Each of them house different kinds of inhabitants and have varying populations... think of this as a general idea of the world as a whole.
This area houses the royal families, the nobles, and the rich in general. They believe that those who do not live here, are nothing more than common servants and beggars. They also see monsters as nothing but just that, filthy creatures that are best locked up or put down and not left to roam free. The only monsters that can survive here, are those who have found a way to look human enough to fool their peers. The others on the out side see these people as no less than over-privileged snobs, who either over work the other sectors to the bone, or harass the less fortunate into leaving their homes due to fear and rumor. The Nobel sector, needless to say, is composed of mostly humans. There are little to no monsters present here, and those that are look human enough to not frighten those around them. This sector is also home to the Emperor.
This is typically where the "better off" citizens reside, they are not as rich as those in the Nobel sector but aren't as poor as those who live in the lesser sectors. They are what can be considered as the "upper-middle class" if you will. They don't particularly like those in the Nobel Sector, but are well off enough to not care what they say about them. And thus, Do nothing about the ridicule. Lots of big name businesses reside here, and most of the population are humans. Much like the noble realm, monsters are very scarce here. But due to the less well enforced security and law enforcement, they are able to hide them selves better with less effort. People of the Common sector are not too fond of monsters, but most of that is due to paranoia passed down from the noble sector.
The Uncommon sector is where the territorial lines between Human and Monster begin to blur. The people here are truly middle to lower class, be they human or monster. Cities predominantly run by humans struggle to keep their citizens fed, while those run by monsters are done so slightly better but not by much. Monster towns in this sector commonly use the barter method of trade rather than actual currency, as it tends to feed more people without the hassle of tax. though this is not the definitive law of monster culture, it has been what keeps them going here and in the lesser sectors. Humans are wary of monsters in this sector, while some are without a doubt fearful of them due to the scare the upper sectors spread, some towns welcome monsters... Knowing full well that not all of them are mindless beasts, but some are just innocent living things just trying to stay alive like everyone else. Monsters are much of the same, some of them do hate humans for being hateful creatures who'd sooner betray their own kind for money, while some of them rather like humans and even work along side them in the fields. Sectors this far out tend to be out side of the Emperor's sphere of influence, and thus are able to live by their own rules and laws to some degree.
The boonies of this world, where the poorest of the poor reside. In this sector, entire cities and towns are no better off in what would be considered slums in the upper sectors. Although mostly composed of monsters, some humans live here too. Being seen as "too dangerous" by the common sector, these poor unfortunate souls could not find refuge in the uncommon sector due to their circumstances, and thus are forced to live the lives as beggars, thugs, and thieves. Humans here are fearful of the monsters, being close to The Barrons will do that to you, especially when many of the monsters here hate humans with a burning fury. Towns here are few in number, so most of the Forsaken Sector is wilderness. These wilds are often home to bandit camps, who are brave enough to raid some of the upper sectors from time to time.
This sector is almost entirely wilderness, with ruins of long forgotten civilizations dotting the sector. This area is infested with monsters, primarily ones who have little to nothing left of their human personality (and that's IF they were ever human to begin with). Humans who go here only do so to hunt monsters, or as a means of committing suicide. Here in the Barrons, only the strong survive. It's a beast eat beat world, and to the inhabitants of this sector... Humans are also on the menu. Very few who still cling to humanity reside here, and those who do only can because they have the strength and will to take on the beasts that dwell here. There is little to no human presence here. Travelers, best enter at their own risk.
---------------------------
This is merely an interest check. If I get enough interest, I'll post an OOC thread
Last edited: