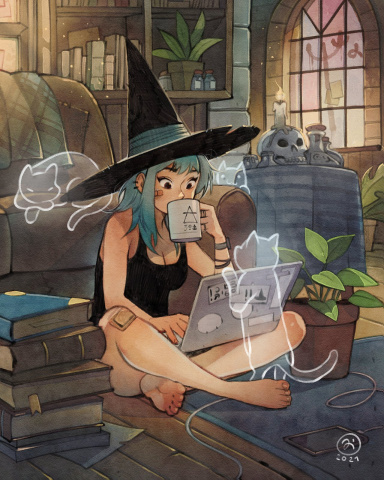 Moon Child
Original poster
Invitation Status

Look for groups
Looking for partners
Posting Speed

Multiple posts per day
1-3 posts per day
One post per day
1-3 posts per week
One post per week
Slow As Molasses
Online Availability

My schedule shifts often, but I am normally available after 6 PM, some days it'll be all day long!
Writing Levels

Intermediate
Adept
Adaptable
Preferred Character Gender

Male
Female
Genres

Fantasy, Modern Fantasy, Modern, Magical, Romance, Medieval, Sci-Fi, Thriller.

[tabs][tab=Overview]
View attachment 88059
The town of Blackridge was founded by 8 families back in the 1850s. All of these families were thought to be normal… Key word: thought. One of the eight families just happened to be a coven of witches; however, the other families do not know this. The other seven families have an unnecessary hatred for the family of witches.
Treating them horribly and ranking them the lowest of the eight. Outraged by the fact that they're treated lesser than the others, this coven of witches curse the founding families to be supernaturals in 1901. Now, present day, the descendants of the founding families are coming into their curse or trying their hardest to keep it a secret.
[/tab][tab=Rules]
Rules
~Sign Up and OOC Rules~​
I am the GM, and my word is final. I make the rules. My Co-Gm is @Little_Ghost98
I enforce the rules, and I do have the power to kick you out. That being said, I will do my best to make fair judgments in regards to any situation. I am actually pretty nice!
Basic rule, I have a character Skeleton for a reason, please use it. It's not fun when I have to look for information that may or may not be there.
Please, for this rp, USE REAL PICTURES.
Under no circumstances are you allowed to post without a GM accepting your character. We have to make sure that each character is up to code.
Please flesh out the characters, I like seeing that people put effort into their characters, and that they took time to have some formatting and other things.
Please be kind to all your other rp friends, we don't want people feeling attacked or threatened by other. It helps create a more cohesive bond between players.
There is a 4 character limit!!! I may change this eventually and when this happens you will be informed, but as of now it is two.
Please make all your character sheets on the same one, will help stop others from searching through countless pages for your sheet.Have fun~
~IC Rules~​
I do not take credit for this list of rules, but they are everything that I wanted my rules to be.
Try not to go to far without me posting, I hate feeling left behind.
Please try to post a paragraph each time. I really detest having a lot of 1 liners, so please try to keep them away. (I understand if you get writers block or something, just tell us real fast so we don't think you're not trying.)
YOU CAN NOT BE YOUR OWN PARTNER/LOVER! I hate it when people do this, it sucks to be done, and if you plan on having a drama point based on the fact that two of your characters were together, that's fine as long as as it is now over.
Feel free to interact with a NPC or more!
Likewise, only type in third person. Reason is, first person can confuse people. It makes them get lost in all the I's, since there would be a ton of them. So please, for my sake and the sake of others, use third person. If you have actually read all the rules, please put "I wanna be a chicken nugget" at the bottom of your CS IN ALL CAPS. And make it fancy or colorful or something c:
Please refrain from using text talk and please try to use a spell checker if you don't know English very well. There is an exception though, when your Character is actually texting!
GRAMMAR! Now one of my pet peeves is having people who spell things shorthanded. It doesn't matter to me if there are a few mistakes here
Cursing. Now, I know some characters are not going to be the sweetest, and some are just going to have a few instances, but I am completely fine with your characters cursing. However, one every single sentence is kind of extreme, so try to avoid putting one in everything.
As this is an OPEN AGE roleplay, so please if something gets to that "stage of romance" fade to black.
This one goes with the first one, no automatic hits. It kind of sucks when someone just hits you in the face over and over and then throws you off the building without you being able to do anything, like a dummy. Don't do it
No god moding. Everyone hates it, especially me. We don't have much physical interaction such as fighting in this roleplay, but it can happen, so don't have your character instantly knock someone twice their size out and come out unscathed.
[/tab][tab=Cast List]
Founding Families:
BTW, all people were born human, except witches. The curse took over and changed them at what ever age (preferably over the age of 16).
Arrington: Vampires (N/A)
1.
Dimitra Isolde Vanderbuilt
@Shayla
2.
Matthew Santos
@Autumn_Burns_Red
3.
Seth Zachary West
@Little_Ghost98
4. Taken
LeBlanc: Demons
1.
Jordan Williams
@UnboundDestiny
2.
Alaric Fillton
@Poisoned Rose
3.
Lucif Virgil
4.
Thorton: Sirens (N/A)
1.
Harper Banks
@Autumn_Burns_Red
2.
Ashera Wells
@Poisoned Rose
3.
Autumn Ellyria Tatum
@Shayla
4.Taken
5. Taken
Groves: Witches (N/A)
1.
Airetta Elise Elwood
@Shayla
2.
Nicole Blackwell
@Autumn_Burns_Red
3.
Summer-Raye Beaumont
@Shattered♦Secrets™
4.
Timothy Miller
@Poisoned Rose
Elkens: Banshees
1.
Zaiden Rose Dean
@Little_Ghost98
2.
Calliope Eccleston
@Poisoned Rose
3. Taken
4. Taken
O'Conner: Shapeshifters (N/A)
1.
Kailyn Elise Gray
@Little_Ghost98
2.
Ian Carter
@Autumn_Burns_Red
3.
Amelia Belarus
@Unbound
4.Taken
5. Taken
Knowlton: Werewolves
1.
Isiah James Brook
@Little_Ghost98
2.
Beau Martell
@Shattered♦Secrets™
3. Taken
4.
Romano: Kitsune (N/A)
1.
Yukaria Dianna Tayagami
@Shayla
2.
Elouise Tashaya
@Unbound
3.
Hikaru Fijimoto
4. Taken
(Picture/Gif. Real face claims only. If you wanna incorporate more than one picture, that's fine, but please only put 2 pictures in for each person, makes things easier on mobile. Also, please try to put all your characters into one post. It's easier for me to make a CS Guide that way!)
✪Name✪
✪Nickname(s)✪
✪Age & Birthday✪
✪Race✪ (Pick from the supernaturals, this will also determine their founding family)
✪Founding Family✪
✪Gender✪
✪Sexuality✪
✪Part/Full-Time Job or School✪(For school, please a senior in high school or in college)
✪Physical Description✪ Here just put down the usual hair color/description, eye color, height, weight and piercings and tattoos. Also, if your supernatural has a different form (i.e. wolf) include that too.
✪Health Ailments✪
✪Personality✪ (A paragraph but if you want you can list things and give a description of each trait)
✪History✪ (Optional. I suck at these so I'm not gonna have you guys do it unless you want to)
✪Likes/Dislikes✪
✪Hobbies/Talents✪
✪Strengths/Weaknesses✪
✪Fears✪
✪RELATIONSHIPS✪
✪Family✪
✪Friends✪
✪Boyfriend/Girlfriend/Crush✪
✪Neutral✪
✪Enemies✪
✪Housing✪
✪Other✪ (Anything else I forgot and you want to mention. Also, be sure to put your character's abilities here as well and explain them.)
[/tab][/tabs]
Witches Brew Bar- Owner: Timothy Miller.
Myth Night Club and Event Center - Owner: Matthew Santos
Lake house - Public property
Library- Public Property
Central Park- Public Property
University- Public Property, but have to have student pass to be in certain places.
Blue Moon Cafe- Owner: Airetta
Tatto$ My$tery $hop- Owner: Beau
Yin-Yang Grill- Owner: Kaito
Last edited by a moderator: