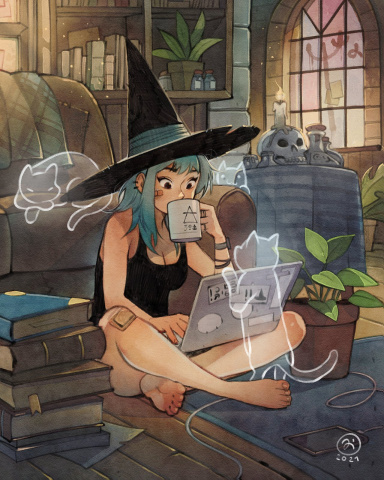 Moon Child
Original poster
Invitation Status

Look for groups
Looking for partners
Posting Speed

Multiple posts per day
1-3 posts per day
One post per day
1-3 posts per week
One post per week
Slow As Molasses
Online Availability

My schedule shifts often, but I am normally available after 6 PM, some days it'll be all day long!
Writing Levels

Intermediate
Adept
Adaptable
Preferred Character Gender

Male
Female
Genres

Fantasy, Modern Fantasy, Modern, Magical, Romance, Medieval, Sci-Fi, Thriller.
View attachment 95307
Long ago a coven of witches relocated to the colonies of North America in search for a new home, as most of their coven burned in Germany. Escaping Germany priests and catholic followers was not an easy task. Between the fake documents and the change of appearances, each of the five witches made a new identity in order to reach the colonies in North America. Once there, the five witches met up and traveled up into the now state Montana, forming a secret town named Black Ridge within the forest. It wasn't until many years later that the town was discovered and the witches were burned. But were they really? Ester Bayer swore that she and the four other witches would never die, for those in tune with the spiritual world will always live on. Cursing each of the seven families, that burned them at the stack, to become the monsters that reflected themselves.

Ester's curse did not take effect until many years later, after each family had given birth to the next generation. Each had given birth to a cursed child; each having their own unique curse. A vampire, werewolf, shape-shifter, banshee, siren, ghost, and demon. Slowly, but surely, each family discovered the curse within their children. Many tried to kill their children, but in return killed themselves. Ester's curse wouldn't allow the line to end. Ester would have her revenge at any way possible. Generation after generation took over the curse and found no cure. ..




Over two hundred years later, Ester has found a way back to the human world ready to turn those who descend from her killers against each other. She promised her revenge and now she will finally get it. Rising each of her coven's own from the dead, her powers become stronger and the bound between supernaturals weaken as their minds cloud with hate. Will they be able to over come their emotions to band together to kill Ester and her coven once and for all, and achieve a cure for their curse?
​
Rules
~Sign Up and OOC Rules~​
I am the GM, and my word is final. I make the rules. My Co-Gm is @Little_Ghost98
I enforce the rules, and I do have the power to kick you out. That being said, I will do my best to make fair judgments in regards to any situation. I am actually pretty nice!
Basic rule, I have a character Skeleton for a reason, please use it. It's not fun when I have to look for information that may or may not be there.
Please, for this rp, USE REAL PICTURES.
Under no circumstances are you allowed to post without a GM accepting your character. We have to make sure that each character is up to code.
POWERS: No over lapping, someone already called dibs don't over lap (In side one coven). NO all powerful, each power has to have its flaw (inside the new coven). Controlling the weather is fine, but only one or two aspects of it, for example thunder and lightning storms and rain.
Each specie, for example vampire, is related in some way. Vampire is somehow related to another vampire. However, that doesn't mean vampire is related to a werewolf.
Please flesh out the characters, I like seeing that people put effort into their characters, and that they took time to have some formatting and other things.
Please be kind to all your other rp friends, we don't want people feeling attacked or threatened by other. It helps create a more cohesive bond between players.
There is a [BCOLOR=#ff9900]4 [/BCOLOR]character limit!!! I may change this eventually and when this happens you will be informed, but as of now it is two.
Please make all your character sheets on the same one, will help stop others from searching through countless pages for your sheet.Have fun~
Characters can die in this. However, they will go into the spiritual void until brought back to life.
I do not take credit for this list of rules, but they are everything that I wanted my rules to be.
Try not to go to far without me posting, I hate feeling left behind.
Please try to post a paragraph each time. I really detest having a lot of 1 liners, so please try to keep them away. (I understand if you get writers block or something, just tell us real fast so we don't think you're not trying.)
YOU CAN NOT BE YOUR OWN PARTNER/LOVER! I hate it when people do this, it sucks to be done, and if you plan on having a drama point based on the fact that two of your characters were together, that's fine as long as as it is now over.
Feel free to interact with a NPC or more!
Likewise, only type in third person. Reason is, first person can confuse people. It makes them get lost in all the I's, since there would be a ton of them. So please, for my sake and the sake of others, use third person. If you have actually read all the rules, please put a small heart at the bottom of you CS. And make it fancy or colorful or something c:
Please refrain from using text talk and please try to use a spell checker if you don't know English very well. There is an exception though, when your Character is actually texting!
GRAMMAR! Now one of my pet peeves is having people who spell things shorthanded. It doesn't matter to me if there are a few mistakes here
Cursing. Now, I know some characters are not going to be the sweetest, and some are just going to have a few instances, but I am completely fine with your characters cursing. However, one every single sentence is kind of extreme, so try to avoid putting one in everything.
As this is an OPEN AGE roleplay, so please if something gets to that "stage of romance" fade to black.
This one goes with the first one, no automatic hits. It kind of sucks when someone just hits you in the face over and over and then throws you off the building without you being able to do anything, like a dummy. Don't do it
No god moding. Everyone hates it, especially me. We don't have much physical interaction such as fighting in this roleplay, but it can happen, so don't have your character instantly knock someone twice their size out and come out unscathed.
Male to Female Ratio:
3 Female |

3 Male
​


[BCOLOR=#008080]

The Coven (original):

[/BCOLOR]
Cottage in the middle of the woods (secret)
For answered Q's about the coven and new one, scroll all the way down.
[BCOLOR=#800000]

Vampires:

[/BCOLOR]
Boarding House
[BCOLOR=#003300]

The New Coven:

[/BCOLOR]
Boarding House close to town square


Just coming into their powers, three unique powers each. NO COPIES!


[BCOLOR=#3366ff]

Werewolves:

[/BCOLOR]
Boarding house at the edge of town

[BCOLOR=#ffcc00]

Sirens:

[/BCOLOR]
Boarding House on the lake
[BCOLOR=#800080]

Shapeshifters:

[/BCOLOR]
Boarding house by the river
[BCOLOR=#666699]

Ghost:

[/BCOLOR]
Boarding house a little bit outside of town
[BCOLOR=#ff6600]

Demon:

[/BCOLOR]
Boarding house outside of town.

OPEN -@CylciaAlyann

OPEN

OPEN
*These three can be any supernatural

[BCOLOR=#ff00ff]

Children:

[/BCOLOR]

OPEN
OPEN
OPEN

​

​

(Picture/Gif. Real face claims only. If you wanna incorporate more than one picture, that's fine, but please only put 2 pictures in for each person, makes things easier on mobile. Also, please try to put all your characters into one post. It's easier for me to make a CS Guide that way!)
✪Name✪
✪Nickname(s)✪
✪Age & Birthday✪
✪Race✪
✪Gender✪
✪Sexuality✪
✪Part/Full-Time Job or School✪(For school, please a senior in high school or in college)
✪Physical Description✪ Here just put down the usual hair color/description, eye color, height, weight and piercings and tattoos. Also, if your supernatural has a different form (i.e. wolf) include that too.
✪Health Ailments✪
✪Personality✪ (A paragraph but if you want you can list things and give a description of each trait)
✪History✪ (Optional. I suck at these so I'm not gonna have you guys do it unless you want to)
✪Likes✪
✪Dislikes✪
✪Hobbies✪
✪Talents✪
✪Strengths✪
✪Weaknesses✪
✪Fears✪

✪RELATIONSHIPS✪
✪Family✪
✪Friends✪
✪Boyfriend/Girlfriend/Crush✪
✪Neutral✪
✪Enemies✪

✪Housing✪
(each family lives in a bordering house together. Kind of like the Salvatore brothers in VP)

✪Other✪ (Anything else I forgot and you want to mention. Also, be sure to put your character's abilities here as well and explain them.)


​

The original Coven died around the 1700's. Ester Bayer is the one to enact the curse, which was supported by the other witches, as she was burned at the stack by the what use to be the founding families. The original coven's bodies were buried apart from each other, to try and prevent them from coming back (religious belief). However, their spirits were sent into a spiritual void aka Limbo. Ester, seeing that she still had ties to the human world (she had a daughter that was never burned so she was able to continue the line) she was able to communicate with the human world and her descendants. One descendant, that was corrupted by Ester, dug up her body. Seeing that she was the only witch to have powers in resurrection she possessed the body of her descendant and brought herself back. The reason why it took so long was one because she had to make sure the witch trails were over, and two she had to save the power to do so. Now she is located the bodies of her coven and raising them to. The first part to their revenge was cursing those who burned them, the second is corrupting them and turning them against each other. Destroying the town of Black Ridge inside out.

The difference between the Original coven and the new is just a few things. The new coven are just coming into their powers, no matter the age, because the cosmic higher power (don't know what to call it right now) is balancing out the powers. As Ester raises more witches, who are evil, the cosmic higher power (or whatever) is establishing powers to Ester's descendants in order for them to help vanquish Ester and her coven. The reason they had not received powers was because Ester was snuffing them out. She knew they would be a threat and so the original coven bounded together to prevent their powers from coming in until Ester was ready to bring the original coven back. On the power scale, the original coven is fair more powerful than the new. Also, the new coven hasn't died so...xD​




NOTE: If you could reserve your characters that would be great.

AND you can either...
A: Place all your characters in the same sheet
OR
B: Reserve spots in a row for your characters.




HANGOUTS:


Black Bell Cafe : One of the only cafe places in this small town, the Black Bell Cafe is a hot spot for coffee drinkers and students a like.

The Aqua Social Club : Outside is a relaxed environment that allows for quite social hours both in the sun and pouring rain. Inside is a club scene for party goers of both young and middle-aged, but watch out it can be a bit rough with booze lacing the air.

Black Ridge Library and City Records : Not only is the library full of amazing books to read, but it also houses the public records. Whether it's blue prints or documents relating to anything it can be found in the achieves, but getting permission to enter the achieves can be a bit hard.

Town Square Park : Located in the heart of the town, Town Square Park is medium size park with a playground and gazebo. Many of the town's festivals take place here.

Black Ridge High : Home to nightmare test and preppy school spirit, Black Ridge High is the only high school in town, but luckily Black Ridge isn't that far from the next town over.

Black Ridge University : It may be small, but the University has much in the way of leading academics. It is a great place to earn a AA, Bachelors, and Masters degree. It is selective on its students at nine hundred, and has enough one on one time between teacher to student.
Last edited: