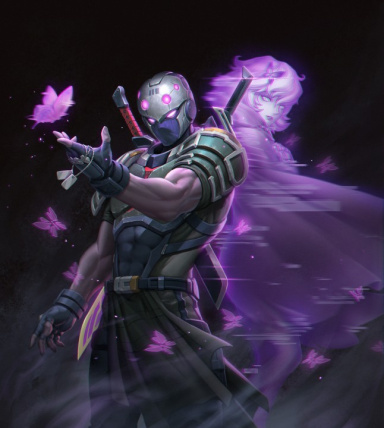 Neko Smasher of Iwaku's Walls
Original poster
FOLKLORE MEMBER
Invitation Status
Posting Speed

One post per day
Online Availability

Florida Time: 5:00 PM
Writing Levels

Give-No-Fucks
Intermediate
Adept
Advanced
Preferred Character Gender

Male
Primarily Prefer Male
Genres

Anime, Fantasy, Post-Apocalyptic, Action/Adventure, and Dark. Sometimes I like to do Edgy things, but it has to be played out right to work for me.
Pant. Pant. Pant.

Invidar ran and ran, through the forest he wove and ducked beneath the foliage, but there dogs and scanners revealed him. Casting a light naked to Invidar's eyes, but clear as day to his pursuers. Invidar was forced to run again, running through the forest, searching for a moment of freedom. This run had been going on longer than the last, five hours at the least, but Invidar couldn't even feel his body. Not even at the start when they found him sleeping in the trees. Now, like before, the noise of the men shouting, dogs barking, and machinery buzzing began to fade. Invidar stepped out into an opening and faced a large hulking figure.

Invidar couldn't help, but feel deja vu, he had been chased into this very place before and faced the same large creatures back. However, Invidar never confronted the beast and kept running past it, but now he stood his ground and drew the Blue Shark Lotus from his back. With a steady grip he held it in one hand and lined the barrel of the gun up on his off-hand, using it like a tri-pod to support the barrel. Invidar's eyes narrowed on the arched back of the tall black beast and with his last exhale before firing he'd quickly change aim and fire at the beast's head. As it slowly turned, a face of what could only have been a grimm's mask stared with angry eyes at Invidar.
​
"Crap."

The grimm was unlike any the boy had ever heard of. It was tall and slender and had no problem standing on two feet, but had the legs of a goat and big black furry arms closer to the ears of a beagle than arms. It had a wolf's mandible and tail. It was truly a monstrosity, one that headed straight for Indivar and slammed one of its mighty hands down on top of him, but Invidar was quick to react and repelled the attack with an upward swing of his weapon and firing a shot into its armpit. The creature howled and cupped its hands together spinning its body causing a wind to suck the air from the boy's body. Incapacitated for a moment Invidar couldn't defend against the spinning hand coming at him and was thrown into a tree.

The mark of the lotus was left on the tree and Invidar was given an idea when he looked up to the sky. He sat where he was watching as a massive demon loomed above him.
​
"Do..."

The grimm struck its hand down on top of Invidar, but the boy was ingenious. He slugged the Blue Shark Lotus over his shoulder and snapped the tree. When the grimm struck down Invidar swung his tree like a bat and forced the humongous hand back. Maddened the grimm repeatedly slammed down on Invidar's last known position, but he had already moved. Inivdar now skipped along the ground until he was behind the grimm and then he used his weapon to shoot him up his spine.
​
"Or die!"

Invidar kept running up the grimm's back and upon reaching the top leapt up and transformed the B.S.L. into spear mode. As he came down he drove the tip of his weapon into the grimm and then transformed it into rifle mode, unloading a whole round into its head. The grimm's rampage halted as it began to rock. Invidar looked around and struggled to pull his blade as he could tell the mighty beast would fall. Invidar rocked back and forth trying to pull the his weapon free, but the grimm was starting to fall already and Invidar could only hang on as he was pulled down. With a loud slam Invidar fell off the beast and bounced into the nearby woods, unconscious, but reunited with his weapon.

Invidar later woke in his apartment. Resting his head on his palm and his elbow on his knee. He groaned feeling his side as he rolled out of bed. He looked around and noted his clothes and the B.S.L. seeing nothing out of the ordinary he rolled back into bed and tried to go back to sleep, but then the whole room rang as his alarms went off. Annoyed he threw his sheet in the air and quickly dressed himself. Picking up his weapon he took out his B.S.L. and shot all the alarms as he walked out the door and headed to work.​
Last edited: