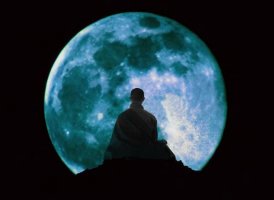 The Bartender
Original poster
A shadowy figure sat at the top of the Pier Bridge, watching the traffic go by. The air was cold, nipping through his clothing and prickling his skin. No one seemed to notice him, perhaps because they were too busy making sure they safely went through the bridge. All he could hear were the cars passing and their horns blaring. He swung his legs back and forth in a sort of giddy fashion, and even though his face was in the shadows, his grin caught the faintest of light.

He couldn't contain it anymore, his laughter.

"He...Hehe...Hee - Hahahahah!"

His hand slapped against the hard metal of the bridge, his head thrown back from his laughter.

"They didn't even notice! Those idiots!"

The laughter died a minute later, leaving the Trickster in a solemn silence. The bridge was enchanted, as were the other exits out of the city - the harbor, the mountain road, the woods, and the sewer system. Anyone leaving the city would alarm him to their presence. At least now his brothers and sisters couldn't accuse him of being careless. He set up precautions. He even set up a barrier around the airspace of the city. No one would leave with the masks without his knowledge. His siblings knew of his habits. They only ask that he be careful with his antics.

From the pockets of his oversized trench coat he pulled out an ominous mask... The owner of this disguise would be most displeased if it found out this was missing.

He drummed his fingers along the mask, licking his lips.

Ahhh, this one he would have fun hiding.




​