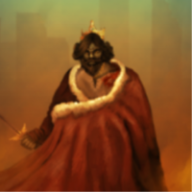 Playing Style- Passive or Aggressive

I am in the middle between passive and aggressive. But I prefer to plan things out with my fellow RPers so I don't mess them up. Although I do keep plot twists under wraps. I believe planning things out helps make for better posts so I do it often.
Favorite Genres

Fantasy, sci-fi, post apocalyptic, parody.
Genre You DON'T Like

No SMUT EVER. Not big on modern RPs, not a fan of Mass RPs due to past experiences. I may make exceptions though if an RP is particularly interesting. I will NEVER get involved with anything like yaoi or furry FYI, those I do not make exceptions with. Also not too keen on perverse RPs.
*Eternity*

The group wasn't sure what to do now but they followed Reaper. But this uncertainty of not knowing what happened to Atoshi bothered them.

"Did he finish him? If Atoshi didn't then..How is this possible now? Man this is crazy. Either way, we're going to wait for him!" Kraw thought as he and the others followed Reaper as he led them out.

There weren't much to say as the Reaper led them to the exit. Everyone was just concerned about Atoshi and whether Shini was gone or not. Because if he remained, how could they go on with their daily lives and live in peace? They couldn't. Thus this was going to bother them until they found out just what had happened.

"This is the exit. I must bid you all farewell. Do not despair just yet. Wait for him and give him time." Reaper pointed them to the portal leading back to the Underworld gate.

With that, everyone departed from Eternity. It was hard to say whether they felt happy. It was good that Eternity was restored to normal but for Atoshi to be missing and for Shinigami's defeat to remain unconfirmed was not good at all. They went through the portal and returned to the Underworld.

*Underworld,Northern Niflheim Mountain Range*

As they returned to the Underworld, they noticed the Crimson Ten were waiting for them, as they had recently finished off their business and wanted to monitor the situation without entering the realm itself.

"So you've returned..But something is amiss. Where is Atoshi?" Sho asked the group.

Hishin shook her head and said, "We honestly don't know. He was fighting Shinigami and something strange happened to the realm. He was gone along with Shini. We awoke after the realm had changed and went back to it's normal state. That's all we know about it.. But there's still chance he might return."

"Don't worry, your man will be back, Hishin! He's strong, he couldn't have lost to Shini! I bet he's just trying to find his way back out!" Arisa tried to comfort Hishin.

"Heh, gotta agree there. Even if he can't make it back, Atoshi isn't going to let Shini get his way and win. So I don't think we've got anything to worry about, it's just a matter of time." Kraw said, being extremely optimistic.

"Yes. I just wonder how long we can wait..How long will it take him if he's still alive?" Nina questioned out loud.

Neil said, "There really is no to know how long it'd take him, wherever he is...Maybe it's best if we camp out for a while here and give him time."

Everyone agreed with that idea.

"This mountain may not be the most hospitable place but it's worth it, so we may get some closure on this matter. We might not be able to set up camp in this exact area but near the base of the mountain it is easily possible."

"I see. So you are going to wait for him then. That is a wise idea, he may need healing. All of you look to be in rather bad shape. Just rest for now. Pyrmia and Cruso can heal most of your wounds for now.. We'll set up a make-shift camp so you all can wait for Atoshi. It's the least we can do. I just wish we could have gotten here sooner and joined you in the realm.." Sho stated.

Pyrmia and Cruso began to tend to the wounds of the group as they continued to talk.

Katsugi questioned, "So how did things go on your end? Did you finish off those Zaka Clan remnants? Or do we still have to worry about them as well, aside from Shini possibly still being alive?"

Duo answered instead of Sho, "They won't be doing anything any longer. Heh. Since Jackal put a bounty on their heads, it's also made things easier, sympathizers of the Zaka Clan betrayed em. Thanks to that, the Underworld Guard and the efforts of your friends, we took out their very last base and their new leaders. Sure a few of them managed to get away but the Zaka Clan is no longer organized and no longer a threat with no bases and nowhere to hide. They're still going to be captured and punished eventually though, they have those brandings of the Zaka Clan symbol burnt onto their flesh or birthmarks if they born into the Clan. It's a dead giveaway for those hunting them."

"Good. At least we've got some good news that can be confirmed. I'm glad they won't terrorize the surface or the Underworld any longer." Camack added. He had reverted to his normal self as the battle had ended.

Ruby readied a carrier pidgin and sent it out explaining, "This message will inform your friends of the current situation. Atoshi deserves a hero's welcome once he comes back."

She then looked rather sad as she added, "If he doesn't...Then at least we will be gathered here and ready to act to stop Shinigami if he's still alive...We have to be prepared in both cases."

The mood was rather solemn as the Crimson Ten went to their carriage and began to help set up camp near the base of the mountain. They couldn't rejoice yet, they could not celebrate and nor could they afford to assume Shinigami was defeated. Pyrmia and Cruso tended to everyone's wounds, healing all they could.

"Shit..I hope never to fight like that again... Took way too much out of me and all his attacks hurt worse than hell!" Kraw commented.

Katsugi told Kraw, "Yeah..That was the hardest battle I've ever fought...Well at least once Atoshi comes back, we can move on with our lives...We can rejoice then."

"Yeah, you said it. It just ain't right to try and celebrate now even though we got out of it alive. It's thanks to him, we owe him our lives! I know for sure I'm going to try and get stronger after this! So we don't ever get taken out again. I still need to get faster without using my energy. We all have to get stronger here, we can't just slack off just because it seems things are becoming peaceful." Kraw added.

"Yeah. It really does seem like things are turning around though. Sure there are dark beasts who hate surface dwellers still, but there are now dark beasts who understand us and consider them our allies...I just hope this peace can stay." Katsugi added.

"It will at least for a good few years until something happens or next rulers of the Underworld are chosen. Jackal is a good leader, he might be cruel to his enemies but he's got a good sense of justice. He's not going to start any wars aganist the surface. Heh. And Krad Dusk, my deadbeat scumbag uncle? I don't think he'll try anything. I still want to give him some pay-back for that stunt he pulled, nearly killing you and everything else ten years ago!" Kraw added.

Katsugi didn't seem too concerned as she replied, "Don't worry about it Kraw. I don't really care anymore..I know he's not going to try that again. Besides, the Forbidden Alliance will probably capture and arrest him soon enough. At least he gave up on his evil ways for the most part...I heard he helped stop that bomb from being dropped but at the same time he built that same bomb. We'll never understand that madman."

"Heh I have to agree there. I guess I just better let it go then if you don't really want a shot at payback. I really do wonder what's going to happen next. But even if Atoshi doesn't come back, we gotta move on...I think we can find somewhere up on the surface to live. Discrimination really has died down quite a lot but it's still around. Maybe I can do something more about that. True equality, that's something I'd love to see... Even if there are people who will harass us, it's a goal worth aiming for. We can beat the crap out of anyone trying to give us trouble now! It's you and me, Katsugi! That's the future, whether Shinigami is still alive, whether Atoshi comes back. We're going to keep on surviving! Keep on fighting and getting stronger even if we don't ever have to fight anyone like Shini or Harken again!" Kraw concluded.

Katsugi almost smilied, "Kraw...." She held hands with him. "Yeah! that's right! That's the spirit we have to have! We can't just be sad here or worried!" She added. She and Kraw then stared into the portal, waiting and watching for Atoshi.

Neil spoke to Arisa, "I really am not sure what we're going to do now. But I know once this is over, we have to go back up to the surface and see Nile and my family again. I've really missed them...But it's up to you, Arisa. You haven't lived with Jackal for a while now."

Looking rather serious, Arisa said, "Well my Neil..I think going up to the surface is fine for now. I miss Nile a lot. Going back to the castle would be nice but...It's bittersweet to live there. So many memories. I was somewhat glad to leave it honestly. I do miss my brother and his family...But I think maybe we can see them later, once we have our ceremony...." She looked rather sad.

"Arisa. Don't be so sad. Your parents are proud of you, not only did you avenge them but you helped destroy the Zaka Clan and you fought with Shini with the rest of us. You've really done great things and I am glad I met you. I just wasn't enjoying life...That false religion, it made me too strict and afraid of so many silly things. When I met you, that really helped me realize that. You're a fine, strong and outstanding woman and a good mother, Arisa! You've made your parents very proud! And you've really made me happy! It's good to have a sense of humor like you do." Neil said to Arisa sincerely. He put his arm around her. She smilied.

"My Neil that's so good of you to say! You really are a smooth talker, yeppers. But that came from the heart. You're really sensitive but not wimpy.You're tough but not stupid or brutish. I met a lot of beasts who all wanted to court me, but they all were so fake. They tried to punch out or blow up poor little Underworld creatures to show off. They just acted like characters instead of being themselves! You're a great fighter,a great fighter and a true man, my Neil! That's why I'm glad I found you before any other female could! You're mine now and forever!" Arisa exclaimed. She and Neil embraced as they both smilied.

Neil said rather loudly, "Atoshi will come back. Fate has not always been cruel! It let us survive, it let us meet each other! He definitely deserves and needs to be here so we can enjoy this victory and be reunited with his loved ones! We just have to keep holding out and hoping that he'll be here! That's all we can do for now."

Everyone as near the portal now, except the Crimson Ten whom were finished setting up the camp. Everyone was waiting, nervously as time went on. Talking to each other occasionally, trying to keep up the hope that he was alive.

"Kid....I'll tell you if I feel anything going on. That portal might be on it's way out soon..But you heard Reaper, Atoshi can get back anyhow even once it's gone. I just hope he gets here soon." Alter Camack spoke to Camack.

Camack replied to his Alter Ego, "Thank you. You said you've really helped me throughout all these years...I don't know where I'd be if it was just me.."

"Don't mention it Kid, if you die, I'm flat out screwed! I had to help you, it's not necessarily from the goodness of my heart. Heh. Let's not get all sentimental and assume it's all over so soon! We don't want to get off guard if that bastard Shini is trying to pull a fast one on us.." Alter Camack responded. Camack agreed.

Sho walked back up and told the others, "The camp has been set up. If it gets late and he hasn't arrived, you can retire there. Or just bring some sleeping bags up here if you wish.. We'll be at the camp as well. The others may arrive soon too, although some of them did get injured."

"Thank you, all of you of the Crimson Ten! It's good to see you are here to try to help us through this..." Hishin said to him.

"No need to thank us. We're doing our duty. I just wish we could have done more. Well. I shall bid you farewell for now. I have to go back to the camp. Just please tell us if or when he comes back." Sho responded. Hishin nodded.

Nina looked into the portal, "Brother..Did you make it? Or is your soul just somewhere else?" She questioned out loud.

"I think he did, Nina. You know him, he's not weak. Not his body and not his soul. Shini's plans are as good as foiled. That is what I believe. He'll be back, it may take him a while but he shall return." Kento responded.

"I hope you're right. It just is no good why things have to be this way..All we can do is wait..." Nina stated.

The long wait began. But everyone was prepared for the long haul, the Crimson Ten brought up some food and sleeping bags just in case for all those whom were awaiting Atoshi's return. They all kept their distance from the portal but they couldn't help but stare into it every few minutes, hoping to see Atoshi exiting it.