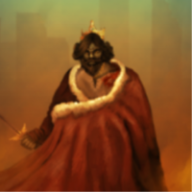 The Burger King
Original poster
Playing Style- Passive or Aggressive

I am in the middle between passive and aggressive. But I prefer to plan things out with my fellow RPers so I don't mess them up. Although I do keep plot twists under wraps. I believe planning things out helps make for better posts so I do it often.
Favorite Genres

Fantasy, sci-fi, post apocalyptic, parody.
Genre You DON'T Like

No SMUT EVER. Not big on modern RPs, not a fan of Mass RPs due to past experiences. I may make exceptions though if an RP is particularly interesting. I will NEVER get involved with anything like yaoi or furry FYI, those I do not make exceptions with. Also not too keen on perverse RPs.
*Great Monastery, Second Floor*

Before Neil and Arisa could progress onto the next floor, they stumbled upon a very different room. There were several doors at the end of the room and a staircase leading up to the left side.

"Which way do we go? This is insane! It has to be some kind of illusion!" Neil said to Arisa. Arisa responded, "Yeppers..All these doors..They can't all lead to somewhere in this monastery..And they might be rigged with traps or something when we open them... Let's try that closet to us first."

They opened the door and saw only a strange void, similar to the sealed realm, they could walk inside it but it was pointless as there was nothing inside there. "Wow. Just an empty place...Let's try a few more of these doors together." Neil said.

They opened a door to the left of them and once again, found an empty void. Nothing. They opened one to the right, nothing once more. They moved to the left side of the room and opened another door, nothing again.

"My Neil..I think it's safe for us to split up and check each door individually. There probably aren't any traps but be careful. Let's leave claw-marks on each empty door. And if we find something, make noise and call the other person! Allright?" Neil nodded and said, "Sounds like a good idea..It'll get us through this faster. Let's do it then!" With that, the two of them began to go through the doors, opening each one and marking the door with their claws so the other would know they had already explored it.

Neil opened one of the doors and once again found a strange void like area but this time there was a door inside it. He decided to try that door and he opened it up and found he was in a void like area once more.

This time he saw another door to the south, before he opened it, Arisa did from the other side. "Hey Arisa..Uhhh damn..." Neil said looking rather puzzled. Arisa giggled and said, "Got lost huh? I can't blame you..This place is confusing."

"Yeah..So this door is useless, it just leads to the door I came from." Neil explained. "Hmmm. There's no clues or anything.....But there has to be some sort of way to find the door leading out of here and into the next room. Well my Neil, let's go back to investigating some other doors then. And just make some noise if you find anything, the way out or something interesting." Once more the two split up and began to search.

Arisa opened a door to her right and noticed there was a door inside the room. However this door was unusual, instead of being up-right, it was on the ground inside the void. She didn't want to fall through it so instead she opened it up from further back and gazed through. She saw the floor of the room!

"This door..It's..On the ceiling? This is just crazy.." She exited the area and tried another door instead. Eventually, the two finished searching all the doors. Nothing. No hints, no clues and no way to the next room. They decided to climb up the stairs and to their annoyance, they found around thirty doors spread out in the area.

"Grrr! Enough with the doors! This place really was built with some bad magic traps! This isn't amusing or dangerous, it's just annoying and stupid! My Neil..I think we should try something different." She prepared use her energy to blow open all the doors at once with some sort of attack but she suddenly stopped.

"Oh..Sorry Neil. I am just sick of this place. Sick of opening doors. That would have wasted energy...Let's just try opening them again and split up..." Neil nodded and said, "I understand your frustration. This area just doesn't make any sense. It's just cruelly designed... Like it's meant to drive us insane." Arisa agreed, "Yeppers. Almost drove me crazy. Starting a fight with doors...Hehehe..Oh well my Neil. I'll just have to keep my cool and be calm like you are."

As Neil readied to open another door, he was shocked to find it was locked. He broke it down and found nothing. Arisa tried to open a door but she felt a prescience near by. She slapped the door and it came to life! It was a Mimic of some sort, a monster imitating a door. It's eyes were near the knob and it's jaws were on it's left side whenever it opened. Thus anyone who tried to open it and go through it would be biten. "What the hell? Well Mr. or Mrs.Door thingie... You're going down! It's not nice to try to chew on people and pose as a door!"

Arisa killed the Door Mimic with a large yo-yo, breaking it apart with a few swings. "Phew..That would have been dangerous if had opened it..I hope Neil doesn't run into anyone of those things....But I know he'll be fine.."

Neil opened a door and inside was a brick wall and a statue that breathed fire, he dodged it and quickly closed the door. "There are traps here....I really don't like this... Arisa should be fine though. She's fast enough to dodge things like that. This crystal really is slowing me down..Good thing that statue was slow when it came to launching that fire.." Neil thought to himself.

Finally, Arisa opened a door and called out to Neil, "Neil! I've found it! A real exit!" Neil came running. She and Neil embraced and celebrated, relieved they had found the way. "We did it, Neil! We did itttttttt! No more freaking doors!!" Arisa jumped joyously with Neil. "Heh. Yeah. Let's not celebrate too soon. You never know about this place.. I don't think the others went through this particular path, I couldn't smell them. But it should take us to the next floor...."

The two entered this new room and found a fleet of many stairs, they began to walk up them. It was not endless but it certainly was a walk to get to the top, especially with Neil carrying the Arlon energy crystal. Arisa looked rather guilty. "My Neil, how about I carry it? You could use a break. You're really pushing yourself." "I feel it's my duty to carry it, Arisa. Having Arlon blood and since Roy is gone, someone has to be the caretaker of the crystal. But you're right. I could use a break. And I know you wouldn't accidentally shatter it. I'll trust you with it then." With that, Neil handed the crystal over to Arisa.

"Thanks Neil, I'll take good care of it! Well...Let's goooo!" She sounded very excited to be out of the maze of doors. Neil nodded as he led the way, looking back every now and then to make sure Arisa wasn't having trouble getting up the stairs with the crystal. She was doing fine so far as dark beasts were naturally physically stronger than ice beasts. But she moved somewhat slowly and carefully.

*Great Monastery, the Tower*

Kraw thought, "He's not going to try climbing again...That means I'll have to hit him while he's on the ground and dodge his blades around the same time. Heh. That Nifire..If I could try to get rid of it, being cut by those blades wouldn't hurt much. Maybe that one technique could work.." He then had an idea. He charged up some of his energy and created a medium sized sphere of it.

He waited until he saw Leo's blades coming for him, Kraw jumped into the air and hit them with the sphere. It dispelled the Nifire on the blades. The blades managed to graze Kraw but without the Nifire, it didn't hurt him very much at all. Kraw then made his way towards Leo.

"Interesting. That technique, a dispelling technique to rid a weapon of energy of any sort." Leo then dodged Kraw's axe as he threw it off at him like a tomahawk. Despite the energy Kraw put into the axe, it wasn't fast enough to touch Leo this time.

As Kraw's axe came back to him. He noticed Leo was back in the ceiling, he quickly came down and moved in closer to Kraw, applying his Nifire to his blades once more. "There's got to be a way....I'll just have to try this one, it's a gamble but...It should pay off!"

Kraw poured a great deal of energy into his body. As Leo towards Kraw, swinging his blade, Kraw's body became as strong as Titanium. But instead of trying to grab the blades, he decided to use this chance to tank Leo's attacks while Kraw launched his own assault. Leo's blades could not cut into his skin, even with Nifire. As soon as Leo was close enough, Kraw began to bombard Leo with a furry of punches. "Titanium fists!" Each hit made a bone-cracking noise as it hit Leo, Kraw punched him primarily in the head and the stomach.

Leo pulled his blades back and escaped before Kraw could hurt him too much. "A worthy opponent. That was quite the move. That would have broken my skull several times over if I were a typical fighter." Leo still looked rather unharmed, although he coughed up some blood but very little. Kraw's body returned to normal. Kraw looked rather worn out afterwards.

"Heh. You're not bad either. It's a shame you have to be fighting on the wrong side, working with that rotten Shini. You pissed off the wrong guy by kidnapping Katsugi!" Kraw added. "Am I truly the one on the wrong side?" Leo asked Kraw rhetorically as this time he targeted Kraw from afar with his blades.

Kraw looked rather annoyed. Once more, Kraw decided to counterattack instead of defending. He was going to risk being hit by the Nifire blades for a chance to hit Leo once more. "He doesn't leave himself open to many attacks unless he's climbing..This seems to be the only way. To hit him while he's busy trying to hit me. And I can't use the Titanium body technique again. That'd waste up too much energy. I don't have all that much left."

Kraw channeled his energy into his axe and caused it to grow forty times it's normal size. He jumped into the air slammed it down on the ground and caused the Monastery to shake violently. Leo had jumped himself and avoided being stunned by the quake like effect. However, Kraw then tossed the now gigantic axe like a tomahawk and poured some more energy into it. "Crescent Cleavers!" Kraw called out as the axe released ten large cleavers that zoomed by Leo, one of them managed to cut into Leo's chest before it flew off and faded away. The other blades had missed them as he dodged them. Leo was now bleeding and had an actual wound now. Kraw's axe returned to normal.

Katsugi cheered, "Yeah!!!! That's it, Kraw!" Kraw smirked upon hearing Katsugi.

"Not bad, not bad at all." Leo complimented. However, once more Leo did not seem to be in major pain. Kraw looked rather surprised. "Shit, that should have cut him open or at least cut into his heart..Not close enough apparently.." Kraw looked rather burned out as he had used up most of his energy.

Leo ran towards Kraw once more to fight him up close and take advantage of how his constant attacks were tiring him out. Leo ran up to Kraw and swung both his blades at Kraw. Kraw struggled to block with his axe. "I don't have enough energy for another large scale attack..It might just come down to a real brutal physical blow then.. Heh. If that's the way it has to be...I'll do it.."

"I don't like this.Leo might be too much, even for you Kraw..He's able to move and fight even after being cut like that...." Katsugi thought. She looked very worried now upon seeing how Kraw was struggling to block Leo's blades.

Leo eventually was able to cut into Kraw's right shoulder with one of his blades. Kraw winced in pain. "Dammit...Heh, he was bound to get me again eventually. No worries...At least it gives me the opportunity to do this!" Kraw struggled with the pain but was able to move his axe and nearly ram it through Leo. Leo dodged however.

"Heh. This guy's much better at avoiding then me... This isn't good..I have to think of something. Something new here...Something I can do with very little energy left.. Something that could make him easier to hit.." Kraw scrambled to think of what he could do next as the battle raged on.