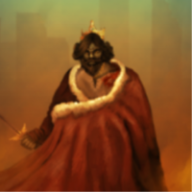 The Burger King
Original poster
FOLKLORE MEMBER
Genres

Fantasy, sci-fi, post apocalyptic, parody.
*Anubis base, factory room*

Magnus and Salika had made it to the next room after a long walk. They entered a strange room full of all sorts of machines, a conveyor belt, a melting pot for wielding, a large mechanical crane, pieces of steel were scattered all over the room.

There was also an supervisor's deck, a balcony like structure that overlooked this factory room. Kiyoshi emerged from it and began to ramble,"God Kiyoshi is ready to take you all on. Prepare yourselves, for GOD KIYOSHI! Hurghhhhhhhh!"

Kiyoshi stabbed himself a few times with a drill he found to induce his transformation. He grew one wing made of ice that sprouted out of his back and a crown around his head."The Angel Beast GOD KIYOSHI!!!!!! You will suffer, sinners! Today is the day for your judgment!"

Magnus and Salika were unimpressed with Kiyoshi's new form. Magnus commented, "One wing? You can't fly with one wing...Even a non scientific guy like me realizes that!"

Kiyoshi jumped off the deck and glared at Magnus and Salika, "Of course you sinners..Don't realize just who you are doing with here! I am a God, a figure of greatness, everyone wants to be God Kiyoshi, from the slaves to the Zaka Clan beasts themselves! I am a real beast of greatness!!!!"

A loud rumbling and a few screams were heard as some slaves emerged from the back room. Kiyoshi ignored this noise and charged up his ice energy.

"Trial by Ice!!!!!!" Kiyoshi called out as he created several sharp icicles around him that formed a makeshift barrier around him for the time being. However, he decided to send them flying at Magnus and Salika in hopes of impaling them. Magnus used his fire energy to pull off a fire breathe attack, melting the icicles before they could even get too close. Kiyoshi was stunned.

"You!!!!But ohohohoh, that's not the best I can do!!! You've yet to see my full power.. Now..Tremble, like dogs!!!!You sinful surface swine! I'll purge your souls from this world fo-" Kiyoshi was interrupted.

Salika tossed a vial of acid onto Kiyoshi's face causing him to cry out, "AHHHHHH! HOW DARE YOU? Foul wench!You will die first! You bitch, you WHORE! It's a grave sin to toss that shit onto the face of beautiful GOD KIYOSHI!!!!"

Magnus ran towards Kiyoshi and began to pummel him, surrounding his fists with fire energy. He smashed Kiyoshi's nose with his fists and then he nearly shattered Kiyoshi's skull with his fists. He then slammed Kiyoshi's head onto the floor. Kiyoshi went unconscious for a few moments after Magnus's assault.

"He's a manipulator, not a fighter. Final beast or not, he's got no instinct." Magnus spoke to Salika.

"Yeah he has no common sense either. He didn't expect me to do that by now? Well now Magnus..We best finish the job here...We can't let Kiyoshi live,he'll just pull something like this again." Salika commented.

Magnus agreed but before he could do anything, a group of slaves grabbed Kiyoshi, one of the slaves slapped him and woke him up."Wake up, you bastard!" One of the slaves ordered.

"Wh-wha-what is this? Unhand me, unhand me now!!!How'd you all get free-?" Kiyoshi questioned. "Because your guards weren't strong enough to handle us after we heard you killed my sister!You made a mistake having all those dark beasts outside and not in here guarding us slaves!" The slave replied. The slaves then approached a large melting pot, they removed the covers as Kiyoshi's face turned pale as he realized what they were going to do to him.

"Urgh!God Kiyoshi demands you sinn-" The slaves covered Kiyoshi's mouth as they tossed him into the pot. Kiyoshi screamed in agony as he felt the intense heat of the lava in the pot,"AHHHHHHHHHHHHH! H-h-help! Someone! I'm not all that bad, I'm a God!

Kiyoshi cried out as he sunk into the boiling hot lava, "The world needs me! Why don't you love me? Lord Harkennnnnnnnn HELP! SAVE ME!! You're like my father, Harken, you have to help your son!!! I don't want to be melted! This is hell for an ice beast!" It was all in vain, no one saved Kiyoshi, the slaves just watched him sink in.

"Over here! I found the exit they used to bring me back in here after I escaped! Leads right to the Soma Plains! We'll be able to find the Underworld Guard HQ from there!" One of the other slaves called out as he discovered a button in the wall and pressed it.

A part of the wall opened up, revealing a staircase that went underground. Before they left, the group of slaves who grabbed Kiyoshi gave thanks to Salika and Magnus, they then joined up with the other slaves and escaped the base via the passageway.

"Well. Looks like he had plenty of enemies. I'm sure those beasts will be fine. We should just go back and see if we can find Rai and Alastor. They may need help dealing with Mara." Salika commented.

"Yeah..Sounds good to me. This passageway will make a good escape route once we're done though." With that, the two of them headed off to search for Rai and Alastor.

*Shintaion Skies*

A fleet of Forbidden Alliance airships were positioned at nearly all angles, ready to fire if the moon fell and reached the point of no return. There were around fifty airships in total.

On the main ship's deck, the Crimson Ten were all gathered along with Sylvia. The Warriors were gathered in another ship near by. The entire fleet of Wind Beasts had also gathered, their purpose was to use their wind energy to create tornadoes to lift and hold in place any pieces of the moon.

Sylvia prayed to herself, "Greg..I'll do all I can to protect Shintaion while you're not here...But this moon...I believe in you and everyone in the Underworld, please, stop Mara!"

"When even a goddess is praying...That is when you know the situation is dire." Cruso commented.

The moon was easily visible even in daylight now since it was so close. But it had yet to enter Shintaion's atmosphere. Once it entered the atmosphere, it was speculated that was the point of no return.

Sho announced, "The plan is this. Once the moon enters the atmosphere, we'll fire on it with the airships all at once! Then any pieces of it that are left will be destroyed by our energy attacks. We can't let a single piece fall onto the planet, it would be devastating none the less. Our main ship will launch the flare once it's time to strike the moon, if the moon reaches the point of no return..If we destroy the moon, many natural disasters will occur but if we don't destroy it once it reaches the atmosphere, it'll be even worse. We cannot let our world be destroyed and we won't! After this, we'll think up other plans to find some way to save as many people as we can. We're fighting for our world, our families and everyone in Shintaion!We will prevail, we cannot falter at this point!"

"We will do this! I know we can! We'll stop the moon, we'll find a way to deal with the coming disasters and and we'll all get see our children and families again!" Scarlet added.

The Crimson Ten and Sylvia all cheered and rallied. They then stood and watched the moon in silence for the most part.

A fleet of United Surface Army airships arrived, it was around only twenty ships.

"Great! Now these assholes are here to bother us!" Shine commented. However as soon as he said that, a carrier pigeon delivered a message to Sho.

The message stated, "We of the United Surface Army wish to help. We'll surrender after this situation is dealt with."

"Shine, don't worry about it. They're not here to fight us. They're here to help, believe it or not." Sho Natu commented as he began writing a letter to United Surface Army fleet so they could be included in the plan. He wrote the letter and sent it back with the pigeon.

*Anubis base elevator room*

"Rai..Are you foolish enough to believe I'd let you transform?" Mara lifted Rai in the air with her energy and held him in place, preparing to hurl him into the wall yet again.

However, she was interrupted as her barrier was shattered by a several light bullets from Alastor's gun. This gave Rai the time to complete his transformation. Rai grew more muscular and three icicles that resembled hair appeared growing from the back of his head. He smirked as he saw Alastor had helped him.

"Berserker Beast..That's what I'll call this form...I am in control!" Rai commented.

Mara let Rai go as she was shocked to see Alastor. "You're..Where did you get bullets?"

"The weapons room of course. The Zaka Clan beasts aren't good at strategy, it was rather unguarded and filled with these same type of bullets. Looks like they either stole them from the United Surface Army or they have the same supplier. Now you stop the moon from dropping, Mara!"

"Never! You two can't stop me, this is my destiny, this is what I was born to do! Born to die for the sake of the ritual!"

Rai told Mara, "This mind control stuff is driving me insane! Harken has really messed up your thought process..You're going in circles, I convince you this is wrong, you get zapped and go right back to dropping the moon! The cycle is going to end here and now, Mara!"

Mara shouted, "Infinite Fields!" Mara created several force fields around her at all sides and even above her. She even created a visible small orb shaped barrier of energy that protected her directly.

She then readied her staff and aimed it right at Alastor, launching a freezing mist of ice energy that even froze some of the floor in the room as it blew towards Alastor's direction.

However, Rai jumped in front of it and absorbed it easily. "Hey Mara, thanks for helping me stay frosty!! Don't even try ice energy from that staff of yours!!!" Mara looked annoyed.

Alastor fired off his bullets at the fields but this time, no effect on the fields. Alastor then reloaded his gun but with a different box of bullets he had taken. There was no writing on the box for some reason.

Rai shouted, "Ice hammer!" He created a medium sized hammer of ice that he held with both hands and began to spin around, preparing to do a hammer toss.

"You fool. That will not work. Your energy hammer..I can manipulate it's movement once it leaves your arms!" Mara warned Rai.

Rai laughed as he continued, "Mara...I know this transformation..It's cut you off from reality, it's made your personality and powers unstable. You can't focus on both my mind and Alastor's at once!"

Mara decided, "Even so..Do you even have anything that can pierce my force fields any my own personal barrier? I highly doubt it. You two are so laughable. But I only wish to die with Rai by my side..Alastor, you're not invited to be entombed with me!"

She used her energy and lifted Alastor up into the air and slammed him against the ceiling then the floor before dropping him violently. Rai took this opportunity to toss his hammer, it managed to shatter through the the force fields. Alastor got back up and looked mostly unharmed, although in pain.

"Listen, Mara, this isn't about you, this is about stopping that foolish ritual!" Alastor shouted at Mara.


Mara growled as she prepared to go on the offensive once more. But she decided aganist it.

"I can see your plan..This battle is indeed taking away some of my energy I could use on the moon..So instead..I shall focus on the moon....I shall drop it immediately!" She quickly replaced the fields that Rai destroyed and closed her eyes as she focused on the moon more, hoping to pull it down further.

"Rai, I don't care even if you've got feelings for this girl, she has to be knocked to her senses somehow and if it takes a fatal wounding to do it, I'm willing to take that chance to stop it!! Break those barriers now and I'll finish things here!" Alastor ordered Rai.

Rai looked truly concerned now as he told Alastor, "I don't kill her or let her get killed, Alastor! Just give me a chance to get through to her!!!One last time!" With that, Rai used his energy to change his hammer, it became spiky now and now it was a large sized hammer now.

Rai charged and swung the hammer with all his might, he smashed through many fields as he continued breaking them all down. Finally, he broke them all down and stood face to face with Mara. Alastor crept up from behind and readied his gun to fire. Rai stood back.

Alastor unleashed a barrage of red bullets that exploded upon impact once they hit Mara, destroying her personal barrier with ease and easily denting her armor.

"Aghhh! Explosives?" Mara struggled to remain levitating due to the explosions. She lost focus on the moon. She tried to regain focus on it as she resumed normal levitation.

"No. I didn't plan this. I just got lucky, these aren't just fire elemental bullets they explode upon impact! Now Rai, get through to her! This is your last chance before she recovers!" Alastor warned Rai.

Rai nodded as he poured more and more energy into his hammer. He aimed it steadily at Mara, jumped in the air and smashed Mara's armor to pieces and knocked her down easily. "Ice Hammer break! Mara, this is for you! Break free, come back to reality! Now stop the moon! You don't deserve to die! You can change your destiny and make your own future from this point on!"

"Rai...I..Oh..Ahhhhh! My head.." Mara struggled as she saw her life flashing before her eyes.

She then saw memories of just before her parents deaths in Aken Village. But she noticed something different, she saw Harken escaping the large watch tower that fell on top of her parent's home and killed them.

She began to cry as she realized the truth.

She spoke to Rai, "Harken..He did this..He was the one who knocked it down..It wasn't my power that day...It's true I caused some damage in the village but that wasn't. He planned all of this out. He wanted me and Kiyoshi to be exiled from Aken Village.. He wanted us to have to resort to working for him to survive. I didn't kill my parents. But that doesn't change the fact I killed people working for Harken..I regret it all..But..I will not make another mistake! I will not take anymore innocent lives!"

She broke free of Harken's mind control permanently as Mara became herself again!
She turned back to normal but she looked rather weak as she stopped levitating. Rai ran up beside her and held her hand, "Mara, you can do this!!!You've got enough energy left I can feel it. You're a strong lady! You broke free of Harken's mind control!!"

Mara smiled as she nodded and focused her energy on moving the moon back, "Ok..Rai...I am ready. Here goes everything! Please, wish me luck, Alastor."

"Hmpmh. Just hurry up and fix this mess!" Alastor commented.

*Shintaion skies*

The moon began to enter the atmosphere violently. However, before Sho could launch the signal flare, he noticed the moon was now coated in some sort of green energy.

"Mara, she's moving the moon back herself! Yes! She might be able to do it! Don't launch the flare!" Sylvia commented.

The moon was shifting between going down and being pulled back into it's orbit, back and fourth, back and fourth as Mara struggled to move it back. She was going up against the forces of gravity after all.
Finally, she overcame it and pushed the moon back into space and back into it's rightful orbit. The moon moved was sent hurling back into it's orbit and was put back safely.

Loud rejoicing could be heard coming from the crews of the airships.

"Yeaaaaaah! Allright! First I'm gonna help everyone fix up the problems caused by all this panic. Then I'm gonna see our kids. Then I'm gonna get some loving tonight! Ruby, I hope you're in the mood! It's the only correct way to celebrate the survival of our planet!" Duo said aloud joyously. Ruby promptly smacked him. He wasn't too bothered by this, he saw it coming.

"Heh..Sorry got a little carried away there." Duo commented to the others..

Taiyo laughed, "Duo. I can't blame you for saying that out loud. I'm excited too but we've still got lots of work to do.."

Sho nodded as he said, "We've got to restore order now to the cities, towns and villages and cal people out of the shelters. We'll also have the Underworld affairs to deal with after this...But I believe those we sent down there take care of things for now...But we have to aide them soon, they'll need all the help they can get dealing with Harken...But for now..We can rejoice! I'll tell Zigus to take us back to Tania and we'll get started on everything right now!"

With that, Sho went into the cabin of the airship to inform Zigus of the situation.

*Flagship, Control room*

Finally, they had made it to the control room. Before they could move in to stop him Tegan noticed them. He took his hands off the steering wheel and pressed a button to drop the bomb, he smashed the bomb controls and then he smashed the altitude controls. He also tried to remove the steering wheel but Akio stopped him.

"You scum! It's too late to stop me now! The Underworld is as good as gone, the bomb is being dropped and you can't stop it! Everything you've done was for nothing in the end!! I will have my revenge on the dark beasts and you cannot stop it now!!" Tegan taunted Akio. Akio didn't dignify his hate filled words with a response.

Carlin took control of the steering wheel as Lowe tried to do something about the bomb's controls to stop it's launch.

"It's...No good!!!Dammit!He broke it..The bomb is going to drop now and there's no stopping it..." Lowe commented.

He then said, "However...If this bomb is dropped into the river..It won't do so much damage..It's rendered relatively ineffective underwater according to those blue prints. But..." Lowe looked at the altitude controls and noticed the ship was going up and down rapidly despite Carlin's efforts to stabilize it.

"The altitude controls...They're beyond repair as well..If someone stays behind to steer the ship over the river and keep it there, there's a large chance they'll crash and die.. Landing is neigh impossible with the altitude controls broken.... Someone has to stay here and pilot this ship...I think it's best if I am that person to stay behind." Lowe said.

"No! Let me use my power..I'll slow down the bomb's drop!!!" Eve used all of her remaining energy she could on the bomb to slow it down.

"Thank you for your efforts but...That'll allow you guys time to escape but...Someone still has to stay...And I will be that person.."

Katsugi didn't like this outcome, "This isn't any fair, can't someone else stay?"

"No, this is our world, we can't let someone from the surface be sacrificed to defend it, that's not right! So I will be the one who stays..We can't argue about it as we're running out of time! Take these keys, they'll open the door to our airship, the Raven,you can't miss it! It's the biggest ship in the docking bay and the most unique! Now get out of here! Please, only one person has to stay here..I appreciate and thank you all for what you've done but you must go!" Lowe commented as he tossed the keys to Katsugi.

With that, Hishin, Hannah, Marx, Katsugi and Eve headed to the docking bay. Tonya, Veril and Aurora were already at the bay.

Now, only the Underworld Guard trio and Tegan remained in the room.

Tegan was laughing at all of this as Carlin punched him. She then pleaded with Lowe, "No! You shouldn't have to be the one who stays..Let me stay instead, Lowe! Your life has more meaning.. Me? I may be stronger but I'm not quite as good as you are with airships and machines.. I'm better at killing people than saving them, Lowe. You should let me stay!!Please! You're too important to me...To die like this..I'm too cold hearted to deserve to live over you..." She began to tear up.

"Carla...I'm sorry. But I should be the one to stay. I'm just not strong enough, I couldn't save people when it mattered. I couldn't save Felix. I may be kind but I am weak. I'm no good at fighting. I'm good with machines but that's it really..This is what I was born to do...This is how I can be useful, this is the only way I now to save lives! I'll drop the bomb in the water and crash this airship away from civilized areas! I have to do this..Carla, you can keep my pendent, my goggles and my toolboxes. Take care of the airships for me, they'll be essential in dealing with the Zaka Clan." Lowe handed her his pendent that he got from Felix with the drawing of Lowe on the stone.

Lowe teared up as well as tears began to drop from his eyes.

Lowe stopped talking for a second as Carlin leaned on him and began to cry. He comforted her and told her, "Carla..I'm sorry it has to be this way. But either way, someone dies. You're not a heartless killer, don't let anyone tell you that! You are a kind and strong person. You don't need me to live a fulfilling life. I love you Carla..But it's time to say goodbye...Just take care of things for me. I know you'll do fine. I'm sorry we can't rebuild the Underworld together like I promised...But things change.." Lowe held Carlin one last time as she kissed him.

Lowe then spoke to Akio, "Brother. You can split my possessions with Carla. I want you to look after her..I know you'll do it fine, you're reliable. Just make sure she gets out of her..She really wants to stay with me..But I can't allow that..I'm sorry Carla...You two have to get going. I know you guys will do your best and keep the Underworld save..I know one day it'll be a better place without the Zaka Clan and without enemies from the surface coming down to kill us like this. So, goodbye Akio. Goodbye Carla!"

Akio was troubled by this as well but he held back his tears. He continued to restrain Tegan. He replied, "Allright brother, I'll do what I can, Lowe...But you have to try to make it out, there's one of those parachutes on this thing. You have to promise me you'll try and escape at least." Akio pointed to a container with a parachute in it that was attached to the wall of the airship.

"I'll..Try..But please, go now!" Lowe said. Carla left Lowe's side regretfully. She told Lowe, "Lowe...Please, come back alive! I'll search for you..I love you, Lowe!!! Please don't die!"

He nodded. "Carla..I'll do my best...But I have to focus on making sure this bomb lands deep in the river and I have to make sure this ship won't crash anywhere it could hurt innocent people...So it won't be easy..I don't honestly think I can make it. So please, for the last time, get out of here!!!!! I don't want the two of you dying with me. You two are necessary to saving the Underworld! Me..I'm weaker..I can be sacrificed..But I do this on my own will, for the good of our world! This is my way of saving the people of the Underworld!I will not fail!" Lowe shouted.

With that, Akio and Carlin left and made a mad dash for the docking bay. Tegan tried to break free during this time.

"Ahaha! I win either way, a dark beast gets to feel my pain. Just like when they killed her..When they took her from me! I get revenge either way, maybe not all dark beasts will die off, but at least I've killed one of you! That's a victory for me! Aahhaha! I will never apologize! I'll plead innocent in court as you can't convict me of attempted genocide since there will be no proof left! The explosion of the airship will leave nothing, not even a fried skeleton your precious Lowe! I will get my best lawyers and win the trial!" Tegan boasted.

"I've had it!!!You..You have no remorse! The people of the Underworld didn't kill your damn lover!!! There's no reason to destroy an entire world just because of the actions of a few wicked dark beasts! I may kill people, but I only kill those responsible for tragedies like this! The guilty! I don't kill innocents! You see, this is the Underworld, Tegan, there are no trials here! You won't become a hero to dark beast hating racists on the surface! You won't get away scout free for this! You'll be executed here and now!" Carlin grabbed Tegan by the throat. She was sad but angry at the same time. She materialized a rifle of dark energy and held it at Tegan's head.

"W-w-w-ait!You can't do this! You can't! I'll give you anything, money, more airships? Maybe even United Surface Army support so we can kill you destroy the Zaka Clan? Ohhh, maybe food? A handsome man to replace your dead lover?"

"GIVE ME BACK LOWE! Bring Lowe back you son of a bitch!!!!!Go back there and take his place and drop that bomb in the water and crash the ship into the river too!" Carlin yelled at Tegan in a fit of rage.

"Ahhh! Ahhh! Now wait now, Akio if that's your name, stop her! She's mad, isn't this ship going to crash soon or something? We have to go! She can't be doing this now! I can't go back, it's too late! Besides, I'm not that good of an airship pilot, only he can handle it! And I won't do it even if you force me! I-i-i-i- will die before I stop my own plan!" Tegan said nervously.

"No more of your insincere excuses and bullshit! If you can't bring him back, what good are you? You're useless!!!You'll die now!" Carlin yelled.

"AHHHHHHHH! Please, help me!!!!I'm a high ranking politician! You can't let her do this!" Tegan cried out.

Akio said simply, "I can't feel any sympathy for you Tegan either. Even if people like Veril and the others got along with you..Even if you were a good person at times, you've gone too far and you have to be punished for it.. Carlin has the right to kill you as far I'm concerned."

Carlin pulled the trigger of her energy rifle and shot Tegan's head clean off with a powerful energy blast. She calmly said, "Dead." She quickly cleaned the blood off herself and her clothes before resuming running with Akio to the docking bay.

Eventually they made it and took off in the Raven with the others. They made it out safely before Lowe even dropped the bomb in the water. They spoke not a word of how Carlin killed Tegan. They kept intended to keep it secret.

Lowe managed to drop the bomb in the river, it created a large splash as it went off but no truly major repercussions.

"Dammit..This altitude is no good...I can't land in the water with it going down this fast!!!But there's too many structures around here to risk it..Yomi City..What remains of Peklo. Or Aken Village....."

He then noticed Anubis in the distance.

"If can't land..I might as well take out their base with me!" Lowe thought. He steered the ship towards the Anubis base. As he closed in on it, he smashed open the container and put on a parachute, ready to jump when the time came near.

*Anubis base*

Magnus and Salika arrived in the elevator room. Mara simply said, "It's done..The Moon won't hit Shintaion...But now you all have to get out of here...An airship is about to crash onto this base....I'll teleport you all away now...I don't have very much energy left so I won't use it on myself....And the others above..Whom I can sense are friends of yours..."

"Don't bother sending me,I'll stay here with you and make sure you get out, Mara!" Rai spoke up.

Magnus didn't look happy as this all played out but he sighed and accepted it. Rai was his step brother but Rai was his own man, he wanted to risk it all and help Mara, it was his decision to make.

With that, Mara teleported Alastor, Salika, Magnus away into the secret passageway. She also teleported Dion, Camack, Arisa, Armand and Kington as well. She spoke to them telepathically and said, "Take this passageway now, Anubis base is about to be destroyed, hurry!"

With that, the others escaped but now it was Mara and Rai who had to get out of there. Rai smashed a hole in the floor with his hammer and saw the factory room in sight. Rai grabbed ahold of Mara as she nearly fell. He carried her on his back and continued onward.

Mara looked burned out and struggling to stay conscious, "Rai..If we survive..I'll gladly go up to the surface with you and see the City of Warriors. Once this is all..Over.. You really care for me and I appreciate it. You and I...think we have a future together if we get out of this.."

"Yeah Mara, sounds great! But let's get outta here then talk about it!" Rai said was he looked for the secret passageway and ran towards it.

However, at this same time, outside the base, Tegan's flagship was within a minute or so from crashing into it.

"What the fuck? Who the hell ordered an airship to fly around so low? And where did all those people we were fighting go? Hey! What's it say on there? United..Sarfice Arumy? Huh?" One of the dark beasts questioned.

"AHHHHHH!RUN! IT"S GONNA CRASH! AHHHHHHHH! EVERY BEAST FOR HIMSELF!" One of the dark beast screamed. The Zaka Clan Beasts entered a panic as they scrambled to run. But it was too late now...

Lowe punched a hole through the airship's window and jumped out with his parachute. He said aloud as he began to fall, "Carla..Akio..Maya..And everyone else..This is for you! I'll try to make it back...But if not..I'll miss you all..Protect the Underworld and bring hope back..I know you all can do it...Even if my life ends here..I am at peace knowing you all are here and alive to protect the Underworld and it's people! And those from the surface..I am grateful for what you've done as well...All of you, take care..."

Lowe's parachute took effect but a few seconds later, the ship crashed and an explosion consumed the base. There was little chance Lowe survived.

The wreckage of the base was in flames, very few Zaka Clan beasts escaped but all the slaves had escaped earlier.

*The Raven*

The mood in the airship was somber and depressing. No one uttered a word the whole trip, not even Tonya. It felt like a loss instead of a victory, even though they saved the Underworld. The Underworld Guard and Carlin lost Lowe.

Akio was piloting the ship now as Carlin was no in state to be piloting.

"LOWE! Why'd you do it? Why'd you do it Lowe? Maybe you could have landed...You were good with airships..Even if Tegan ruined the controls..You're too smart to die so easily! You had so much courage and a kind heart..To step up like that..To be willing to give up your life like that for us and this world." Carlin cried out as she heard the explosion. She was suffering from a undying anguish.

Hishin tried to comfort her as she told Carlin, "Please, don't be so sad.. He might have survived.. You can't give up hope like this even if he didn't, he wouldn't want that." No reply from Carlin, she was just couldn't get over it so quickly.

"This is what happens..When you get attached to people...They die and that's it..You never see them again, you can never be with them again. I should never open myself up to this type of pain ever again..I already had to experience it once before..My family was killed..Now Lowe is gone. I'll never find anyone like you again, you were the smartest beast I knew and you loved me so much. Never..." Carlin said to herself aloud.

"Poor thing..She's going truly hard times..She really wasn't heartless...She really has a reason for acting the way she does.. That's why she couldn't kill me, she'd feel like a monster for separating a child from her mother." Aurora thought to herself.

"So what happened to Tegan?" Tonya asked.

Akio said, "He fought with us..He insisted...The struggle got out of hand and we had no choice..But to kill him." He covered for Carlin as he didn't want people from the surface to harass her about killing Tegan. He was prepared to take the secret of Tegan's death to the grave.

"Oh..." Tonya looked sad. Aurora comforted her and said, "It's ok honey, he's in a better place now....He was a troubled man."

Carlin looked angry as she heard talk about concern for Tegan but she ignored it and continued to cry. Akio wished he could do something to cheer her up.

"What's the plan? Where are we heading after this?" Veril asked.

"You guys are free to do what you want, you three can go home for now, it's probably best if you do. I don't think the others would forgive you or like you. The rest of us however...I think we have to get ready to deal with the Zaka Clan. Maya had plans for that..So we're heading to the Underworld Guard HQ. After that we will do a complete search for Lowe and a funeral if he's not around, so we can honor him at least...So Carlin, don't mourn for Lowe yet..It might seem hopeless but it's not over yet. We can't confirm he died.. I won't mourn for him until I know. Just try to keep the faith up that he's alive, Carlin.." Akio said.

No reply from Carlin. Nothing could cheer her up.

Hannah thought, "Maybe only time can heal her wounds. I wouldn't understand a loss like that though.. I can't imagine what she's going through.."

Marx looked out the window and saw all the remaining United Surface Army ships were retreating into the rift, waving white flags. "Well, at least this is over...The United Surface Army is done....Nothing like this will happen again."

Carlin got up from her seat and stopped crying for now as she wiped her tears, she went into the cabin of the airship to be alone.

"Is she going to be allright? Maybe I should look go follow her." Katsugi questioned.

"Yeah..She's strong...I never saw her get like this though...It's hitting me hard too..But I can't be breaking down, not right now...I have to pilot this airship. I have to focus at the task at hand. Even there's only a little chance of finding him alive, I have to take it! I won't give up hope I know he's gone." Akio said honestly.

*Soma Plains*

Dion, Camack, Arisa, Armand, Kington, Alastor, Salika and Magnus had made it through the passageway in time thanks to Mara. All they heard was a ear-shattering explosion as the Anubis base was destroyed in the distance. After recovering from the noise, they spoke amongst themselves.

"Damnit! Did they even make it out? Rai...I never got to tell him about his father! And Mara, she didn't deserve to die...She turned back the moon and she saved us too.." Magnus commented angrily as he slammed his fists on the ground.

"Well. I think they made it out..They just are still in the passageway now..Or maybe it might have caved in. We should go back in there and help them!" Salika suggested.

Alastor shook his head. "These plains are rather close to Harken's castle. We can't just hang out here and wait or go down there in help them, we'll be caught! We're in no shape to fight. If they're alive, they'll find us and out out of the passageway themselves!"

Arisa questioned, "Mara? One of the Monarchs of the Underworld? So that was her who spoke to us with her mind. Ok. We'll catch up later, guys. We must have missed a lot being separated...But for now..Let's follow those beasts. They clearly know some sort of safe place around here." She pointed out to the now freed slaves whom were heading for the Underworld Guard HQ. With that, the group spoke and began to talk about all that happened on the way to the Underworld Guard HQ. There was no sign of Mara and Rai.