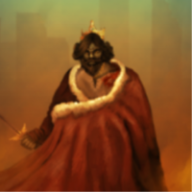 The Burger King
Original poster
FOLKLORE MEMBER
Genres

Fantasy, sci-fi, post apocalyptic, parody.
No matter how advanced technology was, the planet Earth was on the verge of collapse. The over population, the devastation created by wars with mechs, the gradually depleting resources, there seemed to be no way for the planet to recover at this point.

The United World Government thus started Operation New Earth. This project funded a ship capable of finding a new world to inhabit. This project met with much criticism from some who wished the Government would instead try to build more space colonies instead. Others saw it was abandoning the Planet and giving up, running away from humanity's past and the world that gave birth to humans. This bitter debate left many who wanted to stop the launch of Themis through legal ways or not.

However, the launch of Themis was not canceled. It was a successful as it took off into space for it's launch and test drive. Themis is now stationed at the colony called "Prometheus" for further supplies and loading up of other mechs. Such operations can be performed much easier in the zero gravity space port of the colony. Prometheus is the largest and most modern of all the colonies, it is also the most secure supposedly.

The space port was a room filled with oxygen but with zero gravity still intact. IT was here that ships refueled or stocked up on supplies or just parking for those whom were visiting the colony, the space port was very busy as many wanted to see catch a glimpse of Themis. However, the area around Themis was heavily guarded.

Through the ship-wide intercom, Captain Richard spoke, "Attention, all personnel on Themis, we are currently docked in the colony Prometheus to load up the rest of the supplies necessary for our journey. We will leave in exactly three hours from now. You may enter the colony and unwind a bit if you so choose or stay on the ship if your job requires it. Those working in the Security have to stay at their posts right now as we have received several threats, it's a precaution we must take. Lastly, you all must keep in mind this will be the last time we'll get a chance to say goodbye to our families as after this we will be too far to receive any messages from Earth once we depart from Prometheus. The doors of the ship will be opening shortly and you can leave from there but you must be back in time, we will page you to call you back if need be. That is all."

Boris, one of the scientists who created Themis was in the control room with Richard. He was an old man in his late 50s whom also was an old friend of Richard's as he was Richard's former commander until he retired from his combat post and became a mere scientist. He was a friendly old man yet a very serious person whom is focused on doing his job.

Boris turned on a screen in the control room and saw a map of all the UWG bases. He informed Richard, "It seems like the unrest on Earth is growing...Several United World Government bases were attacked all at once. These people are serious about stopping Themis. I suggest you stay on board, Richard. If someone is going to try and sabotage us, they'll do it now. The UWG may control Earth but they can't control all of outer space."

He sighed and said, "But a lock-down wouldn't be wise at this point. People have to get a chance to say goodbye to their families. Right now, the current security is good enough. Anyone who is not registered in Themis's data banks as being a member of the crew is not allowed within 60 feet of the ship. We'll be fine. No one is mad enough to try to start a battle in a busy space port such as this one."

Richard nodded and said, "I agree...But I'm staying here just in case anything happens. This is not a time for me to be taking a break."
Boris then checked up on Themis's performance and on the engine. "All green. It's safe to open the doors now, Richard."

Richard spoke to the AI, "Themis!!! Open the doors!"
"Yes Captain! Opening doors now!" Themis replied, the AI was female and thus had a female voice. Her voice sounded mechanical but she did not speak in a mono-tone.

With that the doors of Themis opened, allowing the crew to exit and head into the colony for a small respite. But as the doors opened, a circular probe like device flew away and into the colony itself. Perhaps it was some sort of electric eye watching the ship. No one had noticed it or had a chance to catch a glimpse of it due to it's speed.

The exit to the space port opened up as well, revealing a beautiful city complete with high-ways, skyscrapers, buildings, markets, several bars and restaurants, a residential area. However, it was a synthetic type of beauty, with colonies it was easy to control temperature, fake sunlight, weather and pollution. The highway seemed to be closed off right now as some sort of parade to celebrate the launch of Themis was about to be held.