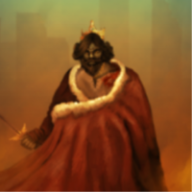 The Burger King
Original poster
FOLKLORE MEMBER
Genres

Fantasy, sci-fi, post apocalyptic, parody.
Jane was a rather serious person but she did smile at her ideas of messing with Harvey. But being a by-the book person, she rather formally get the kid punished. She replied to Hanako, "Love-Love attack?? Sounds unorthodox but it's always good to learn new maneuvers and techniques...." She noticed Hanako had a strange smile on her face and was about to say something else and waited for her to finish as Jane didn't quite know what she was going to say.
The Captain himself was talking to someone from the Security on a head-set device about Harvey.
"So..That kid is..The president of America is his father? That's how he was allowed onto Themis. Pressure from Mr.President himself. Very well, we still have to do something about him, we can't let him cause such disruptions..He needs to learn proper conduct and behavior, kid or not, we do not need a loose cannon on the ship. Well thank you for doing that background check so quickly, it's good to know what we're dealing with here. Goodbye sir."
After that, Richard ended the call.