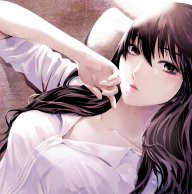 Bookworm Librarian with a pen
Original poster
MYTHICAL MEMBER
Invitation Status
Posting Speed

1-3 posts per day
One post per day
1-3 posts per week
One post per week
Preferred Character Gender

Male
Female
Futanari
Genres

Fantasy, romance, yaoi/yuri, vampires (non-twilight vampires preferred) though right now I'm VERY interested in finding a romance fantasy
"I know father, I'll get there and get back as quickly as I can." came a voice from the inside of the house as a boy of mayhap 19 exited the house with a wave over his shoulder. Then he turned and jogged away into the village. Bangs that fell just above his eyes and shoulder length hair that was pulled back into a small pigs tail that was black as coal and eyes that were almost sea like caught the dying sun as he jogged through the town, waving and smiling at the people that were out at the time. He wore no shirt, and only a pair of trousers as he ran, his intention mostly for his physical well being rather than making any statement about his body.

For all that anyone knew, he was as uninterested in the girls as a male that was interested in a male--though he didn't show those feelings either. In fact, as far as anyone inside the village knew, he hadn't shown interest in anyone--not male, not female.

And that suited Adrian Trival just fine. He didn't want to waste his time on something unless he felt that it had more than a dying candle's chance to light up. He, after all, couldn't bother with relationships. AS soon as he reached twenty, he was going to be assigned a target--someone that he was to protect at all costs. It had been drilled into him that he should not develop feelings for anyone. That would cause him to lose everything if he lost focus.

The town, he noted, was especially busy for this time of year for the fall market had just opened and people were staying out late to grab new things they hadn't seen for a time. Adrian dodged people with the skills of someone who had been doing it for many years as he passed through the main area of the village.