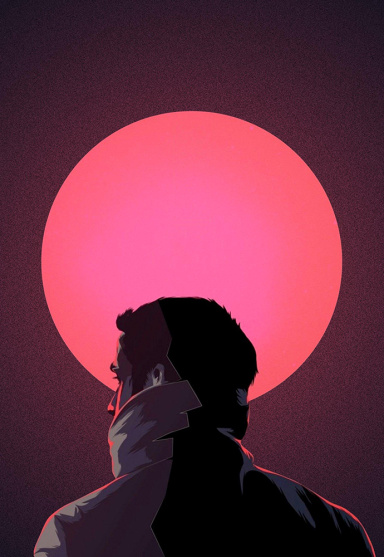 Dear motherfuckers, I'm teetering if you must know
Original poster
DONATING MEMBER
FOLKLORE MEMBER
[bg=#000000]
I don't believe justice really exists anymore.

The year is 2052. A time of progress and advancement so rapid and sudden sometimes I barely recognise the world I now live in. A world of cybernetics and biological augmentation, a fully wireless world, with new and incredible technology being developed and created every day.

A world of injustice and conspiracy.

For an invisible war rages, battles between megacorporations that have become more powerful than the government. Human life is losing it's value, and every day another atrocity is covered up, another witness and his family are silenced.

I know all this, because I am a part of this invisible war.

But no longer.

There can be such a thing as justice and fairness once again. These corporations are not infallible. I can stop them.

But I cannot do it alone. No one man can stop them.

So I will assemble a team. The deadliest and worst of the New York mega-city. The scum and villainy of the streets. They all want something, whether it is to escape from something or to get to a better place, or even just to make money.

I can give them what they want.

But to get it, they must join The7, and help me bring justice back to this city.
​
[/bg]
[bg=#000000]GENERAL CHARACTER STUFF

Character Name:
Gender:
Age:
Birthplace:
Role:

PHYSICAL CHARACTERISTICS

General Appearance: Photos preferred, no animu kthnxbai
Strengths:
Weaknesses:
Augmentation: Has your character been fitted with any cybernetics? Have they recieved any biotech augmentation etc.?

MENTAL CHARACTERISTICS

Current Goal/Purpose:
Talents:
Inabilities:
Fears:
General Personality:
Inner Personality:

BACKGROUND

General History:
Allies/Connections: Who does your character know in New York who can help them? (Eg. The police, street-doctor, fence etc.)
Enemies: Who's out to get your character, who have they pissed off? (You MUST take at least one enemy)
The Offer: What was your character offered in order to join The7? What has Seven used to get them involved with his plan?[/bg]
[bg=#000000]
THE7

1 - The Street Samurai (Vay)
2 - The Femme-Fatale (TK)
3 - The Psychopath (Tegan)
4 - The Hacker (Karsikan)
5 - The Assassin (Jumi)
6 - The Face (Asmodeus)
7 - The Boss (Grumpy)​
​
[/bg]
[bg=#000000]
THE SETTING

New York, 2052.

The Second Renaissance, they're calling it.

Think Blade Runner, Deus Ex, Shadowrun without the fantasy elements, those sort of cyberpunk settings. The world is a dark and unpleasent place. Innovation and incredible technology is commonplace, but this is far from a utopia; life is cheap, short and often painful.

Corporations have each etched out areas of control, or 'enclaves' as they call them. On these grounds live the corporate workers, their families, and the higher-ups, the accomedation ranging from cheap flats to beautiful high-rise apartments. Security is strict; it's nearly impossible to get in without a SIN (Serial Identification Number, which all corporate-citizens possess, but possible to fake if you're good enough) affiliated with the corporation which controls the territory.

Outside of the enclaves are the Sprawls, where most people eke out an existence. Crime is rampant, the police are in a full-out conflict with the gangs and there's little safety. It's a good place to hide if you don't want to be found, however; imagine it as a huge, high-tech shanty town, and you'll get the picture.

Everything's wireless; people wear comm-links that allow them to see the wireless world around them, access their equipment remotely, browse the web. Cybernetics are commonplace, too; it's perfectly ordinary for people to have replaced their arms and legs with cyber-replacements, and some have even gone as far as refitting their whole person with a cyborg body (though some parts of society frown upon this). Most of these are just bog-standard, mass-produced pieces, but the more high-tech cybernetics can have things mounted onto, and inside, them (like, oh say, guns).

Aside from cybernetics, there's also bio-technology. Think cosmetic surgery taken to insane heights. People can have tattoos grafted to them that literally shift and swirl beneath their skin, or have their muscles augmented to be better than human. Some take such things to extremes, transforming their bodies into bizarre shapes of borderline metahumanity (naturally, there's folk who don't like this either).

More than that, just remember, it's cyberpunk; this is the dark future, people, it's grim and it's nasty. You get the picture.​
​
[/bg]