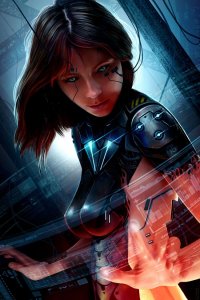 The Murrstress
Original poster
LURKER MEMBER
FOLKLORE MEMBER
Invitation Status

Not accepting invites at this time
Posting Speed

Multiple posts per day
1-3 posts per day
Writing Levels

Adept
Advanced
Prestige
Douche
Adaptable
Preferred Character Gender

No Preferences
Genres

Scifi, Fantasy, Modern, Magical, Horror, Noir, apocalyptic, Grimdark, yaoi, yuri, anything really.
*This is actually the painting
Cloister Graveyard in the Snow
*
Civilization as we know it has succumbed to a prolonged and wickedly cold winter, and for more than five hundred years, the human race's numbers have dwindled due to our sensitivity to this bitter absence of heat.
But now, within the collapse of hundreds of thousands of cities and the backtrack to a time where people live in bands, which are only dozens of related people, usually nomadic. Moving to try and find food and a place to settle. A place of paradise. Of Rapture.
Religon has held strong. And new religions have emerged from this breakdown of industrialization. Major religions all speak of some place of paradise that awaits human discovery. Other religions tell of mystical stories of fantasies that could never be spoken of in a technological age.
But there is one new movement. There are bands belonging to it, and they can be identified by this mark upon their possessions and sometimes skin.
They are called the
Pleasures
and their beliefs are founded in the remnants of
mathematical, scientific, and technological stand point with mysticism deeply embedded haphazardly into the core belief.
They have been a control group as of late. Groups belonging to this movement work usually are much larger than bands, but still nomadic. But not all of the people moving with the Pleasures are of their movement. You see, Pleasures have learned that it's better to have larger groups and a much larger range of human life in one area.
As such Pleasures feel that they need to be in larger groups, even if it's only temporary groups. But what they don't tell anyone is that they know EXACTLY where the closest thing to Paradise is.
This is K'See-ti
This is the Pleasure's secret. It's about as close to paradise as one can come in these times. Most other religions aimed for their paradises to be in many other areas, but none have come close to finding K'See-ti. Until now.
A group of outsiders found it and were welcomes in, on the terms that they wouldn't talk of this place, and that they had to only visit the paradise, as no one was permanently rooted there, for the fear of ruining the one paradise left.
They broke their terms and now More groups are coming, and they aren't looking for a treaty. They want to live in this paradise with some views of entitlement, while others seek it in desperation.
Who are you?
Groups/Religions:
Pleasures
20th century religion groups
Animistic
Worship of ancestors
Polytheistic
******************
Name:
Group/religion:
Age:
Height:
Weight:
Appearance:
Personality:
Set of beliefs/morals:
History: