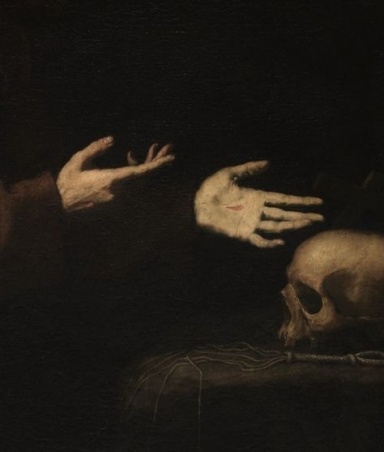 his descent was like nightfall
Original poster
Hello! I have an idea for a group RP that I think might be
kinda
niche, so I'd be interested to hear what thoughts other people have before I put any more time into it (though, the idea is so precious to me that even minor interest will probably encourage me to keep it going

). I am leaning towards making this an 18+ RP, unless there is significant interest from 17- peeps, so let me know!
If you are interested in historical and religious themes, and fun stuff like reincarnation, please see below!
For thousands of years, Hellenism was the dominating faith of the Mediterranean region. The polytheistic religion, know for its fascinating, infinite pantheon and complex mythology, provided the people of the area with an incredible sense of spirituality. Every lived experience was attributed to their beloved gods, who were present in every aspect of the world at all times. Well after Christianity entered the picture, this was the religion that dominated the region.

After the conversion of Roman Emperor Constantine to Christianity in 312 AD, this new, monotheistic faith began to find its footing in the Roman Empire. With time and effort, it became the official religion of the empire. While both religions were accepted in the empire for a time, the tolerant nature of paganism versus the evangelizing nature of Christianity made it difficult for the faiths to coexist for long. The end of tolerance for paganism came two emperors after Constantine – ironically, with his half-brother, Julian, the last pagan ruler of Rome.

When Julian came into power, he made aggressive attempts not only to restore Hellenism as the official state religion, but to thwart the spread of Christianity – he wanted to enforce religious tolerance, but to keep Christianity out of the highest ranks of Roman society. His efforts proved futile, however, and the end of his reign brought forth a more decisive stance against paganism by Christian rulers. The last defender of the old gods had unintentionally led to their final downfall.
It's 2019, and something stirs. The residents of a small American city begin to experience strange dreams – dreams that, they say, feel less like dreams and more like memories. Dreams where they can feel and hear and smell and see every little detail so vividly that it feels unlikely that they had not experienced it. And that seems possible – some psychologists believe that dreams can reveal repressed memories, and for many of these people, the dreams depict traumatic events worthy of repression. There's just one problem: they could not have experienced these things, because it's 2019, and all of these dreams are of the ancient world. All dreamers report similar things – swords and spears, chariots, loose linen and sandals, languages they do not understand or immediately recognize. Local historians interview those affected and identify what they can: a phrase in the ancient Greek language, a famous Egyptian temple, a well-known Roman general. Still, no one has any idea where any of this is coming from…

until one Friday afternoon, when all of the affected receive the same letter.
You must be confused. I am sure you are wondering why this is happening to you and why you feel that this is so much greater than a dream – that this is so much greater than you. If that is your instinct, you are correct. This is bigger than you… but you are also bigger than what you know.

I cannot say much here – I will reserve the details for when we meet in person. But in order to get you here, I will tell you this:

You are more than what you realize. You are extraordinary, chosen and favored by the gods, and it is time you come to understand why. What you see when you close your eyes feels like you – it is. You were of great importance to the world once and the gods, in their infinite wisdom and power, have orchestrated your return so you may be once again. A war is coming, and you have a part to play.

Included, you will find an invitation to our first formal meeting as a group. Make it a priority to be there, but the Fates will see to it that we meet one way or another.

-- Imperator Caesar Flavius Claudius Julianus Augustus
This RP will follow an attempt to establish a new Hellenistic pagan state in the region that is now the United States (location not set in stone), led by the reincarnations of famous historical figures of the ancient Mediterranean world. This effort will be led by the reincarnation of Roman Emperor Julian, who attempted to reestablish paganism in Rome and also (possibly) believed in the transmigration of souls. His theory is that the old gods have decided to revitalize their worship, and have worked to bring back some of their most influential worshipers to see that happen, but no one knows for sure what is causing this. Nonetheless, the other reincarnations agree to take part in the Crusade. The plot will unfold in two parts: first, the discovery of the past lives, and then the Old Gods Crusade. This means the RP will start out very character- and relationship-focused before becoming more plot-intensive later on.

Characters will not know who their past lives are at the start. Their past life will make itself known to them through frequent dreams, day-visions, and an eventual epiphany. Dreams and visions will be written by the GM, and players will choose how their characters interpret or react to them. Players will, of course, know the historical figure they will be portraying, which means that they will have to be mindful of keeping their characters believably in the dark. We will potentially be playing with the idea of keeping other players in the dark about each other's characters if that seems logistically possible. Depending on interest, this will likely be a small group, where players are encouraged to take on multiple characters as desired (as long as the characters do not need to interact often).

Visions and dreams can appear randomly, but can also be triggered by people, places, and objects from their former life. In the discovery phase, the group will be travelling to different places important to the ancient world in hopes of triggering additional visions. Players will receive more frequent and/or more detailed visions from the GM when their character is in a location important to them, and when they interact with other characters important to them.

Most characters will have at least one other character with a significant historical connection to them. There will be enemies, allies, lovers, and family members. Interaction between these people is obviously highly encouraged, but players will also be encouraged to develop complex and interesting relationships with characters they are not necessarily pre-destined to interact with.

This is a great opportunity for character development, and to figure out how to balance your character's modern persona with the ancient one that they will eventually rediscover (particularly if their modern persona has any strong religious leanings that might clash with these new discoveries). Players will also establish relationships, negative or positive, that will play directly into how the second phase plays out.

The second phase of the RP will focus on the Old Gods Crusade, the war to capture land and establish a new state, and will occur after all starting characters have discovered their historical personas (added characters will continue this process throughout the timeline). While there will be some focus on the military and actual war aspects of this Crusade, the plan is currently for most of the emphasis to be on the political aspects of the establishment of this new state, with this group of famously ambitious and complex characters all vying for power. The details of the overarching plot of this phase are not set in stone (as they may change depending on how different characters develop, and what players are interested in seeing), but it will generally revolve around the creation of a new nation, heavily inspired by the nations of the ancient world, and the reestablishment of the old religion.
An in-progress list of historical figures that
may
be included. Let me know who interests you (even if they aren't included yet)! I won't reserve anyone yet, but I'd like to know where the interest is so I can cut/add people.
(By the way, the men outnumber the women here by quite a bit, and I'm sorry about that! There are many women who could be included, but they are mostly lesser known. If there is one you'd like to see,
PLEASE
let me know!)
Alexander the Great
Hephaestion
Pericles
Aspasia
Plato
Socrates
Aristotle
Diogenes
Sappho
King Leonidas
Queen Gorgo
Hypatia of Alexandria
Cleopatra
Ptolemy
Marc Antony
Julius Caesar
Octavian/Emperor Augustus
Livia Drusilla
Octavia
If any of this interests you at all, please consider leaving some feedback. Some of the things I'm curious about:
Is this something you would potentially participate in?
Would you like to be tagged in any major updates?
What suggestions do you have?
What questions do you have?
What historical figures would you like to see/play? (any notable figures who were Hellenistic pagans [believed in the Greek or Roman pantheon], whether they are listed above or not; they do not have to have been particularly religiously motivated people)
Would you want to see the cast of characters open up to other cultures that were not Hellenistic, but shared characteristics in their religions? This would open us up for the inclusion of more Persian and Egyptian characters.
Some questions that have either already been asked, or that I anticipate will be:
Will this plot be heavily critical of modern religions/how will religion be handled sensitively/will I feel comfortable in this RP if I am religious?

There are many stories out there that treat pagan gods as real, but since they do not address what that means for modern monotheistic religion, they do not inspire any discomfort. I want to lean in this direction as much as possible; this Crusade will be about reestablishing worship of the old gods, not wiping out other kinds of worship. Individual characters might have offensive views, but my goal is that, as a whole, this will be respectful of all faiths. I, myself, am a tolerant agnostic, and I think of all religions, modern or ancient, as equals, and I have no intentions to make a statement with this RP.

How much history will I need to know?

Very minimal. For whatever character(s) you are playing, I would say you'll probably want to be familiar with whatever is important enough to be on their Wikipedia page. I'm more concerned that you're interested in history, and that you care enough to make an effort to recreate this person's personality in your character. As of now, the plan is for all of the initial "flashback" scenes to be written by me, so there should be minimal cultural knowledge that you'll need. And, if all else fails, you can always ask me for help!

Why the United States as a setting?

In all honesty, because I live there and I'm most familiar with it :) But also, the US has a unique history with religion and a strange ability to foster the growth of "new" and unfamiliar faiths (think: Mormons, Jehovah's Witnesses, etc). I think the gods would see it as a spot ripe for the taking. This is absolutely not set in stone. I have also obviously considered setting it in the Mediterranean region.

Can I play Julian?
Can my reincarnation be any sex, or must they match the sex of the historical figure?

They do not have to match sexes; however, their gender would carry over into their new body. What this would mean is that a man reincarnated into a biologically female body, for example, would almost certainly experience some degree of dysphoria, even before remembering who they were. So it certainly allowed, but I ask that you keep this in mind.

Do the reincarnations look and behave like their past life?

Look -- no. Behave -- yes. To an extent, at least. Environment has a great deal to do with how you turn out, so I imagine most of the historical figures we're dealing with would be quite different outside of their very specific circumstances. You can play around with this as much as you want.
Thank you very much for reading! Let me know your thoughts. Even if you are not interested, thanks for sparing a moment to take a look.
((PS: I am also considering a co-GM because all of my experience running groups has been on Tumblr which is
vastly
different, so if you're SUPER into this and have some experience, hit me up.))
Last edited: