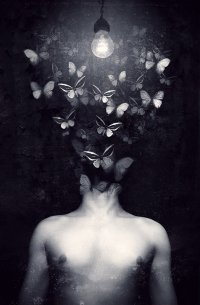 Anti-Hero
Original poster
FOLKLORE MEMBER
Genres

Magical, Fantasy, Supernatural, Sci Fi, Steam Punk, Noir, HORROR, and I'm willing to try Romance.
In an instant the world had become a Genesis and Armageddon. Eddies of reality spun in tangencies with the bending force of Insanity. All were one and nothing, caught within the explosion of the Confluence Bomb.
All was nothing.
And all became again.
The Harbinger settled over the remade chasm of Insanity. Humming a pulse of both Rift energy and engines, the sleek ship slid over the wreckage of what once was. Bodies lay strewn among the new grounds, crimson and purple rocks turned sideways as orange shoots poked from previously arid soil. Insanity was coming to life. Perhaps they might have been lost, the survivors, unconscious food for the soup bowl of dimensional sundering. But neither Drake nor Myrnodyn would leave their friends behind.
So it was that the Harbinger soared from the remains of Insanity, praise and adoration echoing through the radios as the entirety of civilized Iwaku welcomed the Hero to their lands. No words came for the souls lost in Insanity. No mournful dirges of the Shapeshifters lost. In an instant Iwaku's hope had been rekindled with the arrival of a figure many had stopped believing in. The Goddess was always with the heart of Iwaku…but the hero was its sword and shield.
Drake sat near the console, a pulled up chair near an array of lights he did not understand. He stared into them, lost in their luminescence. Myrnodyn maintained the ship itself, quiet communication between him and Void the only sounds permeating the cockpit. So it was without surprise that he was completely overwhelmed by the crashing realities.
There was light, a crimson flash of making and unmaking that washed over Drake in a wave of almost euphoric bliss. For that moment the Cycle sung within Drake's mind. There was no exultation from it, no sound of trumpets or praise…it screeched discordantly and left him different…gone as fast as it had come.
It left him his reward…his curse.
Drake laughed, an almost forceful bray and Myrnodyn glanced over. His eyes widened to behold a very different figure sitting in the pull up seat, as though quietly replaced. Drake's hair, once brown as oak bark, gleamed a furious crimson orange. Blue eyes had given way to yellow and his ears had grown shorter, tipped in black and flat against the side of his head. His left arm had returned, and he flexed it without looking, black fingers and short, neat claws pressing against the fur of his palm. From his severed tail blossomed a bouquet of fur every bit as brilliant as the sunset and capped with brilliant white.
"What…"
Myrn started and Drake raised his hand gently, grinning almost bitterly.
"It seems Asmodeus was right, I would learn his beliefs if I lived through the end."
Myrn nodded almost thoughtfully, tapping a few buttons absently.
"So this…"
"The Cycle, yes…some joke I'm sure, or a role I'm supposed to fulfill. Strange that Jack would spend his life in service to it…and I spend my time to disprove it, and in the end it chose me to join its motley crew."
Drake stood up, pushing the chair aside and padded to the door.
"Keep us updated on what's happening in Iwaku,"
He said, imprinting the password and stepping out into the hall,
"I'm going to see how the rest of us have fared."
The wounded had been laid out in the main hold of the Harbinger with staggered symmetry. Survivors were just beginning to wake and find themselves unharmed…whole.
There was no Kaze among these faces, he had elected to stay amid the ruins and document his history…search for the mad angel who was almost assuredly dead. Some had stayed with him, those quick on the mend and interested in the aftermath of their triumph. Few words had been spared, but Drake had asked Kaze to contact him sometime…perhaps they could discuss the world that is…or the one that had been.
He would certainly appear strange to them now, a rat turned fox in some sort of hopscotch evolution. Iwaku had changed once more…another age he'd seen rise and fall. As he looked out over the survivors, Drake could only ponder the momentous changes they would all have to accept. What had the Cycle given them? Did they wake up rewarded…or cursed?
Summary: Kaze and those who stayed to see if they could find Asmodeus's body or something are not here...everyone else from the battle are recovered fully now in the belly of the ship. Drake muses about his changes into a Kitsune and goes to check on the survivors and the ISAF within the ship. Talk and speculate away all...gratz for surviving...or being reborn