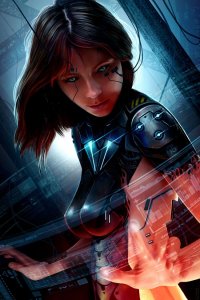 The Murrstress
Original poster
LURKER MEMBER
FOLKLORE MEMBER
Invitation Status

Not accepting invites at this time
Posting Speed

Multiple posts per day
1-3 posts per day
Writing Levels

Adept
Advanced
Prestige
Douche
Adaptable
Preferred Character Gender

No Preferences
Genres

Scifi, Fantasy, Modern, Magical, Horror, Noir, apocalyptic, Grimdark, yaoi, yuri, anything really.
[BG="red"][DASH="black"]
THREE DAYS TIL HALLOWEEN
Chestel was almost ready. She had the perfect costume, the perfect decorations, the perfect setting for the party. She always managed to throw parties that never got out of hand, and it seemed like this year, too, would be a respectable party.

Sure, she was young, sure her parents were loaded, but Chestel always had known the value of a dollar and the effort of earning pay. She knew how to work for what she wanted, and not to just expect it to fall into her lap because her daddy had it made. She had paid for all of the props for the party with her own money, even. The foods, the utensils, the disposable plates, the Halloween-themed decorations, such as realistic, fake spiderwebs, and fake zombies "crawling" out of her front lawn.

She had been busy all day, checking everything, setting up the zombies, pinning up the webs, setting up a sound system to play soundtracks from horror movies, keying up a strobe light machine, checking a projector system in one of the rooms to play the original Halloween movie. Fake blood splatters on the walls in the dinning room, bowls of candy near the front door, just to be ready for any trick-or-treat'ers that might come marching up to her double doors, setting up an area where the best costumes would be given awards.

Currently, Chestel was outside, setting up a tin trough, where there would eventually be a station to bob for apples, which she had always found to be a fun activity, so she had always included it in her Halloween parties. Near that, she had marked out where a photo booth would eventually be placed, it would be arriving tomorrow. She had called up Alan to help her with that and a few other things. There was only so much that she could do on her own.

She checked the hose to the water spigot on the side of her house as the afternoon drifted by. Lazy, puffy clouds hung in the sky as she looked around at the splendor of what fall had transformed the grounds around her house into.




After having done as much as she could stand for today, Chestel finally pulled her small -but sturdy- cellphone out of her pocket and dialed up Alan and asked him nicely if he'd like to go to to dinner before helping her check the projector and the strobe machine tonight, joking slightly about testing how their costumes fit after dinner to see if they would need to get tailored for a better fit. She had asked to go to dinner and in the same breath, made plans for the rest of the night with the man, without even waiting for a "yes" or "no" to first question. Such was her behavior.

She was excited for this party and already believed it would be her best yet!

[/DASH][/BG]