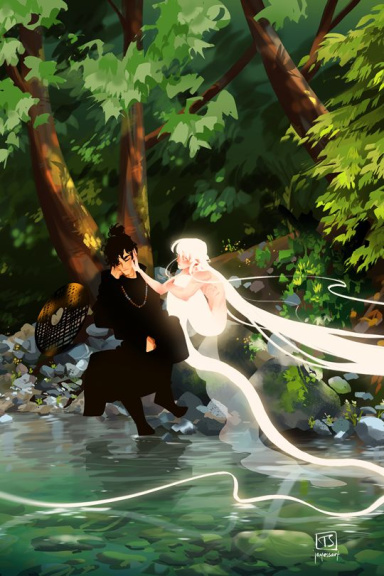 Chaotic Lawful
Original poster
Roleplay Invitations

Group Roleplays, One on One Roleplays
Posting Speed

Slow As Molasses
My Usual Online Time

GMT +1/2 | CET/CEST | Random, mostly on my phone
Writing Levels

Intermediate, Adept, Advanced, Adaptable
Genders You Prefer Playing

No Preferences
Playing Style- Passive or Aggressive

Both, depending how much there is going on already.
Favorite Genres

Tragedy, Psychological, Historical, Steampunk, Mystery, Thriller, Sci-fi, see tag list for more...
Genre You DON'T Like

Romance

For a moment the world seemed gray and bleak. She could sense the sunlight, she could see the rays falling into her room, but there was no colour, no warmth. Blinking her eyes a few more times Miyako remembered how her bed was light blue, how the light would colour her tatami floor yellow, how the door was essentially paper and wood. Remembering all that made it easier to recall colours and soon the shadows passed and the world bloomed once more.
"Better," Miyako stated, to no one in particular. With this she started her day.
Breakfast within the Koizumi family was a family activity. Wishing each other a good morning the core members of the family came together. Miyako's father at the east side, from where the sun rose, her brother at the north, Miyako south and east…
A woman sat there, too young to be Miyako's mother, but too old to pass for her sister. People spoke of a disgrace that she had been allowed at the main table so soon after the first wife's death, Miyako had gracefully accepted it with a smile. What use was there to hide the mistress if the biggest obstacle had been removed?
"You will be meeting your new teammates, right Miyako?" her stepmother spoke gently as she inquired to the day the brunette was to face. It was hard to despise the lady, for she was every bit of kindness and warmth that her parents had lacked. Yet, Miyako couldn't love her either.
"Yes, I'm rather nervous about that prospect," Miyako laughed, but it fell short as her father grunted.
"Where are your manners, Miyako?"
The brunette gave her father a blank look before recovering with a smile. "Oh, haha, I guess I still haven't grown too used to the promotion," she rubbed the back of her head. She knew what was to follow, however.
"It is fine, please Toshiro," her stepmother interrupted, clearly uncomfortable with the changing mood. Softly she placed a hand on the arm of Miyako's father, but he rejected the gesture with a shove.
"No, Miyako will show the respect needed."
Quickly finishing up her meal Miyako crawled up, bowing to both her parents and rubbing her brother's head.
"Father is right, I will show the respect needed," she threw her sunniest smile at the two adults. "Thank you for the meal, miss," she jovially added after it and with a turn she left the dining room.
Leaving the Koizumi compound Miyako was quick to make her way to the office of the Uzukage. Though Miyako greeted everyone with a cheerful smile and an energetic skip she felt differently within.
This made how many times now? Miyako had lost count how often she had to change teams. Ever since the loss of her mother, the loss of her teammates, ever since then Miyako had been hopping from team to team, trying to fit, testing the waters. It was a constant and tiring stream of people coming in and out of her life.
"I'm coming in, Uzukage," Miyako called from the other side, popping her face in first before entering with big swaying movements. "Ready to meet my new team!" she declared, eyes sparkling in excitement.

DayDreamer