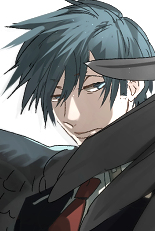 Shadow and Truth
Original poster
LURKER MEMBER
FOLKLORE MEMBER
Invitation Status
Posting Speed

1-3 posts per day
One post per day
1-3 posts per week
Writing Levels

Intermediate
Adept
Advanced
Preferred Character Gender

No Preferences
Genres

Anything that actually has, you know, a good plot. I prefer RPs with fantastical elements, however, so generally, a bit of fantasy goes a long way.
~Monday, April 6~
~Sakurashin Secondary, Auditorium~
The entrance ceremony, as always was the type of affair that would bore any student who wasn't a freshman to tears. The sky outside was a dull, cloudy gray, fitting the exhaustive atmosphere that emanated from the crowd of students standing attention. Like an army, they were segregated by grade, dressed in those ugly brown winter uniforms that made them look like orderly lines of poop. Though a few of them were relieved that they had actually managed to pass their grade, the majority were ambivalent. It was just another entrance ceremony out of the many they would attend, until they could finally graduate and move on to bigger things.
Scarier things.
Despite the fact that the entire student body, consisting of students anywhere from just out of elementary school to a single year until post-secondary studies, was present, only the center of the auditorium was full. It wasn't that the room itself was large, just that the amount of students was low, as befitting of a secondary school out in the boonies. Japan's birth rates, despite the best efforts of harem-raising magical girls and boys all around the country, was declining, and it only made sense that every year, the amount of first years dwindled. Now, there was but a smattering of fresh-face, big-eyed, kawaii kouhai who had their eyes on the elegant visage of the raven-haired Mabi, the gray light filtering from the clouds only serving to enhance the mature image that she exuded. As the student council member, only of only three in that organization, stepped away to give way to the principal's final address, the sound of rain could be heard, splattering against the high windows.
At first, it was but a soft pitter-patter, like all spring rains. But as the gray-haired woman stood up, walking towards the podium, the raindrops struck down harder, mimicking her heavy steps. A monsoon was whipping itself into a frenzy, powerful winds caused the window panes to shudder and quake. With all eyes on her, the principal took in a deep, grave breath, and then…forced a smile.
Lightning struck, highlighting the lines of her face as she said,
"It is with my deepest regrets and my fondest memories that I announce that next year, Sakurashin Secondary will be closed due to low enrollment rates. Though I admit that this is a sudden, and perhaps, shocking, piece of news for many of you gathered here, I urge you all not to worry too much about what your future may hold. Each one of you is a wonderful student, with a bright mind and unique talents. Use this final year of yours to make good memories, try new things, and, above all, have fun."
She bowed, dipping her head down just enough they could see the crown of her head.
"Thank you for a time, and may you enjoy this coming year."
The roaring thunder drowned out the sounds of the students, as the storm truly began.
~~
Homeroom was muted, as even teachers no longer felt like putting on a happy face at the sight of this news. Even they had not known about it, that they'd be losing their jobs in a single year, and would soon be back on the streets as only a substitute teacher. The atmosphere had turned from exhaustive to stifling, most students simply going through the motions of a normal day. They chatted with their friends, complained about the weather, and ignored the reality that, in one year's time, they would be going to a school different from where their parents graduated from.
The wooden desks, their lacquer shine dulled from constant use, stood lonesomely in an emptying classroom, as the students filed out in small, close groups. Few had anticipated the rain and, for the time being, the hallways was a hangout for those who had nothing better to do than kill time. Clubs hadn't started yet, and ultimately…was there a point in joining a team that wouldn't be there the next year?
False merriment echoed hollowly against the plastered walls of Sakurashin Secondary, as the rain continued on and on and on and…
"Let's start this day with a hearty greeting, alright? Good morning!"
A cheerful voice broke out through the static-y PA system, silencing the students with its genuine excitement.
"Now, I'm sure everyone's feeling down in the dumps because our school is closing, but didn't you hear? Grandma wants us all to have fun and go wild! So what the hell are you all doing, loitering around like that?"
A familiar voice chastised their inactivity, mocking them in the way that only a friend could.
"So, here I am, sitting on my ass, and personally, I've decided that the Hero Club is going national! Let's go form a Selector team and get to the Nationals! And if no one else does it, then I'll do it by myself!"
An ambitious voice, unashamed of the difficulties of such a dream, rang out through the rain, casting it aside.
"If any of your heroes feel like doing something crazy, come up to the rooftop already. Because the world is what you make of it, and I intend to keep it pleasantly sunny, with an occasional breeze! Get over here and let's get a legend started!"
And then, almost as an afterthought, the chirpy voice mentioned,
"Oh, and if we get famous enough, it'll probably have the same effect as popular school idols would on a school. Just saying~"
​