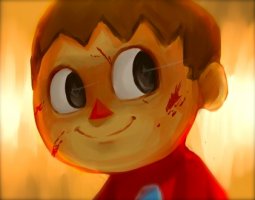 Hi-def
Original poster
LURKER MEMBER
FOLKLORE MEMBER
Preferred Character Gender

Male
Genres

Fantasy, Horror and Sci-fi. I'll try basically anything though. I also love strange and unusual RP genre concepts. Different is good!
THE IDEA, redefined.
After the defeat of Voldemort, darkness finally laid its ugly head to rest in the land of magic. The hidden life of Witches and Wizards stayed elusive to the muggles, who as a whole, had no idea how close they had come to death. The brave few who stood strong against all odds would forever remember the triumph and heroism that took place in that final battle against darkness in the greatest school in all the Magical world; Hogwarts.
Although Hogwarts was left in a semi state of destruction, it wasn't long before it was rebuilt and once again it's halls filled with young and talented minds. If anything, the great battle only contributed to the mighty castles legacy thus making it's reputation even more epic.
Our story takes place 17 years after Voldemorts death. It's a new time in a familiar place. The great castle stands tall against the September sky, like a beacon to the students returning as well as to the timid first years who shake with anticipation.
Join me in an Epic tale of magic. One that may very well take us to dark corners of Hogwarts that have never been explored. New faces are sure to bring new adventures as well as new excitement.
-------------------------------------------------------------------------
Ok, So I had an urge to create an HP RolePlay. I know most of the Harry potter RPs are the same as far as the time they take place (After the defeat of "He who should not be named) But it seems like the best time frame so I went with it. Honestly, I want to live in Hogwarts and experience all its awesomeness first hand. I hope I am able to do it justice with this RP.
-------------------------------------------------------------------------
A FEW DETAILS
Characters we need will be students. First year, second. Whatever year is ok with me really. A teacher or two would be cool too, but its not essential as I think we can make the majority NPC ( It would be good to have at least 1 PC teach though)
I want to have a list of teachers and what they teach for players to reference here in the OOC, that way we will all be on the same page. I could use help with some good names as well as help remembering some different subjects and such. And don't forget, since this is going to be our RP we can get creative with the classes, they don't all have to be previously (as in the books) mentioned ones.
I think we should have a little Pre-Rp (Hey that rhymes!) discussion here before I throw up the actual thread. That way I can get lots of Input from Y'all as to where you would like this RP to go and ideas you may have and such.
Heres a basic list (which I will edit as people help me add things) of classes and the teachers. As you can see I haven't added any of the Professors yet.
Classes & Professors
Potions - Taught by Professor Alaister Taboran,
and Played by
Grumpy
Defense against the dark arts - Taught by Professor Robert McLeod,
and Played by
Darkness.
Magical History - Taught by
Herbology - Taught by
Transfiguration - Taught by
Study of magical creatures - Taught by
Divination - taught by
Astronomy - taught by
I think were good on the classes now
-----------------------------------------------------------------------------------
Lastly, I am mostly active on the weekends this time of year so bear with me as I try to post as often as possible. I won't leave Y'all hanging though, promise.
And now Lets talk and get some classes and teachers down. I have never RPed a young wizard so I'm excited as hell to do so. I'll create a Character within the next few days and hopefully have the thread up SOOOOOOON!
Did i foget anything? oh, yea heres the CS.
Name:
Age:
Gender:
Blood Type: (Full blood - half blood - Muggle born)
Relatives:
Appearance: (Pics ok, I guess. Although I prefer Description)
Year:
House:
Wand:(wood type, Core, Length,)
Broom: (If applicable)
Pet: (If applicable)
Short Bio:
Additional Info:
ANY Questions?