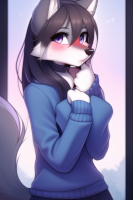 Hopeless Romantic
Original poster
In this world, there has been a power that has existed since the beginning of history, and possibly even before. It has gone by many names in the past - in modern times, those with this power are known as potentials. The majority of terms are taken from chess, which suggests that these powers came into the spotlight around the time of the game's invention.

Each potential is different, and their power can range from temporal distortion (Also known as super speed) to elemancy to increased physical prowess, or many others. A potential is usually unknown until puberty, at which point the stresses of hormonal changes and social divides cause the power to first manifest. Earlier manifestations are not unheard of in particularly traumatic childhoods.

Each potential has two levels of awakening: Check, and Checkmate. Check is always active while the potential is in a stressful situation, and this is the most common state. During check, a potential is active at a lower intensity - granting the potential an advantage in the fight or flight response. A potential with temporal distortion, for example, will see everything moving slower than normal, allowing them greater time to react and act as they move through time at their normal pace. Well-trained Potentials learn how to force a stress response, as well as to keep some modicum of control so as to better control their powers.

Checkmate, by contrast, is the full release of a potential's powers. Checkmate only ever activates in times of extreme stress - such as overwhelming odds, or an impending fatal blow on either the potential or a loved one. Using temporal distortion as an example again, time will nearly perfectly stop for the potential, allowing them to move at speeds imperceptible to the human eye. However, checkmate is a dangerous state - it saps at the psyche and body of the Potential, and tends to exhaust them when they wear off.

Potentials have long been weapons of war, taken by leaders and used to help further their agendas. Indeed, it is theorized that this is where the names of the chess pieces came from - From Pawn to King, each potential is given a rank based on latent power and ability to use their power. However, in modern times there are some that see this treatment as inhumane. While the governments still take Potentials to enroll in their military programs, some escape and use their powers for their own gain while still others are rescued and taken to one of a number of sanctuary academies. In these places, the Potential is taught how to control their stress and how to harness their power. These students live in their academy, and are at times sent out to stop threats from rogue potentials, or from other threats.

Potentials' powers, by and large, are only able to affect the user. Temporal Distortion, for example, changes the user's perception and pace in time - thus manifesting in what is perceived as super speed. Elemancy affects the flow of the user's energy, allowing the user to turn that energy into their element, and manipulate that. Gravity-based powers only allow the user to change their own gravity, letting them become immovable or make great jumps. While it is unknown what causes a potential to be born, many theories exist. One such theory is that it sleeps within human DNA, as a child with two potential parents is much more likely to develop their own powers, though even then those powers are not necessarily related to those of their parents.

While potentials are strong, often the powers are not enough to give combat ability on their own. Thus, in both sanctuaries and militaries, Potentials are taught how to use various styles of weapons. They learn how to use these weapons and their powers to the best of their abilities. Another part of the standard curriculum is how to control stress so as to keep their powers from overwhelming them, to keep the checkmate at bay, and even how to cause the same reaction when necessary. For most this is some item, memory, or ritual that can jumpstart the flight or fight reaction - though they are asked to use this sparingly, as forcing one into check brings the fatigue quicker.

Sanctuaries are where potentials lucky enough to be found by the staff, rather than the military or hunters (and those who do not run to turn to crime) are brought. Large campuses, they live and learn there until they are released. Often, released become staff or agents of the sanctuary, and even more often do the teams built in the sanctuary stick together, working to bring down threats to themselves, others, or the world

Lately, worldwide attacks by organized criminal potentials have grown, calling for more calls by the hunters for condemnation. While the militaries and sanctuaries continue their work, public opinion has begun to plummet. While every sanctuary has put agents to the task of finding and stopping this organization, no breakthroughs have come - and many agents have not returned.

-----------------

The player characters in this Roleplay would be a team of agents, newly graduated from a mountain sanctuary. Their job would be to investigate and take down crime and terror organizations, especially those that utilize or are led by Potentials.​