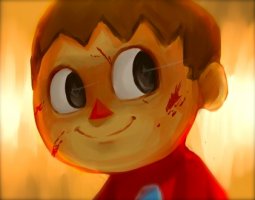 Hi-def
Original poster
LURKER MEMBER
FOLKLORE MEMBER
Preferred Character Gender

Male
Genres

Fantasy, Horror and Sci-fi. I'll try basically anything though. I also love strange and unusual RP genre concepts. Different is good!
View attachment 3814
2275, August 15,

12:17 pm



The world has come to a breakthrough in all modern outlets of science and technology. There is a cure for reversing cancerous cells, ways to transplant virtually every human organ, a clean burning substitute for gas, fully functional artificially life (Androids are filling all sorts of jobs and roles in society, from gas station attendant to personal servants) and last but not least, an underground, jet propelled rail system that is capable of crossing the world in under 7 hours. Amazing? Yes. The future is every bit as wondrous as humans had ever dreamed, however, over the decades something else changed too. The weather. The earth underwent serious geological changes in the last hundred years and is now in cased in perpetual Winter. Everything is frozen all the time.

Along with the advancement of technology, the government has also tightened its reigns on society. Forcing all civilian to get data chip implants. This implants give accurate data, and location, to the government at all times. People who refuse to get these chips are called "Runners" and they are hunted down and forced into submission.


The government employed a group of men called "The night owls". They are a moral less , highly trained, tracking squad who's names and faces never reached the main stream media. And in recent years, with more and more of the the "Runners" revolting from the government, Their work has been busier than ever. A night owls first law is to never disclose their identity, and their second…to understand that a Runner is nothing more than a criminal, an undocumented parasite, leching on society.

When Runners won't cooperate, the Night Owls are instructed to kill.
​
Seth watched outside as the frozen sky dropped sheets of white snow upon the earth. The roads below the second story window of his apartment were white and covered with frost, there had to be at least three feet of impacted snow on the ground. He shifted his hazel eyes to the wall mirror that hung in the corner, staring back, against the back drop of his living room was a young man of 23 with a skinny frame and strands of dirty blond hair poking out from underneath a black and gray beanie. His face, covered in a light stubble, looked thin and worn, as full lips gave way to a cut jawline and red cheeks. Steam rose from his mouth as he exhaled and tightened the scarf around his neck. On the exterior he was a normal looking 20 something, he could have easily been a collage student, but under neath his skin were metal gears and partial implants that kept him alive. After the accident, life had changed for Seth. Although the majority of his vital organs were flesh and blood, he still felt alienated from the human race. Half android and half man. Before the events of the accident that had created the life he now lived could enter his head, like a force five tornado spinning out of control, he quickly turned from the mirror.


Sirens blared outside. Seth stiffened up, every ounce of fiber on alert. They were coming. The Night Owls who wanted to catch him, and other Runners like him, and force them to be 'collected and tagged', like wild animals under surveillance.



"Not a chance in hell!"



Said Seth as he turned to the door. The only way to escape was to run. Seth had been running for longer than he cared to remember, and he would continue running until his last breath.

​