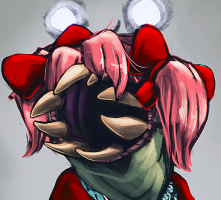 QT Pollen Prophet
Original poster
FOLKLORE MEMBER
Invitation Status
Posting Speed

One post per day
1-3 posts per week
One post per week
Slow As Molasses
Online Availability

Sporadic. If you want, add me lvl1337n00b on Skype to pester me.
Writing Levels

Elementary
Intermediate
Adept
Preferred Character Gender

Male
Female
Genres

Sci-Fi, fantasy, post-apocalyptic. Roleplays with plenty of action, violence, and romance. I don't mind if the base is on one of those alone, but it gets boring when nothing else comes into play, know what I mean? - Also, I'll do something modern if it seems like something I'd be into, but that doesn't happen often.
Morning came, and the lump at the foot of the bed began to move. After shifting around a bit, the figure slowly slid out from under the blanket. Plain white socks, blue jeans, an exposed chest, then finally a frizzed mess of long, golden hair. A couple of seconds after reaching the floor, the young man shivered. Two or three more, he pulled the blanket down just enough to wrap around his torso. More time passed before a hand was lifted to brush away hair and reveal a set of bright green eyes, half opened and surrounded by dark circles. They scanned the area slowly.

One or two framed paintings featuring palm trees and lighthouses, small squared table with a couple of chairs pushed under, little desk holding a television and a lamp. Nothing really eye-grabbing, nice.. But lacking personality. Must have been a hotel room. Didn't remember checking in anywhere. Didn't remember much of the night before at all, to be honest. The last thing he could recall was having a few drinks after a few old friends had dragged him off to a bar to celebrate.. Something.

Instead of thinking too much into it, he stumbled to his feet with a yawn. Maybe he was taking longer than usual to wake up fully, but his balance was a bit more off than usual, almost like waves were rolling beneath the floor. He shook his head at the thought, then proceeded to the bathroom, rubbing his eyes along the way. Leaning forward, he rested his elbows on the sink counter and covered his face with his hands, grumbling into them before moving them away and reaching for the faucet's handle. It wasn't until after the second splash of water against his face that he noticed something out of place. More specificly, on his finger. A ring, a simple gold band. He squinted at it, stared for a good five to ten minutes. What was that doing there? There was a weird feeling, like he'd seen this somewhere. Maybe in a movie or something. He shrugged it off, taking one of the neatly folded towels from the counter near the sink to dry his face as he walked back into the room.