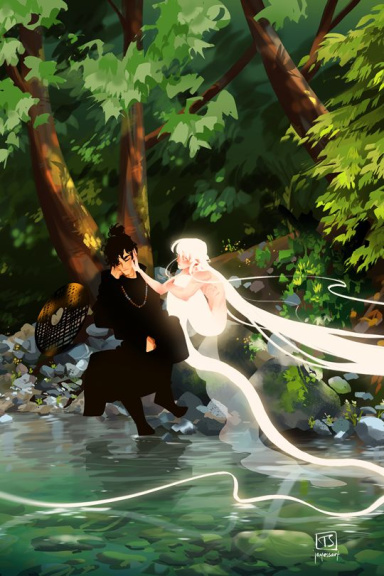 Chaotic Lawful
Original poster
Invitation Status

Not accepting invites at this time
Posting Speed

Slow As Molasses
Online Availability

GMT +1/2 | CET/CEST | Random, mostly on my phone
Preferred Character Gender

No Preferences
Genres

Tragedy, Psychological, Historical, Steampunk, Mystery, Thriller, Sci-fi, see tag list for more...

@AceSorcerer

With a jolt the young boy was startled awake, head thumping in a dull pain. Stiff from the uncomfortable sleeping position the boy stretched, feeling hay pricking through the rags of his clothes. Looking down at his heavy hands he noticed that they were shackled, just like his ankles were, chaining him together with a bunch of other fellows that were keeping him company in his cage.

"Finally awake, heh?" the gang leader spoke up, his long dark hair hanging around limply and making the man look at least a decade older. The boy didn't speak up, still trying to process what had happened and what was going on. A heavy mood of shame and hopelessness was hanging around. It matched the jail they were in, dark and humid, with cries in the distance of prisoners being tortured. The realisation of what was happening caught up onto the boy, his eyes falling over the rest of the street ruffians he had lived and worked with for so long. Was this their end?

The man had no patience for reminiscing their failures, however, straightening himself up as he stared the boy down with stern eyes. "Zao," he spoke solemnly, calling the boy by the name he had given himself. A name inspired by a temper that so often got them in trouble. "This is the end of our journey," the words were heavy as the boy tried not to cry. Men didn't cry. He couldn't show his respected leader and father-figure a moment of weakness. However, the boy also knew better than to speak up and try to comfort the situation. Nothing was fine now, nothing would turn out fine. It was game over, their gig had been caught. No more running around and stealing, no more distracting the auntie on the market while snatching away her income from the back.

Turning to the rest of the gang present the eyes of their leader were blank as he addressed everyone for a last time. "I want you guys to live on, don't live like I do, don't die without honour. You are all so young, there is so much more you guys can do," his voice was solemn, filled with regret, and for a moment Zao was positive that he saw a tear in his eyes. A moment of weakness that the old man allowed himself as his end was nearing. Voices of disagreement came from the other boys, everyone already knew what the old man was about to say, but none dared to interrupt. With a deep sigh the man lowered his head towards the wooden surface, bowing towards the lot of them. "Enter the service, serve your country, make a name."

Zao was stunned into silence at the statement, unsure of how to react, but his peers filled in the silence he left. Most of them trying to show one last sign of loyalty towards the man, all of them claiming that they couldn't and wouldn't. Zao, however, knew that there was no other option. They had to if they wished to stay alive, and he knew that he wanted to stay alive just like any other.

As soon as the trial came to judge their misdeeds Zao had pledged that he would throw his life away in the army. That he would serve his country until he drew his last breath, just like the old man had wanted. A few of his friends had called him a traitor for doing so, for giving up so quickly, but they all had followed soon after as they saw Zao being pardoned. The old man, however, was sentenced to death. His face blank as they flashed the blade, and his expression peaceful as his head rolled over the floor. The boys then knew they had all made the right decision. The old man had wanted for them to be spared and now they were.

Entering the camp chained up while clothed in rags was bound to catch attention. Zao and his friends wordlessly followed the officer that was pulling them forward towards the center of the camp. More young boys were gathered there. Some were nervous, others had a smug look and an air of confidence surrounding them. All of them were from different backgrounds, and held different purposes in mind. Sons of nobles who were hoping to bring back honour and fame, sons of farmers who were hoping to fulfill their mandatory service and head back home as a man, and then there was them. Criminals who had escaped death by pledging their life to the army. The group no one expected to rise up anywhere higher than a footmen and would die the first.

"Don't cause any trouble and you guys should fit in just fine," the officer grunted as he released them from their chains. Rolling his wrist around Zao knew that it was a lie. They stuck out like a sore thumb with their entrance and clothes. Everyone knew that they were less than the dirt on the road. Everyone would treat them like it as well. However, again he kept silent, eyes glaring at anyone who dared to stare for too long. Challenging them to come and kick the dog and see if it would bite. Which he would, he certainly would.