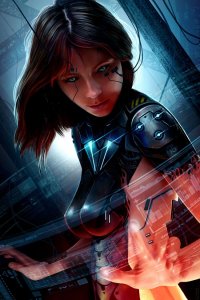 The Murrstress
Original poster
LURKER MEMBER
FOLKLORE MEMBER
Invitation Status

Not accepting invites at this time
Posting Speed

Multiple posts per day
1-3 posts per day
Writing Levels

Adept
Advanced
Prestige
Douche
Adaptable
Preferred Character Gender

No Preferences
Genres

Scifi, Fantasy, Modern, Magical, Horror, Noir, apocalyptic, Grimdark, yaoi, yuri, anything really.
I've been depressed, I've been a drunkard, and I've felt dead before...

But now I feel like I'm being suffocated...

Not by my college....

But by the people.

I'm stuck with people who treat me like invalid.

"Oh, she's from Texas, act more interested in her, take care of her, baby her."

I'm getting depressed. I miss the way people usually treat me..... I miss going to stores, dressed u as a goth, or an emo to get a rise out of people....

Now I sit here, the night before classes, re-drilling my summer reading into my head, trying to ignore the nagging feeling that I'm an outsider here.

Everyone I try to talk to, that I want to talk to, are always busy, and don't have time to hang out on the phone for a bit.

Anyone who I don't want to talk to, on the other hand, practically are mobbing me with calls.

My dad's suffocating me from a distance by making me feel like shit for leaving home, making him feel lonely...

My mom is better about it, but her questions make me feel like I'm trying to grasp at pearls with my fingertips, trying to answer them.

My brother is doubtful that I can survive on my own.....with people... Like this.

I feel like the Professors are the only reason why I'm here, the other people are just distractions. I mean, they are, right? I want to get a degree, an education. Not friends.

I guess that's why a second high-heel was thrown at me today....

Well, at least the blood stopped only after a couple minutes.

Just sucks that it hit the back of my head.

What's the point of my positive attitude when it pisses people off?

What's the point of taking medication for ADD when the whole damned day is a distraction?

I'm so goddamned far-gone that I don't even want to drink....

It's like not being thirsty when you're close to dying from dehydration....

Maybe that's a bad way to put it, seeing as how drinking alcohol really isn't all that good for you.... but ....It....

Well, I feel so shitty....

Yeah, yeah, TK is now, E-M-O.

Fuck it....

I'm soberly drunk, I'm emo-ly normal....

I can't sleep at night.

I haven't eaten much in the last two days....

I feel like the real Julez has packed her bags and left for a vacation until the end of college....

I don't feel the same.... I feel like I'm lying through my teeth when I say I'm fine....

Goddammit.