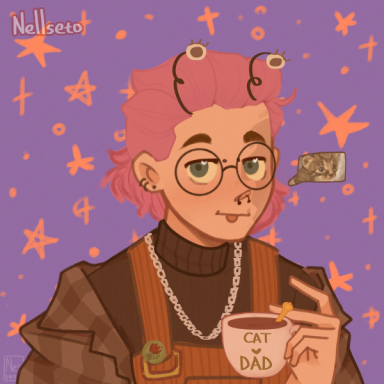 local non-binary edgelord
Original poster
Roleplay Invitations

One on One Roleplays, Chat Roleplays
Posting Speed

Speed of Light, Several Posts a Day, A Few Posts A Day, One Post a Day
My Usual Online Time

12 pm-10:30 pm (with some exceptions)
Writing Levels

Give-No-Fucks, Beginner, Elementary, Intermediate, Adaptable
Genders You Prefer Playing

Primarily Prefer Male, No Preferences
Playing Style- Passive or Aggressive

Passive more, though occasionally I'll do aggressive
Favorite Genres

Fantasy, Mystery, Scifi, Romance, Yaoi, Yuri, Horror
Genre You DON'T Like

Furry, fetishizing trans people/transphobia

This wasn't... normal. Nothing about this was normal for Jacob as he clutched the one thing he kept as a possession to bring with him - the pillow his husband had slept with. Pressing it close to his chest, he warily took a seat on the bed offered to him.

He just spent a half hour with a crisis counselor, which only made him freak out despite the counselor's attempt to calm him down. Then he had to wait on a gurney for at least an hour beside his sister, every time the two attempted to speak, it would just lead to awkward silence. She was mostly there to make sure he didn't run away for some reason, yet also to make sure he didn't have to be strapped down to stop him from hurting himself. He wasn't there by his own volition, after all, though he didn't really protest. If he were, to be honest with himself, Jake knew fully that if he stepped back into their cozy apartment, just the fact that the smell of his deceased husband would probably send him into vomiting and he'd just try a more effective way to kill himself.

That's what made it worse. He failed. He couldn't even kill himself right which, while it was a dark thought, showed just how his and Chris' relationship worked. Everything he did, Chris could do better. It never affected their relationship and he often relied heavily on Chris' superior skills to help him, so the fact that he could kill himself successfully made him chuckle internally.

The whole hospital scene was strange for him. Not once in his life did he step into one, often just going to a family doctor if needed. The white walls and the constant beeping only made him scared which only raised his anxiety which, unsurprisingly, made him feel worse. When he was weighed and measured, though, he at least took some comfort in it. He was given a wristband that seemed impossible to cut off without scissors and his things were checked through thoroughly. His floss was gone, his trainers were locked up, and the only thing he was able to keep clothing wise was his favorite sweatshirt to keep him warm. His shirt and pants were replaced with some hospital issued scrubs that he immediately dreaded since the forest green clashed with his sweatshirt.

All he was left with was his pillow, as stated prior, and a book to read. Before even stepping into the room beside a nurse he was handed a notebook and a pen, insisting that he write his feelings down. The whole situation was confusing and nervewracking and he just... didn't want to be there. He didn't know where else to go but it wasn't here. Only half listening to the nurse babble on, Jake instead took in the bland room consisting of only an unbreakable mirror, two beds, and some blankets that were clearly too thick to hang yourself with. It was bland, far from his loft that he and Chris had built character through little knickknacks and photos.

What really freaked him out, though, was the other bed. He didn't really know what to expect but he wasn't prepared to share a space with a stranger, especially not someone who belonged in the psychiatric ward under, assumedly, the same circumstances. Wiggling his slippered feet nervously, he tried to offer the nurse a smile in an attempt to leave him alone. Once she finally did leave, he immediately pressed his face into his pillow to let out a muffled scream.