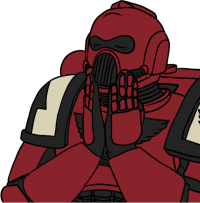 Roleplay Invitations

Group Roleplays, One on One Roleplays, Chat Roleplays, Private Convo Roleplays
Posting Speed

Several Posts a Day, A Few Posts A Day, One Post a Day, A Few Posts a Week
Writing Levels

Adept, Advanced
Genders You Prefer Playing

Male, Female, Androgynous
Favorite Genres

Action, Seinen, Shounen, Comedy
Genre You DON'T Like

Yaoi
Doran Kol
Location:
Zramore, Vacuo
Mentioned:

RedArmyShogun
---
​
Working up the strength to yank the wagon into motion, the man stiffened, paused, and glanced at the poor pun the woman had retorted with. Were he more energetic, perhaps he might have laid on the charm a bit more, or at the least teased her. Shaking his head, Doran continued his efforts as the woman made her own effort to help push, wheeling the cart into motion, though the second thing she said did cause him to scoff.
"Wow... you aren't really trying to hide that you're foreign, are you?"
Doran inquired. Then again, she had just stated she made the trip from Vale.
Still though, in Vacuo, even if you couldn't use something, there sure as hell was someone who could. One did not simply see this kind of haul and go '
Meh, I don't need any'
, least not here in Zramore. Regardless, he would keep the fact that he didn't exactly deal with bandits. Brigands, especially the kind he was familiar with, wouldn't have been worth the confrontation.
"Pfft... Alright, sweetheart... You need to be a lot more subtle,"
Doran stopped her in her request.
"Now, I could kind of guess who you are from those little bars on your clothes, but still. If I were someone less handsome and more scummy, you would have one hell of a tab."
He assumed from her rank insignia on her clothes, but from her speaking, she gave away too much information; enough for anyone with the answers she was looking for to gauge exactly how much she
needed
those answers. And the more desperate someone was, the more their bill was.
"There's plenty of Info Brokers here. Probably have what you're looking for... but if you go in there all 'Hi! I'm trying to find some criminals! I'm from Vale and am a...'"
Doran paused a moment before shrugging.
"Okay, I'm gonna be honest, I don't know exactly what those bars on your coat mean. Sergeant, Commander, whatever. But I know where it's from, and so will anyone else worth asking."
Doran wondered why he was giving all this friendly advice. Perhaps he was just tired or feeling generous. Regardless, the woman wasn't going to get very far acting as she was, without spending everything on her, at least.
"There's plenty of brokers in the ghetto, the good ones keep track of anyone interesting that comes through this city. But the moment you act or tell them that 'The fate of the city rests on apprehending these criminals' is the moment where you're gonna get swindled out of everything you have, told to screw off, or just leave with nothing."
Doran repeated bits and pieces of what the woman had said in impressions with a sort of mock-heroic tone. The way the woman had worded some of what she said did have a sort of comic book righteousness feeling to it.
"A lot of people in this city are dangerous. Regardless, I might be able to point you to a broker, or depending on who these guys are, I might've seen'em. As for transit, that ain't my area. I tend to steer clear of military types. Usually not a fan of people like me... but before I do give you some names, who the hell are you?"