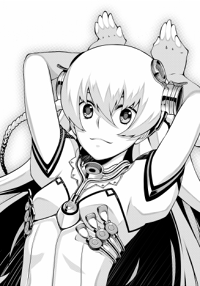 Roleplay Invitations

Group Roleplays, One on One Roleplays, Chat Roleplays, Private Convo Roleplays
Posting Speed

One Post a Day, A Few Posts a Week, One Post a Week
Writing Levels

Beginner, Elementary, Intermediate, Adept, Adaptable
Genders You Prefer Playing

Female, Futanari, Primarily Prefer Female
Playing Style- Passive or Aggressive

I'm fine with both, as it can depend on the character and game. I do think I've got a bad habit developed st some point where I tend to avoid the spotlight when I should step into it, but I'm working on it. And when I decide there's been enough talk and it's time for action, I'll go out and do something.

I'm more used to tabletop RPGs where there's a GM and players, and while I'm comfortable in either role, when the expectation is for everyone to control NPCs or similar, I can flounder a bit as it's just not what I'm used to.
Favorite Genres

Scifi, anime, mecha, magical girl, superhero, cyberpunk, yuri
Genre You DON'T Like

Not too keen on traditional (Tolkein-style) fantasy, modern fantasy, or supernatural romance
Chro nodded upon hearing Ael's explanation. "I see, I see. That does sound about right. At least you handled the actual problem." Bars could have it rough, although completely thrashing them was a little rare. Shame she missed the brawl, though more people stepping in probably wouldn't have improved matters. "Don't worry about being missing when I turned up. You could have done a lot worse with the door unlocked than a patron or two wondering what had happened."
Chro smiled back just as enthusiastically. "Yeah, it's pretty busy some days. I really ought to hire someone to help out." Case in point, she had yet to get to several of the newer arrivals. "I'll remember to take you up on that generosity some other time, but for now, I've got to do my job. Enjoy your breakfast." And with that, the aging huntress danced off to greet the new arrivals and take their orders.
The two newcomers seemed to have just arrived, judging by the bike one of them left outside. And the dust of the road still clinging to their clothes. "Welcome to Cafe Kyrie," Chro greeted them from wherever she was in the room at the time. "I'll be with you as soon as I can." Once the two gentlemen were seated, she took their orders and was prompt as she could be with the service. There was something about these two, though. One was clearly not dressed for the desert, with the long scarf and other gear better suited for colder weather, and the other kept that cloak close around him. They also looked armed, but she didn't comment on the gear. She had her sword back behind the counter if she really needed it.
"I hope your trip wasn't too taxing. If you're new to Zramore, hope you enjoy your stay here. It can be a little rough, but we all tend to stick together when we really need to."
The older man looked familiar. Chro couldn't place him at first, but she knew she recognized him from
somewhere
. It wasn't until after the usual pleasantries and her return with his order that she recognized him. "It's been a while, Verse," she said when she returned with his food. "I don't think I've seen you in years, not that it's too surprising. We all had our work cut out for us." She laughed. "What brings you all the way out here?" As curious as she was to really catch up, she couldn't do more than a few questions. She did have a job to do, and even if the tables were beginning to fill up, she couldn't sit down for a few hours to chat in the middle of the morning shift.