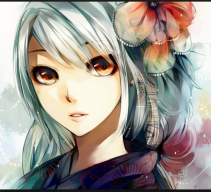 [REDACTED]
Original poster
Invitation Status

, ,
Posting Speed

Multiple posts per day, 1-3 posts per day
Writing Levels

Intermediate, Adept, Adaptable
Preferred Character Gender

Female
Genres

Fantasy, Romance, Sci-Fi, Unrealistic, realistic, Modern times, Medieval Times
Serena Thaon
Trembling fingers tightly clung to the fabric of the cape and Serena breathed out a shaky breath as she wearily glanced around. All she saw was white and trees. The thick snow made it harder for her to walk through and she found herself stumbling from time to time. At one point, she finally gave up and just let herself fall into the cold white sheet covering the ground. Serena had no idea where she was nor where to go. In fact...she had no idea who she even was. All she can remember is waking up in the snow and that's it.
The girl curled up into a ball as she hugged her legs to her chest and pulled the cape around her body. Tears that were far warmer than her skin, slowly began to cascade down the side of her face. Where was she? What was she even going to do? More importantly, who was she? The confusion caused for her stomach to whirl and the fear to increase. In that moment, she resembled a child who had lost it's mother, the only difference was that she didn't even know who her mother was.
​