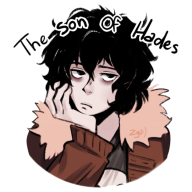 The One True Pibbles
Original poster
FOLKLORE MEMBER
Posting Speed

1-3 posts per day
1-3 posts per week
One post per week
Writing Levels

Intermediate
Preferred Character Gender

Male

OoC
-------

Boggy Creek, 12am
-------

​
"Showtime..."
Matthew whispered to himself, looking down at his wristwatch.
12am
. Midnight. The exact time he said he would be waiting where Boggy Creek began for those who managed to solve the P.S.I.S. code. The dark water of the extremely deep creek continued to flow all the way to the basin of Great Bear Pond (named after the chieftain who discovered Weatherbrook). Although he wasn't completely near the waterbed, Matt was cautious of the creek. He knew what lurked within. While the creek didn't look like much upon first glance, the run-off from Great Bear Pond had worn away the earth to such an extent that just standing within the creek brought the water up to an average sized person's waist. It was an inconvenience for the townspeople, fearing they might slip in by accident... But for a Reptillian, it was the perfect method of transportation. Reports of people drowning in the creek were more common now then ever, but oddly enough, trauma on the bodies of the victims reveal they might have even dragged into the creek or the pond. Sometimes no body would show up, but the discarded clothes of a missing person would turn up in Great Bear Pond. Not many suspected it, but Matthew and a few other like-minded people knew that the creatures dwelling within the waters were responsible.
Reptillians were tall, humanoid creatures with misshapen features and scales all across their bodies. They had slime covered scaly skin, piercing red eyes, and sharp teeth with jagged claws on both their hands and feet. In between each clawed finer was a set of retracting webbing, allowing the creatures to swim incredibly fast. Reptillians were capable of ripping a living creature apart within minutes, which was why Matthew had ordered those who showed up to bring weapons. They were going hunting for a specific Reptillian female who Matt had previously tracked. The creature had been reportedly breaking into the local Japanese resturant and stealing the freshly caught salmon. Some of its eggs even showed up in the back of the kitchen, but they were taken by pest control (they thought they were snake eggs and disposed of them quickly). So, the female was obviously angry. Not only was there another break in that day, but there was also a kidnapping: a young girl by the name of Julie Dinkledge. She and her family had been eating at the resturant when the break in occurred and in the chaos she had been taken by the creature. Matt just hoped it hadn't gotten hungry in the time since the attack, otherwise there might not be anything to find.
In his backpack, Matt could feel the tiny movements of Nibbles the Mogwai as he pulled himself up to the human's shoulder. Just like Matthew, the adorable creature was eager to meet the people who wanted to help out. Cooing softly, Nibbles gently tapped Matt's shoulder softly, giving the boy an indicator that the creature was saying 'I love you' again. Smiling down at his fuzzy pal, Matthew used his gloveless hand to gently rub the head of Nibbles.
While the others most likely would bring golf clubs or even fake weapons, Matt was more than prepared to tackle the creatures: donned on his right arm and softly glowing was the 'Power Glove'. Knowing that he was able to wield such a weapon was more than comforting, especially since it could impact a large manner of creatures. Especially ethereal ones. Had it not been for the glove, the Banshee currently trapped just outside of Hemmington Manor would still be at large. Who knew a blast to the head with a high powered energy beam was actually going to hurt a ghost woman? But regardless of wether or not the ghost was actually injured, the weapon still gave Matt a great advantage over the monsters. A long range weapon that didn't require ammunition and could reload rather quickly? Perfect.
Strapped to his side was his 'Presently Unnamed Science Device', otherwise known as the probe he stole from an alien ship. It was facing upwards, the orange end sticking out of the small holster he kept it in. It was not glowing, which was a good thing. He had activated the scanner setting and presently, there was no signs of hostile life forms. Yet.
But just as he was about to grab the device and verify he was still alone, Matt heard some rustling in the bushes before him. Extending his palm, Matt could feel the repulser beam charging up in preparation of something big. Instead of a terrifying monster however, Matthew was met with the sight of a small group of people slowly approaching him. Smiling and returning his fingers back to their normal position, Matt deactivated his charged blast and put on his game face.
"Hello everyone... Glad you could make it. As you already know, I'm X, and this is Nibbles."
Matt said in a clear voice, pointing to the Mogwai when he mentioned its name.
"He's harmless, just so long as you don't feed him after midnight. I'll go more into detail about that later, but right now we've got more pressing stuff to discuss. Before I explain our mission... Does anybody have questions or concerns? And because I know this is coming; Yes, some of you will probably die and so could I. When you're dealing with the kind of stuff you don't understand, you always go into the situation with a 80% chance of dying. Unless you're quick and resourceful... Judging by the fact you broke my code, you're definitely resourceful."