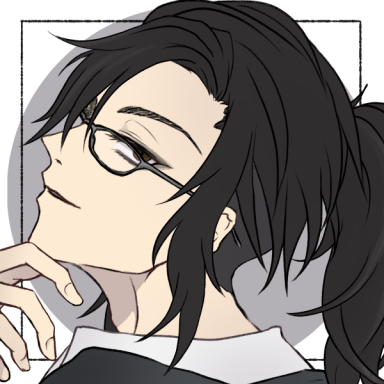 Lord of
Original poster
DONATING MEMBER
"We write to taste life twice, in the moment and in retrospect."
--Anaïs Nin
​
Good day to you! My name is Wattson and I think my age and gender doesn't matter. However, don't worry, I'm definitely human and above the age of 18. I have been writing for more than a decade, however, grammar definitely is not my forte. Don't worry though, I will ensure that my writings are readable. I am currently seeking more partners to enrich my roleplaying experiences.
::: About myself :::​
I am in the UTC+8 timezone so I understand that it probably meant that I'll be asleep when you're awake and vice versa. However, I am rather active and will be able to respond fairly quickly. Besides, there's nothing nicer than to wake up with a response right? I'll be able to respond quicker over the weekend.

The characters I play are usually switches, preferring to stay as neutral as possible. With that said, I would prefer my partners to share the same values as well. But, if you don't then that's perfectly fine too.

I adore frequent discussion about where the story is going. Open communication is what I seek in a partner.

The ability to play more than one character is needed here. I am open to playing two pairs of couples in the same story. NPCs are necessary as well.
::: Open Plots:::​
"Sometimes people don't want to hear the truth because they don't want their illusions destroyed."
-- Friedrich Nietzsche
​
#1 -
Miren is an in-house slave, whoring for travellers at the most dangerous bar in Carleone. He has no memory, no future of his own, yet he knew that he is meant for something more. The day that Miren spots the dangerous pirate in the bar, he knows that he needed to do something about it. He mustn't let the stranger slip away, regardless of what he needs to do to get his attention.
Your character (YC) spent the greater part of a decade searching for his lost prince, only to find Wal Rolen crouched between his knees, swathed in the robes and shackles of a whore. Though he is appalled by the downfall of his prince, the hardened officer finds himself falling for the allure of the sensual creature who has taken his place. Returning Wal to his country is the only right thing to do, yet YC knows that in doing so, he risks losing his lover forever.
Credits to: Belinda McBride's An Uncommon Whore
Status: Available
"Pain doesn't just show up in our lives for no reason. It's a sign that something in our life needs to change."
— Mandy Hale
​
#2 -
From the point of view of an outsider, Elliott Cornelius seems to have a perfect life. Coming from a well-off and influential family with doting parents and loving siblings, there shouldn't be a reason for him to be suicidal and depressed. Yet, he was.
His suicide attempts baffled his family members and came as a mystery even to himself. Elliott didn't understand his feelings either but the desires to hurt himself outweigh anything he does.
Worried family members admitted Elliott to the Ragland Institute of Mental Health on a long-term basis for his safety since he could be kept under constant supervision.
While Elliott had been on friendly terms with the staff members, even going as far as being on the first name basis, he opposed to any form of medication or therapy. The management of the institution was at their wits ends with his resistance.
Your character, a therapist enters the picture and tried to convince Elliott to begin therapy. Slowly, he discovered a secret that surprised everyone, even to Elliott.
Credits to: Not applicable
Status: Available
"I exist too much, I feel too much, think too much. Reality is crushing the life out of me."
— David Jones
​
#3-
Domenico Eilif had always been rather absentminded in nature. It was something that was endearing to your character who happened to be a vampire. However, he had never revealed that to him as he feared his rejection. However, it all changes when Domenico was involved in a car accident and was on the verge of dying. Your character had no choice but to convert Domenico into his kind.
Since then, he had been trying to subtly hint that Domenico's status. However, he doesn't seem to get it so what should he do to convince him that vampires are real?
Credits to: Not applicable
Status: Available
"I am no bird; and no net ensnares me: I am a free human being with an independent will."
-- Charlotte Bronte, Jane Eyre
​
#4-
A young and uprising actor took on the role of his life. Unfortunately for him, his nightmares started when the series ended.
A psychopath with an unsound mind fell in love with the character the actor played on screen. Devastated that his fantasy was coming to an end and convinced that the actor was actually under duress. He plotted to save his beloved from the hands of the unseen antagonists.
Under the guise of the night, he swoops and picked him up before knocking him unconscious. Determined that the actor was suffering from amnesia and was brainwashed, he decided he would be the saviour to return him to normal.
A long process later, the saviour got what he asked for. The actor was reborn and convinced that the saviour was the love of his life.
The love story's happily ever after lasted a while. Ten years to be exact.
He brought his lover out to celebrate their ten year anniversary when they were spotted by suspecting public members who called the police. Much investigation later, the authorities came to remove him from his home.
Sent to a psychiatric hospital, he was evaluated to be mentally unsound. Unable to remember his past life before he was saved by his saviour, he was convinced that the hospital staff were the antagonist and refused to cooperate.
In came the psychologist task at returning him to normal. Unfortunately, he has an uphill battle for he will be the most challenging case he'd ever worked on. With severe sex and drugs addictions, his client was uncooperative.
When he made a move on the psychologist, he would realize that his client appears to be a little more responsive when he offered him some physical affection.
Now the issue is: Should he ignore his ethics and continue this inappropriate relationship with his client in hopes that he'll improve mentally?
Note:
Would love to play the actor's character, please. We could start with the psychologist's section if the first part is unappealing.
Credits to: Not applicable
Status: Available
Last edited: