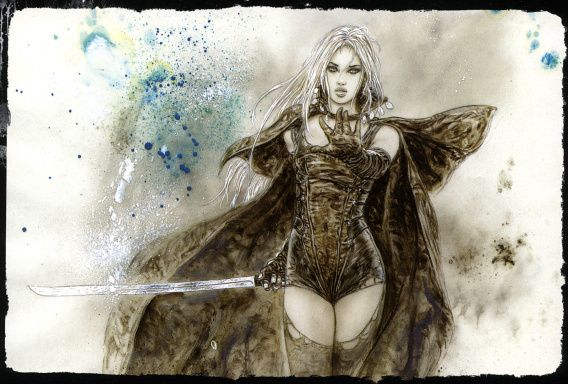 I'm the bad guy
Original poster
Invitation Status

,
Posting Speed

1-3 posts per day, One post per day, 1-3 posts per week, One post per week
Online Availability

Fri-Tues late night 11:30p to 3:00a. Wed & Thurs could be online as any point in the day or night. I am in PST.
Writing Levels

Intermediate, Adept, Advanced, Adaptable
Preferred Character Gender

Male, Female, Transgender,
Genres

High and dark Fantasy, Sci-fi, Medieval, Dystopia and Horror

Hey, good morning! Please call me Maal and I am seeking out some roleplays. Let's start with a little about me: I am an adaptable writer. I can produce small posts or long posts, depending on what I feel is needed to say. I've been writing/role-playing for over a decade. I am easy to get a hold of for OOC chatter through Discord and I enjoy to have a healthy relationship of memes with my partners. I do work full time on swing shift at a care facility, so I am generally online around midnight PST during my work week and all day on Wednesdays and Thursdays. I can respond to OOC while at work when I have downtime.

Writing has always been a hobby of mine, and I live for deeper, more complex stories that have had some love put into them. I am more than happy to follow a story-line and I can create plot-lines with my partners from scratch if my partner actually helps out in that process. When it comes to my plot-lines, some of my plots have work done to them and story arcs. I also have more bare-bones plot-lines that need work. I try to be flexible for my partner, and if I can't I try to find a happy medium, but there are times when I cannot meet my partners wants because those wants are too unrealistic or plot or character breaking, makes me super uncomfortable...ect..

I like to play a female main character and a male as my other main character. I like MxF over MxM and FxF. I've come from Gaia Online where I've been berated over my preference more times than I can count and made to feel extremely horrible about myself. I will still do same-sex pairings if the characters gravitate in that direction naturally, but I don't want it forced on me anymore.

When it comes to smut, it depends on the day whether I'm into it or not. I don't care for it to dominate the RP and want the actual plot-line to be more important. When the smut makes sense to happen, and it helps to develop characters and their relationships, or provide depth to the plot-line than we can smut up. I am not bothered by most smut situations; however, I will pass on hyper-sexual plot-lines/ideas or sexually aggressive people demanding me to partake in ideas that I don't want to do and make me uncomfortable.

That's about it for now, thanks for reading! If you're still here feel free to ask me any questions or shoot me a conversation.
​
Last edited: