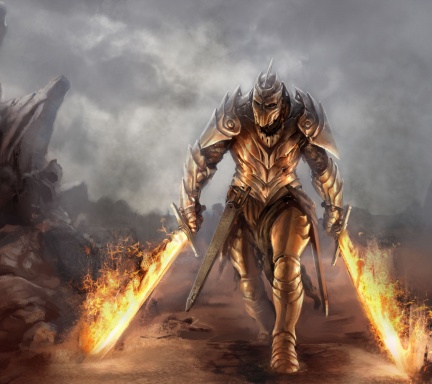 A warrior straight out of legend.
Original poster
Three kingdoms banned together long ago to defeat an enemy that threatened to destroy them all. To destroy the enemy they used all their talents, knowledge, and resources to build a powerful relic. This relic was used to destroy the evil and save their kingdoms. The enemy destroyed the relic was split into three parts one part given to each kingdom for safe keeping. Over 200 years have passed since then and the friendships those kingdoms built those years ago have dwindled to nothing and war threatens to break out among them. However an even greater threat looms in the distance and unless the three kingdoms can band together again they may all very well be doomed.
___________
Name: Col'hen Whitiar
Age: 21
Race: Elf
Role: Outlaw
Kingdom: Caeros (it has the sea on its east coast)​
Being the only daughter of a poor couple in the outskirts of her kingdom's capital, she never had an easy life. Fighting against men to prevent being raped and abused Col grew up quite strong and able with a dagger. To survive she started stealing what her family needed, a carrot, an apple... never more than the necessary.
One day, however, she was caught by a royal guard which suggested to be more 'relaxed' toward him to keep her hand. He brought her in an alley but she rebelled and ended up killing him just as another guard was passing by. Being now an outlaw she found shelter in a tavern in another city as a waitress. Her dream is to be able to be reunited with her family.
​
Skills:
- Survival tecniques
- Cooking
- Sewing
- Stealing
- Stealth
- Dagger
- Traps
- Simple reading and writing (with very bad calligraphy)​
+++++++++++++++++++++++++++++++++++++++++++++++++++++++++++++++++++++++++++++++++++++++++++

Name: Mi'ran Sairel
Age: 19
Race: human
Role: princess
Kingdom: Merula​
She was born and sheltered in the royal castle where she was trained in the arts as every proper First princess; she is refined and knows a lot. That is, only in theory. In fact she doesn't know about practical or political matters or the REAL problems her future subjects have to go through. However, Mi'ran isn't the passive type and spent a lot of secret time practicing with a bow and she's not half bad at it. Truly she's not sure she would have the courage to use it in an actual battle, but it's something more to know at least.
Her different colored eyes (Andy you know I'm a sucker for heterochromia XD) won her the title of 'Miracle princess'. Good at heart she knows where she stands and is not keen to be mistreated or to let her 3 brothers (17, 15 and 8 in age) make fun of her.
- Diplomacy
- Archery
- Araldics
- Fast learner
- Reading & Writing
- Intimidation
​
Name: Vander Alluin
Age: 20
Race: Half elf half human
Kingdom: Agora
Background: Vander is the bastard son of the king of Agora. His mother was an elfish maiden who worked in the castle as a servant. His mother and the king did have..feelings for each other but they could obviously never be open about their relationship. When his mother found out that she was pregnant with the kings son the king sent them away with enough food and gold to last them a good long while until they could find a more permanent solution. Vander doesn't know that his father is the king of Agora because his mother never told him the truth. She told him that his father was a human and that due to certain circumstances they couldn't be together and that's all he knew. He now works where he can to help support his mother in these times all the while unknowing of his true past.
Skills:
dual sword weilding,
hunting,
tracking,
archery,
read and write English and elvish,
calm/collected,
diplomatic​
​
________________
200 hundred years. 200 hundred years had passed since the victory over the dark forces that had threatened their kingdoms. The kingdoms of Agora, Caeros, and Merula had long since known peace and had remained without war or incident and the relic that had been built to destroy their enemies was still safe under lock and key. One piece located in each kingdom. However..those friendships have been under tight strain recently and war is threatening to break out among the three kingdoms yet again. Yet those worries would be put off for one night..hopefully. For tonight was the yearly feast to recall the joining of their kingdoms to destroy their ancient enemy. All the rulers of the three kingdoms would gather in a neutral point between their kingdoms and feast and celebrate their hard won victory those many years ago.
Vander Alluin was a citizen of the kingdom of Agora. And while he didn't know it the bastard son of the king of Agora. His mother was an elfish maiden who loved him very much and gave him everything she possibly could to make sure he grew up a happy young man. And he was a happy man. He only wished he knew who his father was and why he hadn't stayed with them. His mother could only give him a sad smile when his father was mentioned and stayed silent. Vander was a half elf half human so he knew his father was a human. That didn't necessarily help calm him down however.
Vander lived in the city of
Lonet
where the feast would be held to celebrate the pasts victories and had agreed to help out with the preparations of the celebration and providing some security for it. Although he didn't necessarily understand why security was needed. Each kingdom would have their own guards prepared and no one would dare attack the rulers while they were here. Currently he was acting as bouncer to the front gates. He wore a simple leather jerkin over his blue shirt. He also wore brown leather pants and light brown leather boots along with it. On his back hung
two swords
crossed in an X shape. The kings and their families were just arriving and would be progressing into the
ballroom
for the feast shortly. He only hoped that the night would continue to go by uneventfully and that no foul words nor blood would be spilled before the night was over. Little did he know the events that would take place that night that would set in motion the beginning of the end for them all.
Last edited by a moderator: