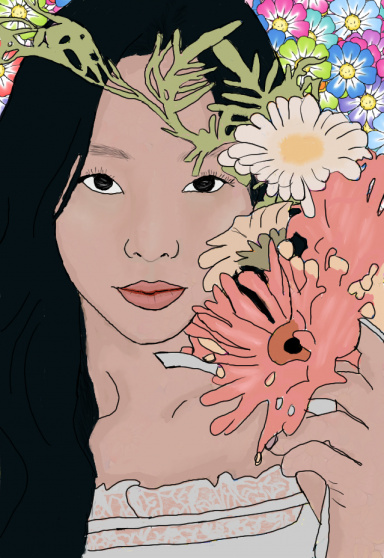 K-Pop Addict
Original poster
LURKER MEMBER
Posting Speed

Multiple posts per day
1-3 posts per day
One post per day
Multiple posts per week
1-3 posts per week
One post per week
Online Availability

Completely Random
Writing Levels

Beginner
Elementary
Intermediate
Adept
Adaptable
Preferred Character Gender

Male
Genres

I am fine with many genre's so lay it on me and we can decide if that genre will work.
Post character Sheets and Quest sheets here for Thialia A World of Quests
​
Character Sheet

[Picture]
Name:
Age:
Gender:
Species:
Class:
Weapons: (Primary and secondary.)
Armor:
Spells/Skills: (Mages/Enchanters can have two spells and one skill. Every other class can have two skills.)
Unique Skill: (create your own, just don't make it OP.)
Items: (Max of 5)
Personality:
Background:
Request Fee: (If requested specifically. Can be money, an item, ect.)
Other: (Likes, dislikes, ect.)

Species

Human
The most abundant species that roams the planet. Each having their own personality, and views on life. Some are more kind while other's can be mean or cruel. Over the years some human's obtained the knowledge of magic from elves, other's learned about the riches in the earth from dwarvs, and some learned about survival and it's varying methods. Power is sought out by wicked hearts and peacee by the kind hearted.

The Fae
This magical land is only seen by few. Fairies occupy this mystical land fluttering about and living simple lives. It is said to get to the Fae you must befriend a Fairy disguised as a human and win their trust to see this treasured land. Fairies, like humans, all have different personalities. Some are mischievous and will pull pranks on humans, some help people in danger, other's confine themselves into their realm. Most are naturally green thumbed and can grow plants and crops with ease.

The Lycan
If you see one of these beasts run. It is said that a man who craved power was given a gift but this gift also was a curse and every full moon he would shift into a bloodthirsty werewolf. Anyone who survived would be bestowed the curse from the wounds he inflicted and soon the population of Lycan grew more in numbers. Most live away from humans, some not wanting to kill anyone, other's stalk travelers to feed the thirst. If you are suspected to be one, you are given two options, to be exiled or death, many pick the first option. It is thought that those who wish for power are turned even without having contact with a werewolf.

Nightcrawlers
Why vampires were given this name? It's simple, many feast at night. Though people believe they are weak to the sun seeing they are only seen at night but that's untrue. They feed at night because it is easier to catch a prey and not get caught. Garlic, wooden stakes, holy water, none of this phases them and hell, half of them go to church and eat garlic. Most remain peaceful and out of sight, only feeding when necessary but some have killed innocent people giving the race a bad rep. It is often told to fledglings to only take enough blood to survive and let the person live. To become a vampire they must inject toxins into your blood so a simple bite wouldn't change you.

The Undead
From bones to rotting flesh these living dead are a rare sight. Necromancy can lead to giving life to these monsters, but the sad truth is they aren't actually bad. Most appreciate the second chance to live. Some seek revenge though and that's were the bad apples come into play. These undead want to see those who made them suffer feel the same pain they received. It is said if you see an undead a bad omen is coming your way. Aside from animated Skeleton's and Zombies many spiritual beings are also on the planet. Ghosts, ghouls, poltergeists, these invisible beings only appear when wanting to be seen and cause chaos at the flick of a wrist.

The Elven
Similar to humans but are usually more slender and shorter, most having paler skin. Their mostly known for traveling across the land as bards, merchants, or enchanters. They have been blessed by the gods and were the first species to obtain the knowledge of magic. Though humans at first feared them and killed many, so the numbers of this species is less than it used to be. Despite the poor treatment from the human ancestors many have forgiven, some have not.

The Dwarven
The people mostly known for their fascination with rocks and ores. Before man even knew about mining these small stout people were in the ground finding all the riches. They gave their knowledge to the humans and now many are seen helping in the mines across the land. Unlike elves they were not killed from fear so their numbers are more abundant but not more than the human race.

The Animated
These beings are not living nor dead but brought to a moving lifelike state. Gargoyles, Treants, Armor. Thing's you wouldn't see walking around. Though many have a humanoid state to disguise better in the world and their master's are always nearby, for the most part. In order for them to "die" the mage must die or they must be broken into nothing.

The Satyr
These men seem normal if you just catch a glimpse but if you get a good look you will notice more inhuman features. Goat legs, tails, ears, and horns are seen aside from their human features. Many are often drunk and pursue nymphs. They are usually seen as musical beings and most play the pipe. They are rare but when seen they are not shunned or attacked, as they are seen as woodland gods.

The Nymph
These maidens of nature are depicted as beautiful women of rivers, woods or other natural locations. They love to dance and sing, some can even animate nature. Though they do not die of old age or illness they can still find death in other forms. Satyr's often target them. Since they look like normal women they are not attacked or looked down upon by humans.


Classes

Thief: Agile and quick reflexes. Best for quests that require stealing, or getting information.
Mage: Knowledge of the arts. Best for quests that require a bit of magic to compete.
Warrior: Strength and brute force. Best for quests that needs brawn over brains.
Archer: Trained to snipe from a far. Best for quests that require distance.
Bard: Encourages allies with songs and tunes. Good traveling companions.
Merchant: Masters of trade. Easily can persuade other merchants for discounts or selling items for more money.
Herbalist: Dabbles in making potions and poisons. Used to make items for healing or harming.
Miner: Strong and hardened like a rock. Can obtain precious ores and gems.
Guard: Well rounded protectors. Good to have when needing protection.
Enchanter: Can imbue magic into items. Want a fire sword or maybe a pendant that deflects arrows? Pick them.
Hunter: Can track prey, including people. Can set traps and can see them a mile away.
Blacksmith: Creating weapons and armor is their specialty. Broken sword? No problem.
Nothing (Yes you character can have no class but still have some Non class specific skills)

(Note more may be added later on.)

Weapons

Shortbows: Used for closer range. Fires arrows.
Longbows: Used for longer range. Fires arrows.
Dagger: Short knife. (Blade is around 4-8 inches )
Shortsword: Longer than a knife but shorter than a longsword. (Around 1 foot 1 & 1/2 feet.)
Longsword: Longer than a shortsword but smaller than a greatsword. (Around 2-3 feet)
Greatsword: A large blade that is longer than a longsword. (Around 4-5 feet)
Hammer: Blunt objects that can be held in one hand.
Mace: Longer and heavier than a hammer. Can also be spiked.
Chain Mace: The bar is now a chain, a bit longer than a normal mace. Can also be spiked.
Warhammer: A large hammer that needs two hands to handle.
Axe: Like a hammer but sharp instead of blunt.
Waraxe: An axe that is long and needs two hands to handle.
Staff: A wooden blunt weapon used by mostly mages.
Rod: A metal staff. Heavier making the hit harder but also slower.
Role: Like a staff but it is longer and less thick. Flexible.
Spear: A pole with a sharp point.
Javelin: A small spear that is thrown.
Pickaxe: A double pointed axe with thinner metal used to mine into rocks.
Leather Whip: A thin leather weapon used at a slight range, the tip can slice into flesh.
Chain Whip: A whip made of chain, can be bladed, or the tip can have a blade.
Sickle: Small curved blade usually used to cut crop.
Scythe: A large two handed sickle.
Wooden shield: A wooden object used to deflect incoming attacks. It is lightweight.
Metal shield: Like a wooden shield but it is more durable. It is also heavier.

Armor


Clothes: Very Lightweight but hardly any defense. No noise.
Leather: Lightweight but not strong. Hardly noisy.
Chain: Heavier than leather but stronger. Semi noisy.
Iron: Stronger and heavier than Chain. Noisy
Steel: Heavy and resilient. Noisy.
Gold: Fancy armor that isn't as strong as Steel or Iron but stronger than chain. Noisy


Spells




(Note spells are for mages and enchanters only.)

Pyromancy

Spells that use the element of fire

Inferno: Sends a ball of flame out from the castors hand or weapon.
Singe: A spread of fire is shot out from the castors hand or weapon.
Flare: Sends a flame into the air that bursts and rains fire down onto the area.
Flame Wall: A wall of flame bursts from the ground in front of the castor.

Explosive Spear: A spear of flame explodes on impact causing an area to be hit by flame.

Aquamancy

Spells that use the element of water

Ice Spike: Sends a shard of ice to impale the victim, sent from the castors hand or weapon.
Aqua Jet: Sends a powerful blast of water from the castors hand or weapon.
Ice Volley: Sends multiple shards forwards from the castors hands or weapon.
Acid Rain: A cloud of acid is formed above making the rain that falls chemically burn the area.

Acidic Burst: Sends a slow moving sphere of water after the target that bursts upon impact causing acid damage.

Geomacy

Spells that use the element of earth

Earth Spike: Sends a sharp stalagmite up from the earth.

Earth Needles: A volley of sharp tiny stalagmites shoot from the earth.

Barrage: The castor picks up nearby rocks, small or large, and hurls it.

Petrify: The castor turns the victim to stone, limbs or all.

Fissure: The earth is split causing victims to become trapped in the hole. Can be closed to crush the target.

Monomancy

Spells that use the element of wind

Gust: Sends a burst of air out from the castors hand or weapon.

Gale: Sends a gust of wind controlled ny the castor.

Twister: A concentrated spiral of strong wind that destroys anything in its path.

Suffocate: Takes the oxygen from the air causing the area of affect to choke all who enter.

Razor Wind: The air moves so fast it slices through anything like a blade, or crushes resilient objects.

Necromancy

Uses magic involving the life and death

Animate: Brings bones, or objects to life.

Reanimate: Brings a spirit or rotten flesh back to life.

Spiromancy

Uses the element of spirit

Force: Pushes and object or person back, can send them flying causing injury.

Telekinesis: Uses spirit magic to pick up and move objects or people.

Crush: Uses spirit energy to apply extreme pressure causing injury.

Manipulate: Can control a living thing with your mind.

Levitate: The castor can make things float or even have people or animals glide through the air.

Poison: The victim becomes ill as internal organs shirt down.

Paralysis: The victims body becomes limp and cannot move.

Daze: Sends confusion into the victims mind.

Seal: Prevents mage from using magic.

Ombramancy

Spells that manipulate shadows

Reap: Turns shadows into blades to cut the target.
Shadow Bind: Darkness grasps the target holding them in place, also weakens them slowly.
Eternal Darkness: Envelope an area in darkness making it hard to see.
Acid Touch: Anything the controlled shadow touches begins to melt.
Void: The shadow turns into an empty space, things will sink inside like quicksand.

Lysomancy

Spells that use light

Shine: A bright shine that can cause temporary blindness. Damages undead.

Radiate: A small orb of light is made to see things in darker areas.

Smite: Concentrated light strikes the target cause blindness and damage.

Glowing Touch: With the powers of light wounds are healed.

Healing: Cures any illness inflected on the target.

Revive: With the power of light the deceased can come back to life.

Enchanting

Spells that enchant objects or people

(Enchanters only.)

Waterbreathing: Allows the person to breath underwater.

Deflect: Arrows bounce right off.

Glow: The object glows in the dark, giving off light to see.

Strengthen: Physical strength is boosted, amount depending on how much magic is put in.

Invisibility: The spell causes the object to make the wearer disappear from the naked eye.

Hawkeye: Allows the wearing to see further and to pick up on things missed by the naked eye.

Flame/Water/Earth/Wind/Spirit Cloak: Protects against the associated magical element.

Flame/Water/Earth/Wind/Spirit Weapon: The weapon is imbued with said element.

Poison/Paralysis Ward: Protects against poison or paralysis.

Siren's Kiss: Weapon or item is imbued with Paralysis.

Serpent's Tongue: Item or weapon is imbued with Poison.​

Skills




Bow Skills
Quickfire: A trained archer can send arrows out faster than normal.
Steady Aim: Higher accuracy for archers.
Volley: Fires multiple arrows. Lower accuracy.
Vital Shot: The arrow is aimed at vital organs.
Blunt Skills
Crushing Blow: Using strength to break bones and objects.
Vital Blow: Causes blunt force to hurt vital parts of the victim.
Shield Bash: Hits target with shield to stun and hurt them.
Slice Skills
Power Slice: Focused energy allows the cut to become more severe upon impact.
Flurry: A volley of swings cut the target but leaves the user open for retaliation.
Miscellaneous Skills
Acute Hearing: Better hearing for the character. Good for eavesdropping or locating traps or people.
Meditate: Calms one mind to allow clearer thinking. Cures a dazed state.
Persuade: Allows you to manipulate someone to do a certain action or say a certain thing.
Distraction: Gets enemies attention so allies can get in an attack.
First Aid: Knowledge in how to treat wounds.
Thief Skills
Steal: What's a thief without the ability to steal items and goods.
Mug: An attack distracts the target while the also steal an item or two.
Warrior Skills
Brute Strength: Two handed weapons can be held in one hand.
Guard Skills
Lightweight: Heavier armor weighs nothing to them.
Iron Stance: Years or training has taught them an impenetrable stance as long as it is held.
Free Shield: Instead of being a weapon they can have the shield be in their armor freeing up a space for an addition weapon.
Merchant Skills
Barter: Allows possible discounts or higher selling prices for merchants.
Inspect: Can tell the price of an item.
Bard Skills
Enchanting Song: Dazes all who hear.
Alluring Song: Lures the victim to the singer.
Battlecry: Boosts morale of allies allowing stringer attacks.
Lullaby: Puts all who hear to sleep.
Miner Skills
Fool's Gold: Can identify gems and ores making sure they are real.
Locator: The miner can locate gems and ore's in nearby rocks.
Smith Skills
Fine Tip: Advanced smithing allows for sharper more deadly weapons.
Resourceful: Uses less items to make weapons and armor.
Hardened: Makes stronger armor.
Herbalist Skills
Gatherer: Can identify rare plants and objects used for potions and poisons.
Maximize: The herbalist can squeeze everything they can out of what they have, meaning more potions and poisons.
Hunter Skills
Track: Every good hunter knows how to find their prey.
Camouflage: Knowledge that allows the user to blend in with their surrounds via clothing. (Available for Thieves)
Domesticate: A hunter's knowledge allows them to have animals help out.
Trap Making: A hunter knows how to make many traps with their knowledge.
Mage Skills
Focus: Allows mage to cast quicker.
Element Mastery: Allows one more magic spell taking the place of a mages skill.
Double Enchanting: Allows an item to have two enchantments.
Advanced Enchanting: Allows for stronger enchantments.​




(Over time each character can get more skills in their arsenal. More skills will be added to this list as well once I can come up with more.)
​




Items




Jewelry
Used mostly for enchantments.
Rings, Bracelets, Necklaces, and Earrings.
Potions
Healing: Heals wounds.
Tonic: Cures sleep
Elixer: Cures paralysis
Antidote: Cures poison
Angel's Kiss: Cures petrify
Remedy: Cures sealed magic
Poisons
Siren's Brew: Puts target to sleep
Serpent's Kiss: Poisons target
Medusa's Glare: Petrifies target
Binding Brew: Paralyses target
Tongue Tied: Seals magic.
Other
Can be a trinket your character carries around or maybe a diary. Up to you what you use to occupy their pocket space.​

Quest Sheet




Name of Quest: (optional if you can't think of a name.)
Name of Quest Giver: (Your character or a random npc)
Quest Description:
Quest Objective:
Total Union Members Allowed:
Wanted Union Members:
Rewards:
Additional Info:​




Ex.
Name of Quest: Jewel Thief
Name of Quest Giver: John Shadowman
Quest Description: It has come to my attention that a rare gem has been located in the Helmah Mines. It is worth hundreds if not thousands of gold. The gem is now on its way to Ambrosia. I hear it will be put on display as a trophy and many will get to see it in its glory. Though if I can have it and sell it to a fence it could be more than just a display.
Quest Objective: Steal the gem either on the way to Ambrosia or from the display.
Total Union Members Allowed: 4
Wanted Union Members: The Cat Burglar
Rewards: 20% the profit (400 gold)
Additional Info: If it isn't obvious don't get caught. Don't keep the gem for yourself either. You have only a week to get the gem before I hire someone else.​

Example Character


Name: Valerie Hemmingway
Age: 19
Gender: Female
Species: Human
Class: Bard
Weapons: Shortbow, Dagger
Armor: Clothing
Spells/Skills:
Enchanting Song
Lullaby
Unique Skill: A father's gift, using the gem her father gave her Valerie gain's resistance to illnesses for a short time.
Items:
Healing potion
Earrings of Hawkeye
Ring of Spirit Cloak
A small gem her father gave her as a child.
Personality: Valerie is often bubbly. She is kind and caring. At times overly energetic and playful. She is seen as innocent so not many understand why she takes on quests instead of become a Bard for an inn or pub.
Background: Valerie was raised in Yorstien, often wondering what was past the city. She grew used to the bustle of all the people and admired her mother who sang at various locations in town. She grew up learning how to sing from her mother and her father stayed in the mines of Helmah to give them an easy life. Though as she got into her teen years her father was killed by a cave in and things grew a bit rougher as their income was now depending on her mother. Valerie noticed the union was looking for new members so she applied as a bard for support. Not only did she get to help her mother but other members of the union. She has gotten to see more of the world and even has visited Helmah, seeing her father's grave and his last words being that he will see his wife and daughter again one day. As she has traveled she has learned how to use a bow and dagger for self defense.
Request Fee: 30 gold
Other: Valerie dislikes fighting and bickering among friends. There is no time for that. She dislikes evil hearted people. Her likes are singing, chatting with friends and watching the stars.
​
Last edited: