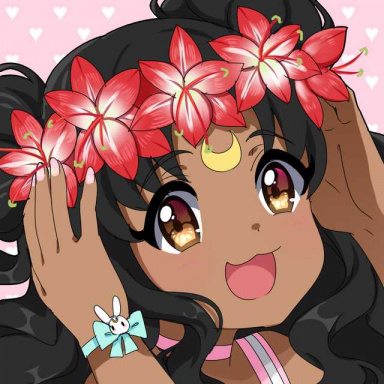 ☽ Neighborhood Friendly Magical Girl ☽
Original poster
Location: Hogwarts: Great Lake(Black Lake)
Interaction:

DayDreamer


Time of Day: After-school hours (afternoon)
Outfit: Sabrina's Outfit
Mood: Hurt & Irritated
Sabrina sniffed as she walked to her favorite 'get-away-from-bullshit' spot on campus. Normally Sabrina prided herself in looking presentable at all times but today didn't work out that way. Safe to say popularity came with it's ups and downs, still Sabrina would like to believed she loved the pros more than she loved the cons. However, today was one of those days when the lows were just extremely low. Just like the self-titled 'princess of Hogwarts' has many fans, she also has plenty of haters.

Sometimes said haters get bold enough to challenge her in on any given day. But they always do so when she's alone, too much of cowards to make their display public. Sabrina had dealt with bullies it felt like all her life, so this was nothing new to her at this point. However, when they got physical, that was something that she never quite got used to. Luckily now that she as older she was better at handling those sorts of situations than she was when she was younger. Partly because at least now she fought back.

Nowadays the bullies were getting a bit bolder. They always approached her in groups now as opposed to by themselves, but that was fine because Sabrina wouldn't go down without fucking them up too. That's exactly what happened today. Some pure-bloods felt the need to pick a fight with her today but couldn't handle the heat when Sabrina snapped off at the mouth in usually sassy fashion. Embarrassed and angry they resorted to violence since they clearly weren't winning the verbal argument.

Sabrina was also royally pissed off as well. Coming back to Hogwarts was supposed to be a break from this sort of petty behavior. But it seemed that no matter where she would go she wasn't meant to catch a break. Not on this side of living at least. She huffed as wiped at her cheek as she continued to walk towards the Black Lake. Anyway, so those bitches had decided it would be a good idea to jump her like she wasn't going to respond back. Sure it was tough but over the years Sabrina just grew more and more tired of taking people's shit.

Her patience was gone after everything she had been dealing with at home. So they fought, point-blank-period. Of course since numbers were against her Sabrina struggled but at the same time she was the Slytherin's duelling club captain for a reason. She attacked the girls quickly flinging disruptive spells their way while throwing punches with the best of them. Despite being at a disadvantage she still managed somehow come out on top this time. Not without several cuts across her legs and cheek and bruises that were sure to form on her ribs and legs.

That being said when one person can claim victory over a host of 3 girls using magic and her fists, she would have to say that's pretty embarrassing for them. They should leave her alone for a while at least. She would need to talk with Garaile and Andrew about what else to do with those girls. She wasn't just going to end it how she left it. She got to her spot not too long after thinking back over the events that took place. She plopped down on the ground with a sigh and looked up at the sky.

It was quiet as she listened to the sound of animals and the water she was sitting beside. The wind blew her hair as she felt her eyes begin to sting. She hated feeling like this. As strong as she aspired to be stuff like this always managed to get to her. No matter how many times she told herself that she didn't care anymore she clearly still did. Who wanted to go through this sort of stuff? What had she done to deserve this sort of treatment? From these strangers, from her family even? Was her mother's sin truly hers to pay for? Was it that awful that she was alive? Would the world truly be better off if she wasn't there?

As the thoughts soared through her mind her lower lip began to quiver as a heart wrenching sob left her lips. She pulled her legs to her to her chest, leaning forward as she rocked back and forth. Once she started crying the tears wouldn't stop. She was frustrated, tired, offended, and hurt. The more she encountered situations like this the more she felt her heart begin to harden. She wondered how much she could take before enough was enough. Would she break?