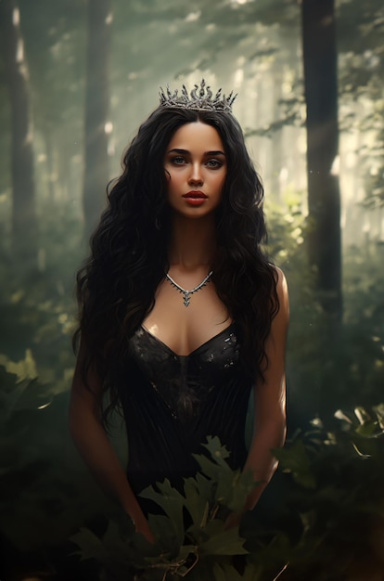 The Dark Queen
Original poster
STAFF MEMBER
DONATING MEMBER
FOLKLORE MEMBER
Invitation Status

Looking for partners
Posting Speed

One post per day
Multiple posts per week
1-3 posts per week
One post per week
Slow As Molasses
Online Availability

In the mornings usually but only during the week. Weekends are devoted to the family.
Writing Levels

Adept
Advanced
Adaptable
Preferred Character Gender

Male
Female
Genres

Modern, Magical, Romance, Medieval, Fantasy, Slice of Life
"Ah shit, here we go." Miles turned the letter in his hands a few times. The insignia of the Triad was something he knew very well. They even used a particular stationary that he was sure they didn't sell at any Staples or Officemax. He read the date and time a few times before tucking the invitation in the back pocket of his jeans. He had to leave immediately. There was no keeping the Triad waiting. To do so would mean certain death and he wasn't about to put something like that to the test. He had been summoned before so he had an idea of what to expect. He packed a sports bag with a few days' change of clothes and some handguns and took off as quickly as he could.
He arrived at the Sanctuary within a couple days, just in time for the meeting on the invitation. He had been to the Sanctuary many times over the years, the hotel serving as a true sanctuary for him in his time of need. He'd received weapons and medical care a few times yet still, he continued to find himself in awe as he crossed its threshold. The hotel was stunning with its grand staircase in the center, its high ceilings and large crystal chandeliers throughout. The hotel had the perfect lighting that only accentuated the modern touches of black and gold. The luxury hotel was no place for someone like Miles yet here he was, enjoying all its beauty. But it was the concierge at the front desk that most drew Miles' attention. He hadn't been to the hotel since Santa's hiring but he had heard about her before and was very much interested.
"Well if it isn't the most beautiful concierge I've ever seen. How you doin' darlin'?" Miles said as he stood before the front desk, setting his bag by his feet and giving the concierge a signature Miles smirk.
Santa looked up from her desk at Miles and did her best to give him a smile. She had heard about Miles before, plus it was her job to know who was arriving for the particular meeting scheduled for later in the evening. "Mr. Thatcher. Welcome to the Sanctuary. We've been expecting you. Please scan your brand under the scanner, please."
Miles did as told, pulling the sleeve of his checked flannel up slightly to reveal the mark of the Sanctuary he had been branded with years ago. He placed his wrist under the scanner as the infrared scanned the branding. On Santa's computer screen, Miles' entire profile appeared. "The Manager is expecting you in the lounge. You can proceed there. Your room tonight will be 201. I'm sure you remember Sanctuary protocols?"
"How could I forget?" He said as he leaned his arms against the counter. "Hey, so, what do you say about getting some special
concierge
service tonight in my room?" He raised his brows a few times with a smile. He knew what he wanted and he wasn't one to beat around the bush. He was the type to blatantly ask for what he wanted and needed. He didn't need to fake it with pleasantries that weren't going to get him any closer to what he wanted.
Picking up immediately on his innuendo, Santa shook her head. "That, Mr. Thatcher, cannot be arranged. But I can arrange for other accommodations and company for you if you'd prefer."
"Ah, come on. Promise it will be worth your while.." he said, not one to give up so easily.
Santa on the other hand was quick to dismiss him. She returned her gaze to her computer and began to plug away as she answered simply, "Doubtful."
Still, Miles wasn't one to take no for an answer and he often pursued things even when he knew he shouldn't. "I know it's not about a protocol thing. I've heard you like some company from time to time. People around here talk. What am I missing? What they got that I don't? Why aren't you interested?"
Santa handed him his room key and returned her eyes to her computer. "You're male. I won't ever be interested. Now, the manager is waiting Mr. Thatcher and if you don't need anything else, I have other guests to check in."
"Damn!" he yelled out. "It's always the good ones too." He slammed his hand against the counter once before Miles grabbed his room key and turned towards the lounge. He definitely needed a drink after that encounter.
-----------------------
Santa smiled at the next guest, happy for Miles to have moved on. "Could he have been more obnoxious?" the next guest said as he stood before her. Vincent practically rolled his eyes as he perked his nose slightly in the air to show his distaste for the man.
"Mr. Thatcher is known to be a little…loud," she replied. "Tone and presence, I'm afraid. Welcome to the Sanctuary, Mr. Moretti. Please scan your brand."
Vincent pulled up the sleeve of his five thousand dollar black Prada suit to reveal the signature brand of the Sanctuary. "Always a pleasure to see you, Ms. De La Vega. I trust you are well this evening."
"Quite well, Mr. Moretti," Santa answered as Vincent's profile appeared on her computer screen.
"You'll be in room 307 this evening. The manager is expecting you in the lounge. You can proceed there. Should you need anything, please do not hesitate to let me know."
Vincent grabbed his room key and nodded his head towards Santa before rolling his luggage towards the lounge area. Unlike Miles, Vincent was not impressed by the look of the Sanctuary and didn't find himself in need of services at the moment. He had been to many luxury hotels throughout his life and this one was no different to him. The only difference was the amenities that were tailored to his choice of lifestyle and profession but nothing more. He proceeded down the hall, taking the elevator down to the lounge. As the doors closed, he took advantage of the various mirrors and adjusted his suit, diamond cufflinks and ensured he hair wasn't standing in places it should not be.
When the doors opened, he rolled his luggage behind him and proceeded towards the bar to order a martini. He could see Miles from the corner of his eye and did his best not to make eye contact with the man and especially refrained himself when hearing him order a Jack Daniels. Clearly the man had no tastes. But what could he expect from someone who ordered a simple Tennessee whiskey. Why the Triad had sent for such a simpleton was beyond him. The bar was stocked with any drink he could possibly imagine with the most skilled of bartenders and the idiot ordered a Jack. Fool.
As soon as Vincent had his drink he moved quickly away and took a seat in one of the leather chairs to await the manager. He looked around but did not see Arthur Van Courtland though he was sure that Arthur could already see him. It was to be expected that Arthur would only show himself once all the guests of the Triad had arrived.
Vincent silently wondered how many invites had been sent out and still pondered how such a neanderthal like Miles Thatcher had been summoned. He crossed a leg over the other and grabbed his phone to keep his eyes on something other than Miles. Last thing he needed was for the man to make eye contact with him. Miles never shut up and he wasn't about to be on the other end of a tirade while waiting for Arthur.
Instead he focused his thoughts on what the Triad could want. It had been a while since he had received any orders from them directly. He had been busy collecting Triad coins and increasing his wealth through various other contracts and missions that weren't directly related to the Triad itself. He was hell bent on having his own fortune he could fall back on. As much as the Moretti name had benefited him, it came with its own pitfalls and expectations that he longed to be free of. He hoped to one day run his own enterprise. As much as he enjoyed being behind the eye of his scope, he much preferred to give the orders than to be the one that received them. He was still working on a name for himself and he was going to achieve it.
Even as the head of an enterprise, a Triad mission was an obligation he would never be able to get away from. For now he'd wait to see who else arrived and perhaps he could put the pieces together once they were all together.