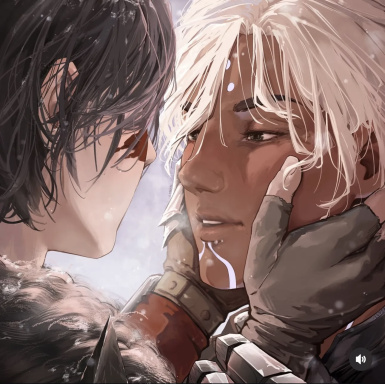 Inconceivable
Original poster
Roleplay Invitations

One on One Roleplays, Private Convo Roleplays
Posting Speed

A Few Posts a Week, One Post a Week, Slow As Molasses
Writing Levels

Advanced, Prestige
Genders You Prefer Playing

Male, Female
Playing Style- Passive or Aggressive

More Aggressive. May change depending on partner.
Favorite Genres

Fantasy (High, Low, Modern, Any), Romance, Supernatural Creatures, Fairytale Retellings, Mythological, Heroes' Journeys, Fandom (Bioware Games). Open to Trying Different Genres.
Genre You DON'T Like

Furry, Animals, Historical (Especially the Victorian Era), Hardcore Scifi

A cracked stone path surrounded by a tunnel of greenery greeted Narihira when he stepped out of the little blue car. The wind swept forward almost in a greeting to ruffle his short cropped hair and to kiss his cheeks with its cool touch. His first taste of the mountain air left him breathless. So sweet yet ancient, almost from another century. It stirred something within him that he had no name for, a sensation somewhere between excitement and fear. Something that his ancestors might have felt standing on the edge of this forest before the world began to outgrow such wonders.

"Here's your bag, Takenaka-san," the driver, a little old man by the name of Sato-san, said as he pulled Narihira's suitcase out of the trunk and offered it to him. It contained only a handful of essentials that his mother had not sent up with his other things.

The younger man took a hold of it and inclined his head to the other. "Thank you very much. I hope I didn't put you through too much trouble."

"None at all. Welcome to the neighborhood," Sato-san responded with a grin as he stepped around to get back into the car. "If you need anything, I live just down the hill. No more than a half an hour to walk. Come on over sometime."

"I will, thank you!" Narihira waved at Sato-san as he drove off, leaving the younger man alone with his thoughts. He turned back to the forest with to stare down the path again. Not one creature made itself visible. Only a few strains of bird song indicated any living being made its home here. Eerie yet inciting like the beginning of an old tale full of monsters and warriors. One waiting for him.

The trip up the path to the house took Narihira longer than he expected. His mother had warned him that the cabin was far from the road though not a ten minute walk away. Little wonder why his father had talked of widening the path. A car would shorten the trip significantly. Not that his mother would allow such a thing.

He reached the yard puffing from his impromptu hike and found the small house waiting in the clearing. His eyes widen as he took it all in. It looked like something straight out of a history book, the sort of classic Japanese architecture that tourists flocked to. Only a handful of visible repairs took away from that image: some new screens on the doors, new glass, and a few wood panels that didn't match the color of the aged wood. His father had sent a crew up to begin the renovations before Narihira chose to come, intending to prepare it for the next spring as a vacation home. He had consider it to be too rustic. Narihira, however, didn't mind it. It would be more work than his apartment back in Tokyo without the hassle of his many neighbors.

He approached the house and unlocked the door with the key provided for him. A small entryway greeted him with a little cabinet sitting by the side shoe rug and a few simplistic pictures adorning the ways. A handwritten note waited for him on table bearing his parents' seal, from his mother judging by the handwriting. He shook his head. Always the worrier.

After setting down his bag and slipping on a pair of house slippers, he paced down the main corridor to investigate the house. First he passed by the door leading into a small sitting room where he spied a low table in front of a flat screen TV—disconnected as the internet connection had yet to make it out so far—with a chest of drawers and pair of cabinets against the other walls. The scent of new carpet and wood polish hung in the air. He made a mental note leave the windows open for the night.

Across the hall he found the kitchens, a narrow room with a counter running the length of it, a small refrigerator, and stone stove. Little appeared to have changed in this room outside of the new fridge and a handful of appliances lining the counter. Upon examining the stove, he discovered it was wood burning which would present an interesting challenge when preparing his meals. Perhaps he ought to have asked about that sort of thing ahead of time.

He found the bathroom located off the kitchen, a small room with just enough space for a sink, toilet and bathing area. Much like the kitchen, little looked changed outside of some piper work that appeared to have happened. His father must have chosen to wait on the major renovations. Most would take months to complete, especially given the issue of the narrow path.

The last room he found was his new bedroom. A futon sat in the center of the room next to the other luggage his mother had sent along before him. A closet and chest of drawers that both appeared to have been added during the renovations stood at the back of the room. Very little decor had been added, obviously an invitation for him to make himself at home in the room. He smiled again though with some effort. His eyes had strayed to the pile of art supplies he sent along. He only meant to have them around to keep his skills sharp but even so…

He returned to the front of the house to collect his other bag, passing by a linen closet and what looked like stairs leading up to an attic. He ignored both for the time being, deciding that settling in would be a better way to spend his evening. For better or worse, he would be living her for a few months or however long it took to satisfy his mother. The sooner he got comfortable, the sooner he could turn his attention to other matters.

The first few days trickled by as Narihira adjusted to the house. He unpacked his things on the first day, taking some time to hang a few of the favorite paintings he'd received over the years around the house. Some inspired him while others merely brightened the room; each and every one reminded him why he had chosen to dedicate his life to art. The use of color, the technique, each chosen specifically to invocate an emotion without saying a word. He ran his fingers along the frames as a fond smile touched his lips.

In addition he filled the shelves with the books he had always meant to get around to reading along with his movie collection, his pride and joy, with titles ranging from classic Japanese cinema to many popular American and European films. Though internet and cable might not reach out to him for some time, he at least had some option for relaxing throughout his day. He'd also brought a stereo system with him, a task which took the majority of two afternoons to get hooked up. The salesman had made it sound so simple.

The biggest hurtle came in the form of learning to cook with the wood fires. While he had learned to start fires in his youth, the noodles stuck to the bottom of a pan he tried to use told him that cooking with the same fire would take time to learn. He knew how to cook, but without the control of a convention oven he found himself burning recipes he had made dozens of times. By the third day, he begrudgingly accepted that burnt food might be his lot until he managed to get the hang of things.

Though the struggles of cooking did offer him some meaningful distraction. Once he had finished settling into the house, little remained for him to do outside of daily chores and whichever hobby caught his interest that hour. He started in on one of his novels, a crime drama recommended by a cousin, watched a few movies, and even went on a short hike or two in the woods surrounding the cabin. His mother made him promise he would relax out here, but hourly his eyes wandered to the canvas he had set up in the corner of the living area.

Near the end of his first week, he made the mistake of watching Ju-on: The Grudge one night after dinner. He had seen the film before but seeing it again out in the middle of the woods with the summer breeze causing the old house to creak and groan at random intervals…it left a different impression. Sleep wouldn't be coming easy tonight. "Perhaps if I take some time to appreciate the night," he told himself as he walked to the window. He'd picked up the habit of speaking to himself about a day into his stay. Better his own voice than days without.

He peered out of one of the many wide windows in the living room. The starlit sky greeted him, banishing some of his jitters. A full moon hung high above, dappling the ground with patches of silvery light and purple shadows. Once again his mind returned to his original thought about how old this place felt, like the memory of a century long since passed by. A sudden urge to capture the scene took hold of him.

Without a thought, he walked over to the canvas in the corner and pulled out a pencil with a metallic cap on the end to begin a rough sketch. He only needed a rough estimation of where shapes were before he started in on the colors. His eyes flickered to the white space in front of him, suddenly realizing what he intended to do.

He froze there, pencil posed over the canvas. The beautiful image fled his mind, replaced with dread and a feeling of being watched. His gaze returned to the window. The shadows had grown inky since he'd looked away, the moonlight only enough to highlight their subtle waving with the wind. Had something just moved? A low creak sounded behind him, causing him to jump. The pencil fell from his hand to the floor. He looked around the room, shaking his head at himself. Just the wind and his over active imagination. Best to get some sleep tonight before he convinced himself ghosts had come to life.

After a night of tossing and turning, he drifted off into a deep sleep with the rays of the bright morning sun. He decided to avoid watching horror movies late at night after that. He slept through the morning into the afternoon before waking with his stomach rumbling. Skipping breakfast always left him famished. He set out to cook something filling, gazing out the kitchen windows as he did. It would be a wonderful day for a hike. He ate his well-down tempura on the engawa, basking in the sunlight. Despite the hiccups of his first week, he thought he might learn to like this place.

He slipped on a sturdy pair of hiking shoes after he cleaned up lunch. A few hours of sunlight remained and he intended to use them to the fullest. With a water bottle and compass by his side, he set off down a trail he had yet to try.

The dirt trail wound through the thick foliage, branching off into hundreds of little trails, some manmade while other appeared to be from animals. He wondered, briefly, what sort of wildlife made its home around him. Following the main way took him roughly an hour into the woods before the trees thinned out and opened into a clearing at the foot of the nearby mountain range. He stopped in his tracks, mouth falling open. Before him trees the size of skyscrapers rose up into the air, their trunks thicker than any tree he'd ever seen. They clumped together, becoming an impenetrable sea of leaves as they went up the mountain. If he remembered correctly, Sato-san had said these mountains were part of the national reserve. One of few forests left untouched by modern innovations. "It's beautiful," he muttered as he took a few steps closer.

A closer marvel stopped him again as he tore his eyes from the majesty before him. A series of little shrines sat before him, all covered in moss and chipped with age. He leaned down to examine them, but kept a respectable distance away. Such shrines existed where he lived but these looked so much older. It seemed as though someone had been seeing to them as well, perhaps some forest ranger. A smile played on his face. He almost wished he'd brought an offering with him though the forest spirits might not appreciate his cooking abilities.

He caught the glint of something from the corner of his eye, turning his attention to one of the far shrines. He rolled back onto his feet and started toward it. When the thing came into view, however, he stopped dead in his tracks.

A pencil sat on the stone surface. His pencil.

He blinked, almost unable to believe his eyes. Just last night he'd dropped it in the cabin yet…here it sat. Some terror from the previous night passed over him. "No, this can't be mine," he said, voice shaking some. "Perhaps the rangers or another hiker had a similar pencil and left it as a joke." He backed away from the shrine, suddenly ready to be somewhere else. Dinner would need to be prepared soon and he might do well to call his mother and let her know how he had settled in. She'd left him a few messages already. It would be good to hear her voice.

When he arrived back at the cabin, he went into the living to find his pencil and assure himself that he had indeed only seen one similar.

But it was nowhere to be found.
Last edited: