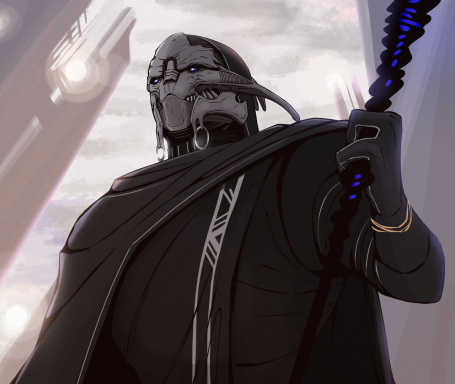 The Rogue Spectre
Original poster
Long ago, a group of people were cursed by the last sorcerer alive. These people had wronged the magic users and punished them for practicing magic. The curse dictated that the group, and their eventual descendants, would be plagued by nightmares. If they could overcome the nightmares, they would be taken into the Dreamrealm and attempt to vanquish the spirit of the last sorcerer.
If they died while in the Dreamrealm, they died in real life, and their soul would be transported to the Dreamrealm and morphed into a nightmare creature to haunt someone else afflicted with the curse. Once death had overtaken them, the curse would pass on to their firstborn child, regardless of gender or age. Some made it into their old age, and some didn't live past 30. If they chose not to have a child, the curse would jump to someone else, even if they were not related to the carrier.
Should a Dreamer destroy the spirit of the last sorcerer, the curse on everyone would be lifted, but no one has ever made it. Maybe someday, someone can change that.


Name:
Senna Kovaks
Age:
24
Bio:
Senna was given the curse at the age of 10 after her father died failing to protect himself inside the Dreamrealm. Since then, she's been plagued by the nightmares and has never had a full night's sleep. She hasn't ventured out far from the Hub, and she barely makes a living on her own while awake. Only her mother knows about her curse, and she can't bring herself to tell anyone else.
~
Name:
Connor West
Age:
26
Bio:
Connor was one of the few whose family had no connection to the cursed descendants. He lived a normal life as more of a man for adventure than anything else until one night he started to have grueling nightmares. To this day he truly doesn't know why because no one he knows has told him. But the nightmares... they seem so real. From a well to do family, Connor works as a scientist after successful completion of his biochem undergraduate and graduate degrees.​
​
"I don't know if I'm dreaming when I sleep or sleeping while I'm awake,
but I have reoccurring dreams my mind cannot take"
― Stanley Victor Paskavich, Stantasyland: Quips Quotes and Quandaries
~
​
"Are you alright, sweetheart?"
her mother asked over the phone. Senna knew it was an arbitrary question, for they both knew she wasn't not alright.
"Why don't you stop by and pick up some of these leftovers? I know you don't always have time to cook, and I'm certainly not going to eat all of this."
"No, Mom, it's fine. I'll just order a pizza or something. I don't really want to go out right now. Sorry. Maybe I'll come by tomorrow," she answered, trying to bite back the yawn threatening to escape from her lips. Exhaustion was always a part of her routine, and it never went away.
"Call me if you need anything, okay? Love you,"
her mother chimed, trying to be positive. The gesture, though sweet, was hollow. They both understood that her mother could do nothing to help Senna.
"Yeah. Night, Mom." Senna hung up, the cell phone lingering in her hand before she tossed it onto the couch. Somehow, the thought of dialing up the pizza joint and doing more talking was too tiring to imagine. Shuffling to her fridge, she yanked it open, finding a cold emptiness to greet her. A few apples were strewn about in one drawer, half a block of potentially molding cheese sat on a shelf, and half a gallon of milk went untouched. Senna didn't know why she even bothered looking. She knew she had nothing. Her mother helped her pay rent, took care of her groceries, even gassed her car sometimes. It was all in the name of trying to feel independent.
"Yeah," she scoffed to herself, "that's goin'
real
well, isn't it."
She sighed, closing the fridge, leaning one hand on the counter in both thought and hunger. One part of her conversation had been true: she didn't want to go back out for anything. She was already ready for bed, even though the thought of sleep had her clawing to stay awake. She tried to tell herself that sleep is for the weak, but she was already padding to her bedroom. Kicking the discarded clothes to the side, Senna flopped onto her bed, sliding her feet under the blankets and curling up into a tight ball.
Only a second passed before her eyes opened and she was looking around a bright mist overhead. The Hub always looked normal, but the second anyone stepped outside, the landscape turned hellish with the nightmare creatures lurking around. Standing up, Senna looked around, but as always, there was no one around to greet her. Once before, she met someone, but they were quick to leave in a panic. She never saw that person again, and she never dwelt on the reasons why that was the case.
With a sigh, Senna sat down on the soft ground, knowing it implied safety and comfort. It was unfortunate that the feeling didn't carry over the second anyone left. The Dreamrealm's inhabitants were only limited by their imaginations, but how can anyone imagine anything when surrounded by what they fear most?
It was that depressing thought that locked her away inside the Hub. Perhaps she could have stayed there for the rest of her days, never trying to do the one thing everyone else has. It didn't seem like a terrible thought, but she was already been thinking this for a very long time. The nightmares couldn't get in, but she couldn't bring herself to go out.
Crossing her arms over her chest, Senna pulled her legs up, resting her chin on her knee. She didn't hear anything outside the shining walls of the Hub, but that didn't mean nothing isn't there, waiting to prey on some poor soul with many a hidden fear.
Last edited by a moderator: