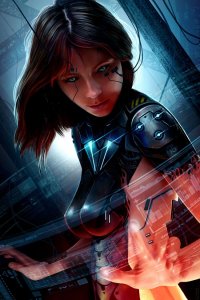 The Murrstress
Original poster
LURKER MEMBER
FOLKLORE MEMBER
Invitation Status

Not accepting invites at this time
Posting Speed

Multiple posts per day
1-3 posts per day
Writing Levels

Adept
Advanced
Prestige
Douche
Adaptable
Preferred Character Gender

No Preferences
Genres

Scifi, Fantasy, Modern, Magical, Horror, Noir, apocalyptic, Grimdark, yaoi, yuri, anything really.
[BG="grey"]
THE DEATH OF GOOD INTENTION
The year is 2234 AD, you are one of the countless citizens in this highly-advanced society. Your life is perfect, 80% of the diseases and sicknesses from the beginning of the 21st century have been conquered, schools are much more effective, and there hasn't been a recession in a century. Crime rates have gone down, and politics has gotten much simpler. Hospitals have gotten more advanced, if you loose a limb, it can be replaced with a robotic artificial limb that works just as well, maybe even better. Organs can be replaced with bionic counterparts and cyborgs are common in this day and age, as well as androids.
Everything should be great. Your life is a piece of cake. Everyone should be happy.
But things just don't seem to work out that way.... War is still a huge problem.
Oh.And not to mention, there's a small, SMALL problem...
In research for lengthening human life, there was a.... well, a small mishap.
So now, there's creatures running around the city.... that...
Well, they're zombies. Or at least, there hasn't been any other name for them. Their skin rapidly starts decaying, but stops right before attacking anything truly vital. Their eyes seem to corrode in some ways, so these unfortunate souls are blind. Their hair starts falling out in patches and their blood finds it harder to clot from the simplest injury.
Their brains are triggered to become more violent, turning that sweet old lady down the street who always made cookies for you and your friends when you were younger, into some slow-moving monster who would tear out your throat with her teeth in a second.
Not to mention, the government's way of dealing with this "small problem" is shipping out these decaying masses and offloading them onto other countries. And by offloading, I mean dropping them. From a minimum altitude of four thousand feet.
Also, that.... disease is able to be spread through bodily fluids, and has an incubation period of two weeks.
Two weeks of everything still being normal.
Two weeks of harboring something that can destroy you, and the people around you without knowing.
The perfect life doesn't seem so perfect anymore, does it?
Along with these zombies, there's one more tiny problem. Something that the government tries to make light of. It's not really a problem at all, as they spin it.
There's a bit of problem with power....
Power outages have been rolling through the countries, but in this city, it's the worst. Hospitals will loose power for three hours. Within that time, at least 50% of their ICU will die. This also is horrid for traffic, causing massive amounts of traffic-related deaths.
That happens almost every day, sometimes twice.
Now, there have been rumors of an actually perfect city. Across the seas.
You just have to get there. And the government WILL try its hardest to stop you.
You have to do everything you can to just to survive if they know you're trying to escape.
NOTE: You can play a "Zombie" if you want. Their higher functions are still intact, and aside from sometimes EXTREMELY violent behavior, they are more or less normal, plus, as long as they aren't flinging bodily fluids everywhere, they're not contagious. It's actually quite common to see someone walk alongside one of these "zombies". It's frowned upon and people are afraid of them, but with proper restraints, they can be kept alive without harming others.
*******************
Gwain "Gigi" Armitali sat upon a office desk in a white hospital smock, wearing a mask. She was at Pesterence Methodist Hospital on 51st and Green St. getting checked for that awful zombie disease.
As her blood was drawn and tested, she sat there, smoking somehow while wearing a mask as she waited for the coffee next to her to cool down. A nurse came by, telling her that smoking was not allowed in that area, with a look of disdain so powerful that it was almost palpable.
Even so, Gigi only glanced at the nurse, then stubbed out the smoke on the desk, eying the nurse as another came back with her results.
"You're not a carrier of the disease yet.... and I'm still unsure of why you come by every week to get tested.... These tests cost at least fifty dollars.... each... and you've already been tested five times...." The nurse started quietly, but Gigi was already on her way to change back into her normal clothes.
The nurse followed her as she went into the dressing room, peeling off the smock, but keeping the mask over her nose and mouth as she changed back into a bra, panties, a shirt, pants, and shoes.
"Why are you repeatedly checking so much?" The nurse questioned as Gigi grabbed her purse. and looked up, her voice muffled by the simple mask.
"I dunno, I just want to make sure...." She shrugged then walked out of the hospital, walking down the street to her apartment, gathering the last of her things and looking at a calender on her wall, today's date circled in red marker ink.
She had bought tickets to a small, relatively unknown cruise. One that would help her leave this city for good.
But just as she was zipping up her bags, three hard, loud knocks thumped on her door, and without a doubt in her mind, she knew it was the police. They knew she bought those tickets.
They were going to take her to jail if they got a hold of her. And she couldn't let them. So, grabbing a duffel bag with her most important items, she opened up a window, climbed out onto the ledge, walked over, past her neighbor's window, and a few other windows, then broke into another room, and slipped out that door, going down an elevator.
And when the doors opened, she found herself surrounded by uniforms and held up her hands in surrender.
"Fine.... fine. I give." She muttered behind her mask as she was handcuffed and led away to a waiting police hover-car. [/bg]