Fluffy
Guest
Original poster
THE DATING GAME​
​

I welcome you to Fluffy's first, new challenge: The Dating Game! The object is to make up a character you think would be compatible with the man and woman I present to you. The guests will always be flexible, so if you want to make a girl for the girl or a guy for the guy, go for it. I don't require any character sheets. Just an image [if you want], a post with their answers and whatever else you wish to include. You can copypaste the questions and answer from there, or answer them in the form of a character post. Whomever is most compatible are the winners! I won't reveal my peoples' answers until the end. If you all find this fun, I'll make one of these every couple weeks or so. ;) So let's play! And yes, I know their introductions are kinda dorky...​
[align=left]
Brandon[/align]
[bg=black]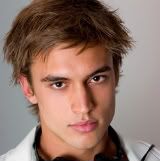 "Hey, my name is Brandon Watt. I'm twenty years old, I attend the local community college and I live alone in the apartment. Just down the street is the Pizza Hut I work at. It's not a terrible job... Delivering 'zas gets me tons of tips. I don't get along with my Dad, but my Mom is cool. She's my hero; I feel no shame in admitting that. I have a brother and a sister both older than me. I only see them for Christmas.

Anyway, I'm a pretty laid back sorta guy. It don't anger too easily and I just like ta chill. I'll admit, I'm not very good at making plans. I just go with the flow, you know? I do have goals. I want to get into mechanical engineering, so I'm getting GURs out of the way before I start studying for that. So, I know what I'm doing and nothing will get in the way of that."


[/bg]
[align=right]
Clara[/align]
[bg=black]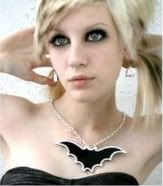 "My name is Clarabelle, but just call me Clara! I recently graduated from high school, so all I wanna do is have fun. I just wanna go to beauty school, so really, what is there to rush!? My job is kinda lame... I work long hours at Macy's, but hey, it's a paycheck. Most of my money is being saved for beauty school, since my Mom and Dad refuse to pay for it. I'm the only child, sooo... It gets sorta lonely and boring around here. People always complain about siblings, but I've always wanted a little sister or brother to spoil.

I'm often times hyper and dramatic, I'll admit that. I also love to talk! Also, I do my own hair. If anyone else ever wants a style, dye or cut, come on over and see me! I might not be professional, but I know the basics. One thing I like better than clothes and makeup is hair. :) I've got the cutest summer hairstyle in the works for me."



[/bg]
The Questions:
1. What is your favourite food?
2. How old are you?
3. What are 3 hobbies you have?
4. What's your idea of a perfect night out?
5. Are you looking for a committed relationship?
6. What's your favourite colour?
7. Describe yourself in no more than 5 words.