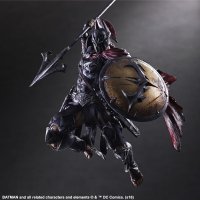 129% of people exaggerate.
Original poster
The tavern you find yourself in is bustling with life that almost drowns out the raging storm outside. You're dripping from head to toe but realize you aren't the only one. No one takes notice of your entrance, and, for that, you are grateful. You make your way to the fire where a small group of other travellers have begun to gather. After ordering mead and a nice warm meal, you wait patiently warming your hands by the fire.

Your food had just arrived, delivered by a Dra'Siri woman dressed in little more than rags, when the door swings open and the howling wind tosses raindrops on those sitting closest to the door. In walks a massive figure with green skin and two short tusks that jut up from his bottom jaw. From the white mane that was plastered against a wrinkled and weary face suggested that this old orc had seen better days. He made his way to the fire and several others moved out of the way, clearing a path for the aged orc. To not look like a fool, you quickly stood up and stepped to the side.

With a thankful nod, the orc took a seat and let out a sigh of relief, "The weather doesn't agree with my aging bones," he spoke to you and shifted on the stool, "Thank you for clearing space for an old orc."

You nod and open your mouth to speak when a young elf darted from between the crowd and into the fire light. She passed her hand through her green hued locks revealing an ornate line of bark at the base of her neck, "Eitrigg, do you have a story for us today?" she asked excitedly.

"A story?" Eitrigg, the old orc, asked as he ran his hand over his beard. When a few others chimed in anticipation, he shrugged, "I suppose I could spare a story. After all, until this storm passes, we're all stuck here."

The elf woman clapped and, intrigued by their excitement, you lean against the wall chewing on the bite of your chicken you just took.

"Long ago, in a time before time," Eitrigg's meaty, tremoring hands hovered over the flames, "When there were no lines dividing Chivarian, Gadian, Reomoran, or Shariban. When there was no hatred between dwarf, orc, human, elf, or dra-sir. Before the plague of the beastmen ravaged our lands, there was only Nelthara. It was a beautiful land where all could enjoy freedom, but some would not have it. They desired power above all else. One stood above all the rest, Jeh-Kiz, a dra'siri starving for power that did not belong to him. With a deal sealed in blood, he opened the gateway to the netherrealm and welcomed Dekoros with open arms. Their demonic horde ravaged the land and almost drove all life from Nelthara. Had it not been for the brave souls who rose against the crashing waves, you and I would not be here to remember them today."

"Eitrigg," the young elf spoke up, interrupted the orc to the displeasure of the others enthralled by the story, yourself included, "This is a made up a story, a legend that has no foundation in reality. Tell us of one of your war stories or something factual!"


The old orc sighed, "All myths and legends are based upon some truth, Y'lessa. Besides, some have seen the Dekoros. I have stood against one myself. They are terrible creatures with horns on their heads and rows of razor sharp teeth. Their claws are stronger than steel, severing limb from limb with ease. They have the strength of ten men and the cunning of the greatest of spymasters," Eitrigg's eyes fixed on the dancing flames and though his body was here, his mind was elsewhere, "I lost many friends that day."

Y'lessa swallowed and then her brow narrowed, "You tell these stories just to frighten us."

"No," Eitrigg lowered his gaze to the ground before turning to look at you. It was only then, in the light of the fire, you noticed the claw-like scar that ran across the side of his face previously hidden from your view. A sudden dread spreads down your spine and the hair on your neck stands tall, "I tell you these stories to warn you. They're coming back, and we must be ready."

-------------------------------------------------------

Nelthara is a world teeming with life. There are unique spins on most races and unique classes designed to fit this particular story/game. While we will be writing, this is a DnD-esque style game relying on dice rolls for mostly combat, social interactions, and anything that may be beyond right in front of your face. We won't be using the standard Dungeons and Dragons classes nor will combat be run the same way. I'm looking for interest right now. If enough is out there, I'll post another thread that will have more information on the how things will run and about the world and classes I've designed. Leave a comment here if your interested. If you have a question, you can PM them to me or simply ask here. Maybe your question is the same question someone else might have!