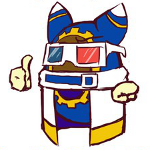 Swagolor Approved
Original poster
FOLKLORE MEMBER
Preferred Character Gender

Male
Look. We were all kids once, and kids... let's say that kids aren't the brightest when it comes to being wise with their money. Especially where some kind of huge franchise is concerned. Pokemon, Yu-Gi-Oh, Digimon... doesn't matter. If it's a kids show, there's merchandise. Some of it is cool stuff, and some... some is not.

So, what is the stupidest piece of merchandise that either you bought or you forced your parents to get for you?

Me? Pokemon marbles and Yu-Gi-Oh magnets. They're just glass marbles with Pokemon decals on them and the magnets were square, with characters and card art on them. Not well done stuff either, just the promo art and some generic swirly background. They were stuck on my lamp and then I never noticed them again or was too ashamed to look at them. At least I played with the marbles, as much as I could play with glass beads when I was too lazy to learn marbles games and there was nobody around to play marbles with, because life is not a Peanuts comic.

Yeah... I'm starting this off well.