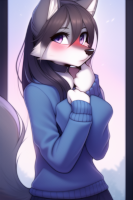 Hopeless Romantic
Original poster

Hello, my name is Mythy! I got myself a fantasy RP idea that I thought might be fun to try, so here we go!
In this world, named Meckhan, nature is still the ruler. Outside of large cities and walled villages, bandits and monsters roam. Weapons are made of bronze, with leather armor and bronze gauntlets and greaves the norm for well-outfitted folk. Bows and all fantasy weapons exist, excepting crossbows and guns. Worship is generally of the whole pantheon, and the seas are a dangerous beast that may be tamed through rituals, or simply ridden.
There are two types of magic. One is found through years of intense study, and is cast through rituals that consume materials, reagents and time. Many spells exist, all with varying effects. Through the use of ritual circles, reagents and chanting, one can tame nature, call upon the skies, and much else. It takes a precise hand and spirit to use these rituals, and their very nature makes it difficult to use in war, and near-useless in active combat. Weapons may be enchanted with runes carved into the metal, and then activated by a ritual. Once activated, these enchantments may be turned on and off via command words.
The other sort of magic is known as Soul Manifestation. It is much rarer than ritual magic, only manifesting in a small percentage of individuals per generation. It seems to be activated during their formative years, sometimes earlier if something traumatic happens. In any case, a Soul Manifestor learns of their power when their so-known 'Soul Weapon' forms in their hand as a defensive measure. This weapon can be in any style of weapon, but is unique to the individual. As it is a manifestation of their soul, its form, use, and powers are all tuned to the user, and it evolves with them.
There are three levels of power that a weapon can reach:
First Level, called
Manifestation
. The most basic form, the weapon appears in the Manifestor's hand as it is held over their chest. Resembling a custom weapon at this time, the biggest clue as to its nature is the fact that it glows the color of the user's aura. This level grants the ability to attack, as well as light-power passive effects and attack abilities.
Second Level, called
Named Manifestation
. Part of a Manifestor's training includes introspection, where they learn the true name of their soul. Some Manifestors adopt this name, others keep their birth name - but all use their soul names when awakening their second level manifestation. The weapon grows enters a low-power trueform sometimes called awakened, and the glow gets brighter. As well, the passive effects get stronger.
Third Level, called
True Manifestation
. This is the ultimate form, where the soul weapon forms it's full true form, usually including additions such as wings or armor. This can be incredibly draining over time, so True Manifestation is rarely used commonplace.
Manifestors, once they are found, will most often be drafted into the nation's military, or be taught within the Manifestor's tower how to control their powers. A Manifestor of any kind has great status, and quickly become famous and infamous once they reveal their powers.
The only thing that neither a ritual nor a Manifestor can do, is directly interfere with life. Instantly killing someone or bringing them back to life is out of the scope of magic. (Of course, the weapons can always cast attacks that kill or be used to kill)
---
The PCs will be Manifestors learning in the tower, the day before they begin the process to learn their soul name. A tragedy will strike before the ceremony, of which the group will be survivors. Then we will adventure, learning about themselves and unraveling what happened.
I hope you find this interesting!​