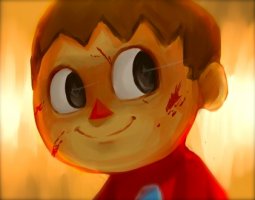 Hi-def
Original poster
LURKER MEMBER
FOLKLORE MEMBER
Preferred Character Gender

Male
Genres

Fantasy, Horror and Sci-fi. I'll try basically anything though. I also love strange and unusual RP genre concepts. Different is good!
Shattered ~ Glass
View attachment 2020
Poems by October Knight


Shattered by life
Shattered since birth
I'm living this hell
Born with a curse
In to it left standing
The strong will survive
Haunted by madness
My fears are alive
Broken with hatred
Seduced by the pain
Subject to demons
Who laugh in the rain

Alone as I am
Left standing because
The glass has been shattered
From hammers above



Here are a few older ones, I'll try to post in this thread everyday.


​
Near sight, far mind
It seemed like a dream
So vague so black
As i recall that day
Lay awake in agony
A life was painted gray

I though you left
I knew you did
But i just didn't care
Poisoned deep inside my chest
I left a letter there

Into the house
consumed in black
Read the gentle note
Of death i wished upon your life
Crying as i wrote

Understand, i am insane
It was never me with you
I tell you now
I hate your guts
And forever it is true

With heavy steps
And cut off breaths
I left in dead of night
To a place
That consumes my soul

My Road no end in sight
Sorrow for you
Regrets we never lived with
two lost, the cost so great
Living for the moments
We wrote, and joked, of fate
With poisoned bodies able
The two of us just laughed
Of those we left unstable
In night the thunder crashed
I understand now
The torment you grasped
While all the while
I was gripping the glass
Dying best friends
I remember the day
Lost in the storm
You just slipped away
As a man I admit
I'm forever sad
This life I throw away
Is for the one you never had
The Valley of Roses
The Valley of roses
With reds gentle kiss
The Valley of flower, surrounded by mist
The Vast empty hearts
Of the lonely and used
The hungry, the weak, the lost and abused
The Valley of Roses
The dust on the road
Foot steps imprint
As Lies, they are sold.
If truth should not conquer
When lonely hearts break
The Valley of Roses
Rose, Like its namesake.
Pain in my chest
The Valley, a mess
A tightness in my heart
Breaking red pain
I'm wasting away
The Valley of Roses
Will bring a new day.
To the numb masses
I feel your pain
Broken hearts wander
Red Roses in rain
Moist empty lips
In the Valley they sit
The Valley of Roses
Heart broken Imprint.
Waking moments: Dream feelings
Oct, 9, 9:37 pm
Certainly something is wrong.
I can't recall the facts
Moments of truth are lost on a whim
My memory's rotten and black.
Something just isn't right
I'm sure of it now, as I breath.
Something is twisted
I was born gifted
Wanting and trying to leave.
Something is in the wrong place
A moment, forgotten in time
Endlessly, longingly
Hopelessly, drawing me
Bringing me back
I'm in line.
Something isn't quite right
Certainly something is wrong
My minds in a storm
Raining, but warm
Killing me and playing this song
" My faith is weak, but burning
I cannot go on
My eyes bright and yearning
Something is wrong."
Interrupted mid-verse
It's speaking to me
Avoiding my life as I watch
Haunted by truth
Pixels of youth
Avoiding my life
At all costs
​
​